This post may contain affiliate links. We earn from qualifying purchases. Learn More
Now with 16 successful seasons, there is no doubt that Heartland (2007- ) is the most popular drama series among horse lovers today.
Heartland follows the comings and goings of the Fleming-Bartlett family, particularly its gifted horse trainer Amy Fleming.
Over the years, the show has grown a seven-figure fanbase with its heartwarming stories, great character arcs, and beautiful horses.
Season 16 returned on October 2, 2022. While the season was originally supposed to have just 10 episodes, fans were treated to an additional five for a total of 15 episodes in season 16 of Heartland.
The season did not disappoint as there were plenty of entertaining storylines.
Heartland Season 16 Release Date
The first episode of Heartland Season 16 premiered on CBC at 7 pm ET (7:30 pm NT) on Sunday, October 2, 2022. A new episode will be released each week at the same time.
The network announced the show's renewal on June 1, almost exactly a year after the renewal of Heartland for Season 15.
See the season 16 trailer below:
Heartland Season 16 Plot
Last season, we have seen the Fleming-Bartlett clan finally make peace with Ty's death. Amy has dealt with his killer in person and is now ready to start a new chapter in her life.
Lou and Peter are officially together again, and it will be exciting to see how they move forward as a reunited family.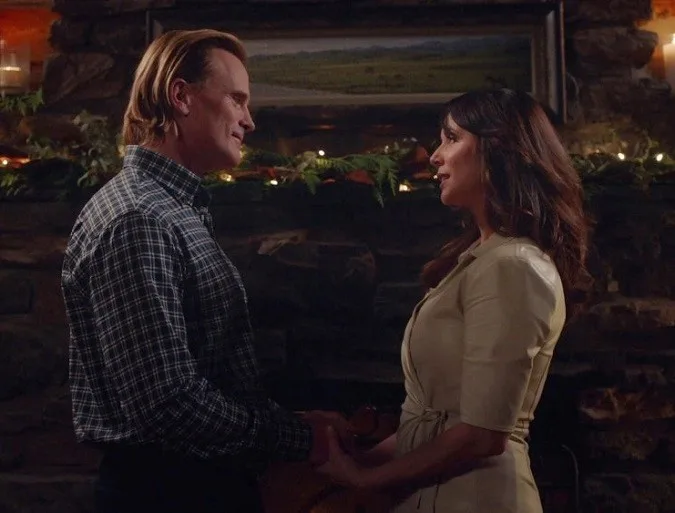 Meanwhile, Lyndy graduates from kindergarten, an emotional moment for the whole family.
Throughout the season, we see Amy's beautiful daughter as she gets more involved with horses. There is even an exciting new horse to join the ranch that Lyndy bonds with named Theo aka Xavier.
The horse therapy center is also a highlight of Season 16, with Amy as the head of operations and Logan as a permanent assistant.
Understandably, fans were exciting fans about a new love interest for Amy. While she was not yet considering a new partner last season, she certainly became more open to the idea.
Georgie and Quinn also make an exciting return at the end of the series. After not wanting to return to show jumping after an accident, Georgie gets an exciting invitation. A renowned trainer in Brussels that specializes in jumping after an accident invites Georgie to ride with her.
Quinn even asks Georgie to marry him but Georgie says they are too young. With the support of Quinn, Georgie decides to accept the offer to train in Brussels.
Heartland Cast for Season 16
Similar to previous seasons, we can expect the core cast to return in Heartland Season 16, with the exception of Ty, of course.
Amber Marshall as Amy Fleming
Michelle Morgan as Samantha Louise "Lou" Fleming Morris
Shaun Johnston as Jackson "Jack" Bartlett
Gabriel Hogan as Peter Morris
Chris Potter as Timothy "Tim" Fleming
Jessica Steen as Lisa Stillman
Kerry James as Caleb Odell
Madison Cheeatow as Jade Verani
Baye McPherson as Katie Fleming-Morris
Alisha Newton as Georgie Fleming Morris
Jordan Burtchett as Quinn
Ruby and Emmanuella Spencer as Lyndy Marion Borden
Nathaniel Arcand as Scott Cardinal
Aidan Moreno as Rick Adderly
Ava Tran as Parker Yang
Drew Davies as Logan
Ivan Cermak as Fred Garland
Jessica Amlee as Mallory
Jake Church as Jake
Sadly, Robert Cormier, who played Finn, passed away in a tragic accident on September 23, 2022. Cormier had been playing Amy's new love interest after the passing of Ty.
Also read: Actor Robert Cormier Who Plays Finn on Heartland Dies at Age 33
Where to Watch Heartland Season 16?
In the US, Heartland season 16 will be available to watch on Up Faith & Family on June 1, 2023. A new episode will be added weekly.
In Canada, Heartland season 16 is available to watch on CBC and CBC Gem.
In the UK and Australia, Heartland season 16 is available to watch on Netflix.
For those not in the UK or Australia, consider using a VPN to connect to Netflix in these countries so you can watch Heartland season 16 on there.
After CBC Gem, Up Faith & Family was the first streaming service that made Heartland Season 15 available to viewers, just short of three months after the airdate of the last episode.
Considering that Heartland was the fifth most-streamed series on the platform in 2021, we can expect the same this year.
As for Netflix, many parts of the world received Season 15 only four months after the show finished airing. Based on the same schedule, the new season should arrive on the platform by early spring 2023.
Fans can also catch up on seasons 1-15 of Heartland on DirecTV, or seasons 1-14 on Netflix and Pure Flix. Previous seasons can also be watched on Amazon Prime Video by purchasing the Up Faith & Family add-on.
Also read: 20 Heartland Trivia Questions Fans Will Love
Heartland Season 16 Episodes
Unlike the previous three seasons, Heartland Season 16 has 15 hour-long episodes. This is an increase from the 10 episodes of seasons 13-15.
Looks like CBC has listened to the pleas of fans asking for more episodes on social media. It is certainly promising for the show's future that Heartland's popularity hasn't dropped following the departure of Ty.
In fact, Heartland became the 5th most-streamed TV series in the United States in 2021, according to the global audience analytics company Nielsen.
Here is a table of every episode and when it was released:
| Epsiode | Release Date |
| --- | --- |
| 1. "Something's Got to Give" | October 2, 2022 |
| 2. "Changes" | October 9, 2022 |
| 3. "On the Ropes" | October 16, 2022 |
| 4. "Spark to Flame" | October 23, 2022 |
| 5. "Higher Ground" | October 30, 2022 |
| 6."Into the Wild" | November 6, 2022 |
| 7. "Vigil" | November 13, 2022 |
| 8. "Running Down a Dream" | November 20, 2022 |
| 9. "True Colours, New Tricks" | November 27, 2022 |
| 10. "Lurking in the Shadows" | December 4, 2022 |
| 11. "Head Over Heels" | January 8, 2023 |
| 12. "Memory" | January 15, 2023 |
| 13. "Striking a Balance" | January 22, 2023 |
| 14. "Learning to Fly" | January 29, 2023 |
| 15. "A Light in the Dark" | February 5, 2023 |
Will There Be a Season 17 of Heartland?
As of now, there is no official confirmation regarding if Heartland has renewed for season 17. However, with the wide success of the show, it is very likely Heartland will be renewed for another season.
If it follows in the footsteps of previous seasons, we should get an announcement about season 17 in June. We can then hope that season 17 of Heartland will premiere in the fall of 2023.