This post may contain affiliate links. We earn from qualifying purchases. Learn More
Heartland continues to thrive, now having completed 16 seasons with a seventeenth on its way. Season 16 features 15 episodes, with all episodes now available to watch in the United States and UK.
For those eager to know what happens in season 16 of Heartland, we are going to be sharing some of the biggest spoilers from the season.
From Lou and Peter's relationship to Amy's love life and Georgie's return, there have been some important storylines this season.
If you want to know what happens to your favorite Heartland characters in season 16, keep reading.
Does Amy Get a New Love Interest?
Many fans hoped that romance was in the air for Amy in season 16. At the beginning of the season, it seemed that that may be the case, however, Amy does not remarry.
Originally, season 16 set up a potential romance between Amy and Finn. However, the actor who played Finn, Robert Cormier, sadly passed away in real life. As a result, any romance between Finn and Amy was put to a halt.
Finn was a farrier who first arrived at Heartland Ranch with his grandfather and Shire horse. His kindness and charm quickly gained the attention of Amy.
As time went on, Amy and Finn got to know each other better and a connection began to form between the two of them. While things were not always easy between them, they clearly shared a mutual attraction.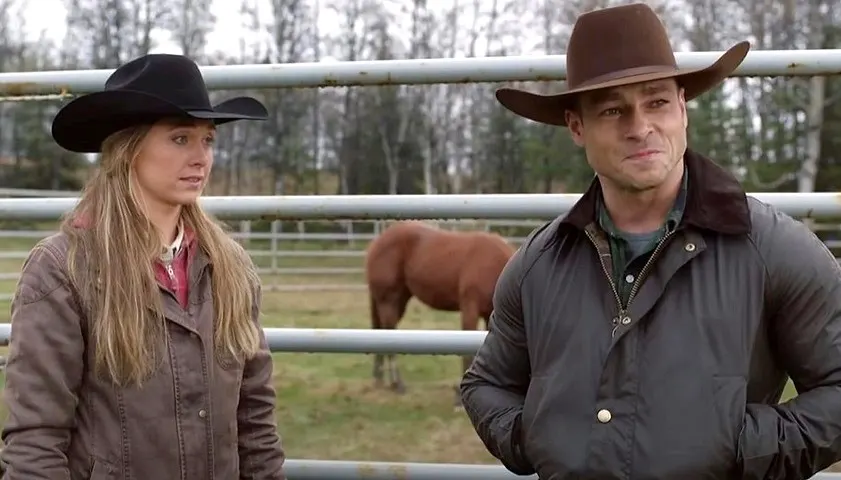 However, things did not pan out between Amy and Finn. Amy reveals that she is not ready to move on from Ty, as she still loves him with his whole heart. In the meantime, Finn ends up getting back together with his ex-fiancee, Kristi.
While Amy and Finn, unfortunately, don't work out that doesn't mean that a new relationship is out of the question for Amy in the future. Amy is also well acquainted with Sam Langston, a former baseball player and fellow rancher.
Sam owns the neighboring Big River Ranch and enjoys helping Amy in her career as a horse trainer. While the two are not in a relationship yet, it seems there is a good possibility that love could bloom between the two ranchers.
There is also the potential that Amy could end up with Cooper from the Youth Centre or even Edwin, Rebecca's dad. Perhaps in season 17 we will see a new romance for Amy.
Do Lou and Peter Get Remarried?
In the season finale of Heartland, Lou and Peter decide to have a vow renewal ceremony to declare their renewed love for one another. They gathered with friends and family as they celebrated their commitment to each other.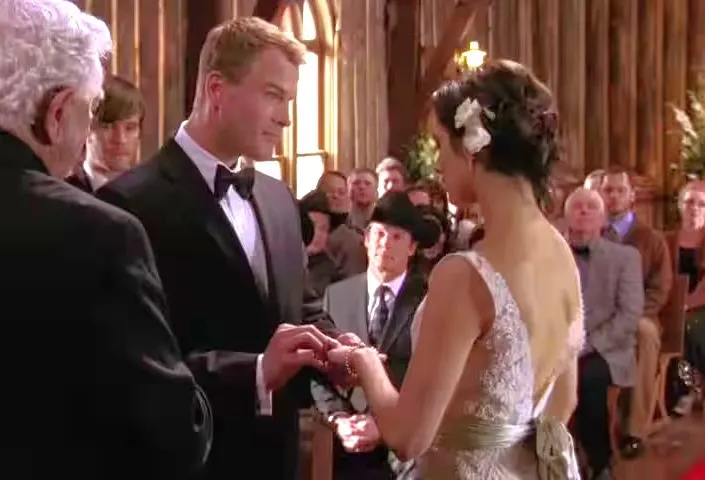 Lou and Peter's vow renewal ceremony was a big deal as it was a major step they took in their relationship after getting divorced. They had an intimate ceremony at the ranch as they began the next chapter of their relationship.
After the romantic ceremony, the celebration continued with a meal and dancing with their loved ones. At the end of the night, Amy and Lyndy gave a heartfelt performance with their horses.
Do Mallory and Jake Return?
In season 15 of Heartland, we see the return of Mallory and Jake. Mallory and Jake had not been in the series since they got married in season 10.
Mallory and Jake returned to Heartland Ranch to mourn the loss of Mallory's horse Copper who died during a lightning strike. Despite the sad reason for their return, everyone was excited to see Mallory and Jake once again.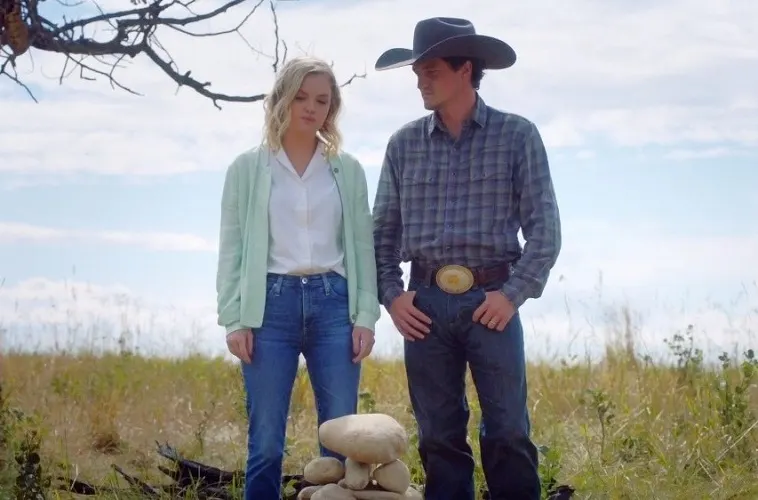 After the funeral, the Bartlett-Fleming clan was eager to know what the couple had been up to. Mallory revealed that they had moved to Colorado and Jake worked as a foreman at a ranch while she was taking business classes and working at a restaurant.
Mallory then went on to try to help everyone else while their problems as Jake questioned why she lied about how they were doing.
After making a mess of the situation, Mallory reveals that Jake was actually let go from his position as a foreman and she had to quit business school to take on more shifts.
In addition, they had to put the land they inherited for sale in Colorado as they could not afford the property taxes.
After not feeling well, Lou encourages Mallory to take a pregnancy test to which she learns she is pregnant. She tells Jake the big news and he lets her know that he is overjoyed and everything will be alright as he received a new job offer as a foreman.
Mallory and Jake then return to Colorado to start the next chapter of their life.
Does Tim and Caleb's Rodeo School Close Down?
Things began to not look so good for Tim and Caleb's rodeo school after a showcase went poorly. Not only were they struggling with low enrollment but also were losing sponsorships.
Fortunately, the rodeo school got the boost it needed after having another showcase at the Royal Fair. After carefully planning the event and getting a celebrity endorsement from Jade Virani, the event proved to be a success.
Tim and Caleb managed to get several new recruits and even a new sponsor. Fortunately, the event saved their rodeo school from the risk of closing down.
Does Lyndy Get a New Horse?
In season 16 of Heartland, Amy and Lyndy come across a new horse among the herd of wild horses. However, this horse clearly isn't wild as it is wearing a halter.
The next morning, Amy goes out in search of the mysterious horse and is able to capture him. Lyndy becomes enthralled with the new horse, who she calls Theo, but Amy warns her not to get attached as he is someone else's horse.
The next day, a woman by the name of Chandra Renfield comes to claim her horse whose real name is Xavier. She reveals that Xavier escaped because he had been bored.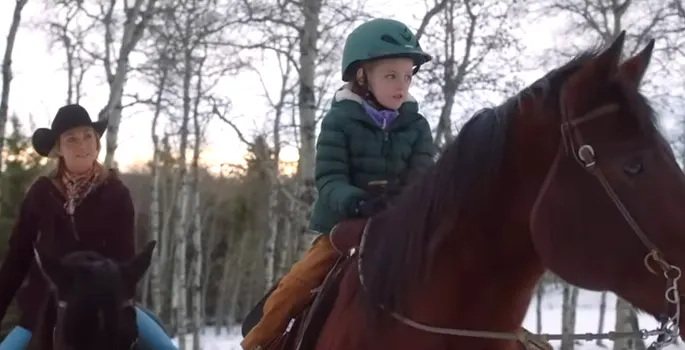 Lyndy is devastated that Theo's owner is here to take him back. Chandra asks if she can return the next day to pick up her horse as she worries he will get bored again.
After coming back, Chandra saw the incredible bond that Lyndy had formed with her horse. Not wanting to break their bond, she asked if he could stay at Heartland Ranch permanently, to which Amy agreed. Lyndy was thrilled that Theo is staying as they will be able to spend more time together.
Do Jack and Al Remain Rivals?
Throughout season 16, Jack and Al remain rivals. Jack is still angry at Al for his behavior when they were younger.
After spending the season feuding, Jack learns that his father left his fishing cabin to Al. Jack decides to put his feelings aside and meet up with Al to tell him the truth.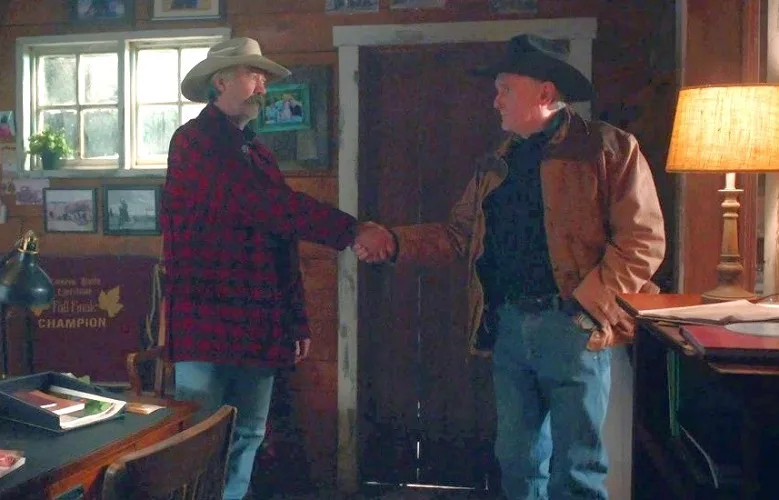 After confronting Al about the conflicts of their past, he gave him his father's will before driving off.
Later on, Al showed up at the ranch to come clean to Jack. Al also decides to return the fishing cabin to Jack as not all of the memories he had there were good.
The two men then decide to put their bad blood past them and shake hands for good measure.
Do Georgie and Quinn Get Engaged?
In a shocking moment, Quinn proposes to Georgie. The proposal takes Georgie aback before finally telling Quinn she is not ready for marriage.
After a hiatus, Georgie finally makes her return to Heartland. She pulls up to the Heartland Ranch unexpectedly with her horse Phoenix to announce that she is quitting show jumping. She explains she is going to take time to figure out what is next for her.
Shocked by the news, Amy finally manages to get Georgie to reveal why she quit showjumping. Georgie reveals that she keeps reliving the jumping accident she had with Phoenix in her mind.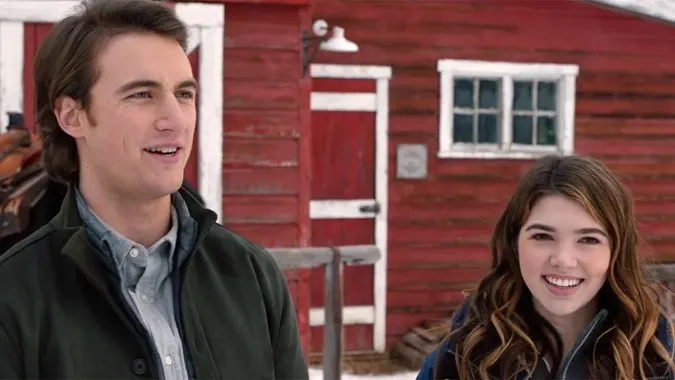 After some work, Amy is able to convince Georgie to get back in the saddle. Amy quickly learns that Georgie hasn't actually lost her spark for jumping but is rather too worried about being perfect to enjoy herself.
With the help of Amy, Georgie is able to open up more and reignite her love for showjumping. She reveals that she has received an offer to work with renowned horse trainer Eleanor Hinchcliff who specializes in getting riders back into jumping after an accident. However, the catch is that Eleanor is based out of Brussels.
After discussing the possibility of training with Eleanor in Brussels, Quinn proposes to Georgie. He believes he had to do something big in order for their relationship to survive long distance.
At first, Georgie is left speechless. Before she can say anything, Lou interrupts them to let them know Amy wants the whole family to gather in the arena.
When Georgie speaks with Quinn after the festivities, she tells him she loves him but is not ready to get married. She tells him that they are still young and that they don't need a ring to know they love each other. While it takes a moment for Quinn to process all of this, he realizes that Georgie is right.
Does Georgie Return to Showjumping?
After careful consideration, Georgie decides to get back into jumping. She decides to take up Eleanor on her offer to train in Brussels.
While Georgie invites Quinn to come with her, he believes this is something she needs to do on her own. It is a big step for Georgie as she is getting back to her dream to compete at the Olympics.