This post may contain affiliate links. We earn from qualifying purchases. Learn More
In the past 14 years, Heartland has captured the hearts of horse lovers around the globe. It has also become the longest-running one-hour scripted drama ever to air on Canadian television.
Since Season 14 has concluded on March 21, 2021, fans have been anxiously waiting for the show to return for another season. True, the tragic turn of events in the last season has taken the show in a brand new direction. However, there is still much left to explore in the Heartland universe.
Luckily, the wait is finally over!! In this article, we bring you the latest developments regarding the new season, including release date, cast, and what it might be all about.
*Spoiler warning for Season 14*
Here's all we know so far about Heartland Season 15!
Heartland Season 15 Release Date
CBC confirmed Heartland Season 15 will premier on Sunday, October 17th, 2021. Those living in Canada can watch the show on CBC and CBC Gem, while other parts of the world will have to wait a bit longer to see the new season.
Here is the official Heartland Season 15 trailer:
So there you have it, the brand new episodes of Heartland will grace our screens with brand new episodes this week!! Millions of fans are bursting with excitement around the world in anticipation of Season 15.
But let's be honest, Season 15 was bound to happen. Heartland's popularity has grown exponentially in the past few years, thanks to platforms like Netflix. It would've been a shocking blow to fans around the world if CBC canceled the series.
With that being said, some fans expect Season 15 to be Heartland's final season. Others, unable to deal with the saddening events of the last season, consider Season 13 as the show's endpoint. One thing's for sure: No matter what happens, Heartland will always remain true to its core values which are authenticity, honesty, and love.
We will keep this article updated with the latest news on Heartland Season 15, so be sure to check back often!
How Many Episodes Are in Heartland Season 15?
There are 10 60-minute long episodes in Heartland Season 15. This follows the trend of the previous two seasons that also have 10 episodes each.
While these seasons are a lot shorter than earlier ones with 18 episodes each, there will still be 10 hours of Heartland-goodness to look forward to! And from what has been said, there will be wonderful new storylines and plenty of precious moments for fans to enjoy.
The first episode of Season 15 "Moving Toward the Light" will be the 225th episode of Heartland. The descriptions of the first two episodes are already out and include important plot points of the upcoming season:
Heartland 1501 "Moving Toward the Light": Amy must help a skeptical performer, and her pair of matched liberty horses work together again; Jack unexpectedly buys Mitch's herd of cattle; Tim returns from his trip with a surprise for everyone.
Heartland 1502 "Runaway": A wild stallion escapes from Sam's ranch during a burglary and Amy will stop at nothing to find him. Lisa's latest business investment is at risk. Tim and Jessica adjust to life back at Heartland.
Heartland Season 15 Plot
Since the Season 14 finale has left many questions unanswered, there is a lot to cover in the new season. Ty's untimely death has hung over the past season like a dark shadow, challenging characters to deal with his loss and eventually move on.
Season 15 will have to reveal how Amy will raise Lyndy without her late husband and how each family member will find a new meaning to their lives.
This is exactly what CBC's media center website says fans can expect to see! The official synopsis for Heartland Season 15 reads:
"The Bartlett-Fleming family has learned a hard lesson: life is short and you have to live each day to the fullest. In season 15 of HEARTLAND, they will put what they learned into practice. Last season, Amy said goodbye to the past. This season, she embraces the future – raising her daughter, working with the horses who continue to heal her, branching out into a new phase of her life and profession. She is moving forward and feels determined to leave a legacy. In fact, Jack, Lisa, Lou, and Tim have all decided that now is not the time to pull back, but to ramp up, to create new dreams and fulfill old ones. And, as they always do, the family will pull together to help each other… and will ultimately end up stronger than ever."
Towards the end of Heartland Season 14, we already begin to see new storylines take shape. Upon reevaluating her relationship with Mitch, Lou discovers she still has feelings for her ex-husband Peter, who feels the same way.
Lou will also continue her quest to improve the town of Hudson as mayor, and will likely take on exciting new projects in Season 15.
What's more, there's a lot going on around Lou and Peter's adopted daughter, Georgie. Her relationship with her show jumping coach Quinn could reach new heights in Season 15. There is also the prospect of Georgie competing in the Olympics as a showjumper that will likely receive a lot of attention in the new season.
Other things to look forward to in Heartland Season 15 include Tim's brand new relationship with Lou's old rival Jessica Cook. It will also be interesting to see how Cooper's horse therapy center develops and whether Amy will be a part of its future.
The Cattle Drive
According to the Heartland cast, there's a big cattle drive coming up next season! Cattle drives are known for bringing people together on Heartland, and I'm sure this one will be no less special.
Take a look at this behind-the-scenes photo from Michelle Morgan (Lou Fleming):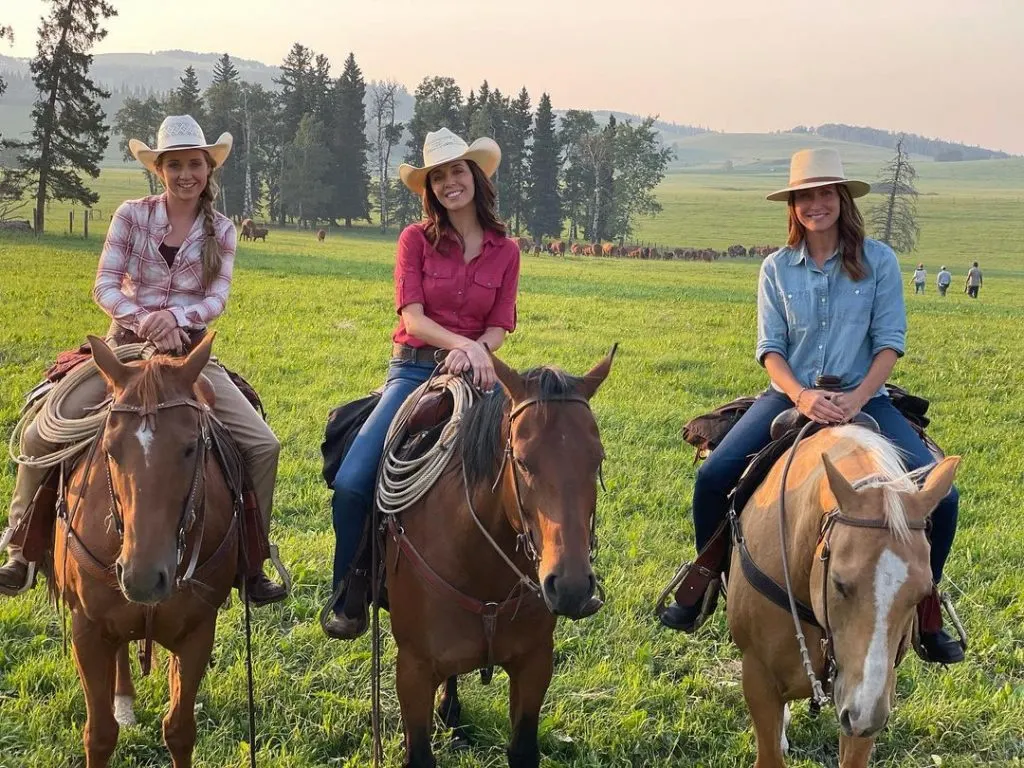 Also, read our article 9 Things That Could Happen in Heartland Season 15.
Heartland Season 15 Cast
With one major change, most regular cast members are expected to return in Heartland Season 15. So far, the following main actors have been confirmed to appear in season 15: lead actress Amber Marshall as Amy Fleming, Ruby and Emmanuella Spencer as Amy's daughter Lyndy Marion Borden, Michelle Morgan as "Lou" Fleming Morris, Shaun Johnston as Grandpa Jack, Jessica Steen as Lisa Stillman, Kerry James as Caleb Odell, Madison Cheeatow as Jade Verani, Aidan Moreno as Rick Adderly and Ava Tran as Parker Yang.
You can also expect to see Chris Potter as Tim Fleming, Alisha Newton as Georgie Fleming Morris, Gabriel Hogan as Peter Morris, and Adrian Spencer as Cooper Hues, as well as some new faces.
From a behind-the-scenes clip shown during the Heartland Season 15 Launch Event, we also know that Nathaniel Arcand will be back as Scott Cardinal in the new season.
What's more, the Heartland Blog has recently confirmed that two past characters will rejoin the cast this season. These are Kate Drummond as Val's friend Paula Westfield and Jemmy Steele as Emma Fitzroy, the donor of Cooper's horse therapy center.
Unfortunately, Graham Wardle portraying Ty Borden in Heartland will not be returning for another season. His character sadly passed away early in Season 14 due to developing deep vein thrombosis as a result of his gunshot wound.
There're also rumors that Chris Potter (Tim Fleming) might be considering leaving the show, although he gave no indication of this in a recent interview with RaveItUp TV.
In the interview, the actor repeatedly appreciated his role on Heartland and the consistent work that comes with it. However, he did mention that at times it was logistically challenging to align his family life with his career since he lives a 5-hour flight away from where production takes place
Here's the behind-the-scenes compilation from Heartland Season 15:
New Cast Members In Heartland Season 15
Heartland's Official Blog shared the exciting news of two new cast members joining the show this season! Canadian actress Baye McPherson will replace Ziya Matheson who's been playing Lou's daughter Katie for the last three seasons.
Ziya decided to leave the show, so Katie will be gaining a new look for the third time in the history of Heartland.
What's more, young actor Drew Davies will also be joining the cast as Logan, a 17-year-old troubled teen. The Official Heartland Blog has revealed some key details about this exciting new character:
"In Heartland Season 15, Logan is a 17-year-old troubled soul who masks his insecurity with cocky bravado. He's a moody rebel to whom everything is a joke. He can be a naturally charismatic ring leader at times, but coolly disinterested and detached at others. But all of his coolness is a front. Underneath, he takes things very seriously with intense emotions just under the surface. Logan has a gift that he doesn't even know about until he meets Amy. "
As we know, Logan is not the first troubled kid to end up at Heartland ranch. With Ty and Luke now gone, seems like production decided it was time to introduce another one of Clint Riley's protegees to the Heartland family.