Our readers support us. This post may contain affiliate links. We earn from qualifying purchases. Learn More
Hailey Kinsel is a champion barrel racer who's celebrated for her inspiring achievements worldwide. On the back of her golden Quarter Horse "Sister", she won the World Barrel Racing Champion title three times at the National Finals Rodeo (NFR). The pair also won the prestigious NFR Average and RAM Top Gun titles in the 2020 season.
Despite her young age, the 27-year-old barrel racer has already achieved so much in her profession. Kinsel and her amazing horses have qualified for the Wrangler NFR five years in a row and won the RFD-TV's the American Rodeo three times.
When she's not on the circuit competing, Kinsel trains with her horses on her Stephenville ranch in Texas. So far in her career, the rodeo star has racked up over $1 million in earnings. She is also active on social media and has accumulated 215k followers on Instagram and 256k followers on Facebook.
Stats About Hailey Kinsel:
| | |
| --- | --- |
| Height: | 5 ft (153 cm) |
| Born: | October 3, 1994 |
| Birthplace: | Cotulla, Texas, United States |
| Zodiac Sign: | Libra |
Facts About Hailey Kinsel
1. Hailey Kinsel Started Competing In Rodeo As A Teenager
Hailey Kinsel was born on October 3, 1994, to Dan and Leslie Kinsel. She grew up on her family's beef cattle ranch near the small town of Cotulla in South Texas. As both her mom and dad had rodeo backgrounds, their influence was fundamental in sparking Kinsel's interest in horses and rodeo.
Her mom Leslie Kinsel (née Walker) is a lifetime equestrian who was crowned Miss Rodeo Texas in 1980. Together with her husband, they encouraged Hailey and her brother Matt to take part in rodeo and other sporting events alongside school.
Hailey Kinsel's passion for barrel racing started when she was 11. Her parents homeschooled her throughout high school, allowing her to enter competitions and gain experience in the sport.
After graduating, Kinsel continued her studies at Texas A&M University, where she joined the Fightin' Aggie Rodeo team. During her college years, she balanced classwork with caring for her horses and competing in barrel racing, breakaway roping, and goat tying.
2. Hailey Kinsel Has Been A Professional Rider Since 2015
Kinsel turned her hobby into a profession by joining the WPRA in 2015. In the same year, she ranked 19th in the WPRA Rookie of the Year standings, having earned $4,880 that season.
2016 has brought Kinsel winning runs at various rodeo events across the country. Later in November, she qualified for the 2017 American Rodeo at the Better Barrel Races Regional (BBR) Qualifier in Glen Rose, Texas. The rising rodeo star certainly had much to look forward to next season.
Also Read: 11 Best Barrel Racing Quotes
3. Hailey Kinsel Won The American Rodeo In 2017
2017 was the year Hailey Kinsel's career really took off. In February, she and Sister took part in the American Rodeo for the first time. Widely known as the "world's richest one-day rodeo", the event is held annually at the AT&T Stadium in Arlington, Texas.
Kinsel and Sister ran the fastest time of their event, winning the gold medal and an additional $433,333.33. They repeated this incredible feat in 2019 and 2021, with a respectable second-place finish in 2018.
"I didn't wear the right mascara for this", Kinsel said after her first win in 2017. "God is good, and my horse is awesome".
In July that season, Kinsel also qualified for the NFR for the first time at the Days of '47 Rodeo. At the Finals, she rode in 10 rounds over a period of 10 days, finishing as Reserve World Barrel Racing Champion. With a new arena record of 13.11 seconds and record NFR earnings of $189,385, Kinsel came 2nd in the World Standings.
Here is a video of Hailey's incredible 2017 record:
4. She Won Her First World Barrel Racing Champion Title In 2018
Kinsel and Sister started off the 2018 season with setting a new arena record of 13.60 seconds at the San Antonio Stock Show and Rodeo in Texas. According to the rodeo star, competing here was special as she grew up attending the event every year.
This season, Kinsel and Sister competed once again at the NFR in Las Vegas. This time, they went home as World Barrel Racing Champions with record earnings of $350,700 after the 10-day competition.
This event was unlike any other Kinsel experienced so far, as she and Sister wet up against her childhood heroes. "Oh man, it was amazing", she described. "Everyone up there is so deserving, and they're heroes of mine. It was definitely surreal and was pretty awesome."
5. Kinsel Ranked Second In The 2019 World Standings
In 2019, Hailey Kinsel and her golden horse found no rivals on the American Rodeo and World Barrel Racing Championship, winning both events for the second time. With her latter win, she became the first to earn back-to-back titles in barrel racing since Kelly Kaminski's consecutive wins in 2004 and 2005.
In July this season, Kinsel took part in the iconic Calgary Stampede in Alberta, Canada. The talented cowgirl won the Ladies Barrel Racing event riding Sister, matching the arena record of 16.99 seconds. The rodeo star finished the 2019 season ranking 2nd in the World Standings.
6. The Unstoppable Barrel Racer Continues To Set Records
Amid the Covid-19 pandemic in 2020, Hailey Kinsel and Sister continued their streak of setting records and winning titles. They ran the fastest time ever on a WPRA rodeo in Dodge City, Kansas, completing their round in just 16.63 seconds.
Kinsel also broke her own NFR earnings record from 2017, winning $270,615 this season. As this was above the earings of any other contestant in 2020, Kinsel won her first RAM Top Gun Award.
But that's far from all. At the 2020 NFR, Kinsel became World Barrel Racing Champion for the third time. She also won her first NFR Average title with a time of 170.95 over 10 rounds. As a result, she became the first WPRA member to win these three major titles in a single season!
In March 2021, Kinsel and Sister were back competing at the American Rodea after a hiatus due to Covid-19. Surprise surprise, they won for the third time, taking home $100,000 in prize money.
Whenever she talks about barrel racing, Kinsel can never praise her golden horse enough. "My horse is amazing… and tries so hard no matter what the job", she said after her win at the 125th Cheyenne Frontier Days in 2021. "By the grace of God she has carried me to some amazing places. She is truly the best thing in my life."
Also Read: 8 Most Famous Barrel Racers
8 Other Interesting Facts About Hailey Kinsel
Kinsel competed as a gymnast before she switched to barrel racing
She graduated from college in 2017 with a BA in Agriculture Economics
She married Professional Bull Riders World Champion Jess Lockwood in 2019
As of 2021, her career earnings are $1,408,007
Her faith in God is a fundamental part of her life
Her biggest heroes are her mom, Lisa Lockhart and Sherry Cervi
Kinsel's sponsors include Purina Mills, Platinum Performance, YETI, Classic Equine and Cavenders
Her long-term plan is to have her own horse breeding and training operation
Hailey Kinsel Greatest Achievements Summary
Due to her hard work and determination, Hailey Kinsel achieved more in her career than she ever dreamed of. This table summarizes her most prominent achievements in barrel racing in reverse chronological order:
| | | | |
| --- | --- | --- | --- |
| Event | Location | Year | Medal/Title |
| RFD-TV's the American Rodeo | Arlington, TX | 2021 | Gold |
| National Finals Rodeo | Las Vegas, NV | 2020 | World Barrel Racing Champion, Average, RAM Top Gun |
| RFD-TV's the American Rodeo | Arlington, TX | 2019 | Gold |
| Calgary Stampede | Calgary, AB | 2019 | Gold |
| National Finals Rodeo | Las Vegas, NV | 2019 | World Barrel Racing Champion |
| National Finals Rodeo | Las Vegas, NV | 2018 | World Barrel Racing Champion |
| College National Finals Rodeo | Casper, WY | 2018 | NIRA College Champion Barrel Racer |
| RFD-TV's the American Rodeo | Arlington, TX | 2017 | Gold |
| National Finals Rodeo | Las Vegas, NV | 2017 | Reserve Barrel Racing Champion |
| Texas High School Finals Rodeo | Abilene, TX | 2014 | Barrel Racing Champion |
Hailey Kinsel's Horses
When talking about her achievements, Hailey Kinsel tends to give all the credit to her horses. Below, we take a closer look at four remarkable equines that have carried the barrel racer to stardom.
Josey
Josey was Hailey Kinsel's first barrel racing horse. The two started working together when Kinsel was 13, as the horse "couldn't be used on the ranch".
"Josey was off the track, and she was one that mom and I kind of brought along together" the barrel racer said in an interview with Cowgirl Magazine. Kinsel competed with Josey throughout high school until the mare came down with an injury.
After retiring from rodeo, Josey became a broodmare on Kinsel's family ranch.
Thunder Stones "TJ"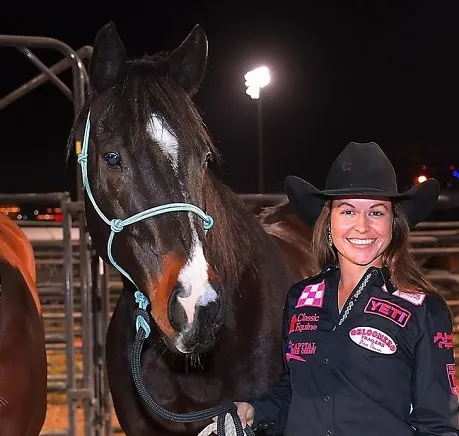 Thunder Stones is a dark bay Quarter Horse gelding who serves as Kinsel's backup horse on the circuit. Affectionately called "TJ", he was born in 2004 and is by Sticks and Stones out of See F Jets Candy.
Kinsel came across TJ when she was in college and competed with the gelding throughout her time there. She also got her permit for the Women's Professional Rodeo Association (WPRA) riding TJ.
At the 2018 NFR, Kinsel ran TJ for the Top Gun title after becoming World Barrel Racing Champion for the first time riding Sister. She praised the gelding's performance, saying "He proved that he deserves to be here, too".
DM Sissy Hayday "Sister"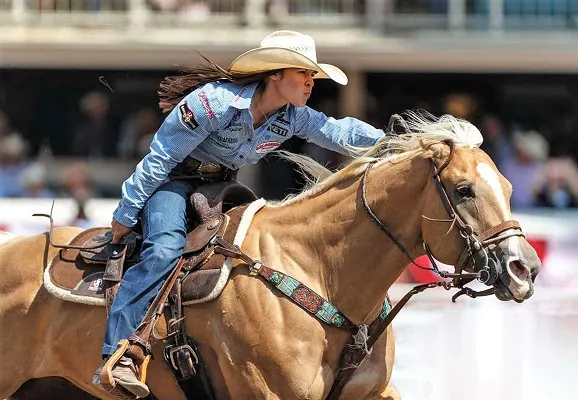 Included in our list of famous barrel racing horses, DM Sissy Hayday, nicknamed "Sister", is a palomino Quarter Horse and Hailey Kinsel's main competition horse. Born in 2011, she was sired by PC Frenchmans Hayday and out of Royal Sissy Irish, a daughter of Royal Shakem.
According to Cowgirl Magazine's interview, Kinsel grew up watching her barrel racing idol Sherry Cervi compete with Sister's sire PC Frenchmans Hayday, a.k.a. Dinero. In the interview, Kinsel revealed:
"We bought her [Sister] because we had an older half sister to her out of a Royal Shake Em mare that we just loved. We tried to find that lineage and follow that bloodline and thought, 'Well, if she's crossed with Dinero, this could be good.'"
Kinsel and her mom bought Sister as a 2-year-old filly when she was a freshman at college. Sister was one of the many horses they trained from the ground up, while Kinsel continued to compete on her other horses.
While Sister's training didn't always go smoothly, the filly proved to be a promising barrel racing prospect. Kinsel started competing her as a 5-year-old, and the golden mare never let her down since.
In the first 14 months of competing together, Sister and Kinsel brought home $35,000. Kinsel rode her to victory on her first professional rodeo event in Elizabeth, Colorado in 2016, repeating the feat in Denver, Colorado the next year.
"She really is that fast and that athletic, and I can't take credit for that. Some horses just have it, and she has that 'it' factor", the barrel racer said about her horse.
DH Jess Stellar "Jules"
DH Jess Stellar or "Jules" is Hailey Kinsel's other palomino barrel racing mare. Born in 2013, she is by Mighty Jess out of PC Frosted Stellar, daughter of Sun Frost. Jules is currently owned by Hodges Farm.
Frequently Asked Questions
What is Hailey Kinsels fastest barrel time?
Hailey Kinsel's fastest barrel time on a standard pattern is 16.63 seconds. This is also the fastest run ever on a WPRA event, which Kinsel completed riding Sister in Dodge City, Kansas (2020).
Kinsel and Sister ran some impressive times throughout their time competing together. Who knows, maybe they will even break the barrel racing world record sometime in the coming years!
What is the world's fastest barrel run?
Speaking of which, what is actually the world record in barrel racing?
The world's fastest barrel run of 16.399 seconds was achieved in 2017 by Brazilian rider Evelino Rocha and her horse Rollin In The Fame. Whereas, the American record was set at 16.479 seconds by two-time WPRA world champion Brittany Pozzi Tonozzi and Kisskiss Bangbang in 2015.
Who trained Hailey Kinsels horse?
Hailey Kinsel's champion barrel racing horse Sister was trained by herself and her mom Leslie Kinsel. Starting young horses is a passion they both share, and the mother-daughter pair trained many of their horses themselves.
The barrel racing star is truly fortunate to have such a supportive and knowledgeable family she can count on. According to Cowgirl Magazine's interview, Hailey Kinsel has always had a good relationship with her family. She said her parents gave her the tools to do what she wanted, but didn't make it easy, which is something she's grateful for.
Does Hailey Kinsel own Sister?
Hailey Kinsel has owned Sister since she was a freshman at college. The pair have developed a close bond over the years, and Kinsel is proud of the fact that she knows the mare like the back of her hand.
Throughout their time together, Sister helped Kinsel win over $1 million in career earnings. The palomino mare also won awards of her own, including the American Quarter Horse Association (AQHA) Barrel Racing Horse of the Year award in 2018.
Did Hailey Kinsel win the American?
Hailey Kinsel won the American Rodeo three times: in 2017, 2019, and 2021. She and Sister came second in 2018 and didn't compete in 2020 due to the event being canceled because of Covid-19.
There's no doubt the champion barrel racer and her golden horse will be back at the 2022 American Rodeo to defend their title. Will they achieve the first-ever consecutive victory at this great Western event? We shall wait and see!
Who is the best barrel racer in the world 2021?
The best barrel racer in the world in 2021 was Hailey Kinsel, who ranked 1st in the Pro Rodeo World Standings that year. In the 2021 season alone, Kinsel attended 60 rodeo events and earned an eye-watering $113,528.59!
Although barrel racing was never about money for Kinsel, she managed to make a business out of competing with her horses. However, even she didn't, she would rather be poor and doing rodeo than working a 9-5 job, the barrel racer told Cowgirl Magazine.
Also Read: 12 Interesting Facts & FAQs About Amberley Synder