Our readers support us. This post may contain affiliate links. We earn from qualifying purchases. Learn More
Graham Wardle is a Canadian actor best known for his role as Ty Borden in the hit TV series Heartland. The 34-year-old actor was born in Mission, British Columbia, Canada, and is one of six children in his family.
On Heartland, Ty Borden works as a ranch hand at Heartland ranch and is married to horse-whisperer Amy Fleming.
Overview of Graham Wardle's Stats:
| | |
| --- | --- |
| Born: | September 6, 1986 |
| Height: | 180 cm (5' 11") |
| Weight: | 76 kg |
| Nationality: | Canadian |
| Net Worth: | $3 million (estimated) |
| Occupation: | Actor, filmmaker, photographer |
Though Graham Wardle's most well-known for his main role in Heartland, outside of the show he is passionate about many things including photography, filmmaking, and charity work.
*Spoilers for Season 14*
Below we will reveal some interesting facts and answer common FAQs about Graham Wardle.
Here are 10 Interesting Facts About Graham Wardle:
Graham Wardle Went to His First Acting Audition by Accident
Graham Wardle's acting career began by accident. When he was six-years-old, Graham and his mother were sitting in a room for children's auditions without even knowing it.
Graham Wardle decided to audition and went on to receive a part for a toy commercial. This was the beginning of his successful acting career. He has gone on to star in many different TV shows and movies.
Graham Wardle Has Been Featured in Other Hit TV Shows
Heartland isn't the only hit TV show Graham Wardle has to his credit. The Canadian actor was in two episodes of the widely popular show, Supernatural.
In addition to Supernatural, Graham Wardle has also acted in other popular shows such as The New Addams Family and Life as We Know It. He was also in Land of the Women alongside actors Kristen Stewart, Meg Ryan, and Adam Brody.
Also Read: Why Did Graham Wardle Leave Heartland?
Graham Wardle is a Published Author
Graham Wardle is also a published author. In his book, Find Your Truth, Wardle tells experiences from his life, sharing his feelings and emotions.
"I created this book as a window into the aspects of life that I find beautiful and challenging. A combined collection of my writing and photography that I hope gives you a deeper look into life and your own truth," said Wardle
The book also shares some of the beautiful work he has done as a photographer. Every book includes a free signed photograph of Wardle, which is a wonderful gift for any fan.
All proceeds from the book go to Sophie's Place of the Centre For Child Development, a registered charity within British Columbia, Canada.
You can purchase Wardle's book here.
A Football Injury Changed His Life
In 2003, Graham Wardle was on the inaugural New Westminster Hyack football team. While he was playing, he suffered a concussion that influenced his future.
Though he was already passionate about acting and the arts, his injury drove him to persue a career as an actor.
Graham Wardle's First Horseback Riding Lesson Was Only Days Before Filming Heartland
Though Graham Wardle's character rides in Heartland, the actor had never taken riding lessons prior to the show. In fact, his first horseback riding lesson was just days before filming began.
Wardle showed up to his riding lesson in shorts and tennis shoes. He was unaware that this was not appropriate horseback riding apparel. Fortunately, the costume department generously sent some cowboy boots over for him to ride in.
Now, he always makes sure to ride with pants. He has picked up several horseback riding tips from the wranglers on set and Amber Marshall (Amy Fleming), who is a real-life equestrian herself. So far, Graham Wardle's favorite horse is still Sugarfoot.
Also read: 8 Things You Didn't Know About Amber Marshall, Amy Fleming from Heartland.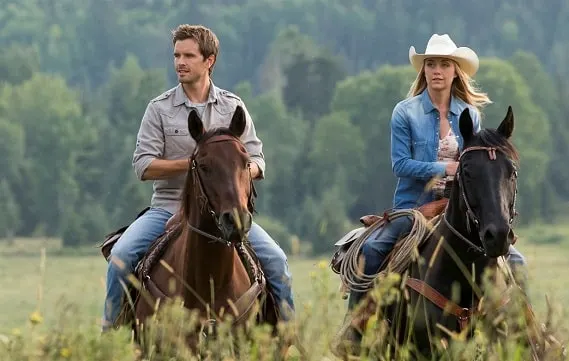 In His Free Time, He Does Charitable Work
Outside of acting, Graham Wardle is passionate about charity work. He has generously given and done work for different charity organizations.
"I think it's great to give back and I think that when you are blessed to be able to share with others, I think that that's what life is about: sharing what you have and giving…" said Wardle.
In 2013, Graham Wardle began doing various charitable work, which he stills continues to do today. He worked to raise funds for the organization 'Men of Hope', which works to aid victims of sexual abuse.
After flood-damaged areas of Alberta and High River, he took part in several flood relief efforts. Graham Wardle even ran the Calgary Pineapple Challenge marathon for leukemia cancer.
Later in 2013, Graham Wardle went on to co-found 'Cruise With A Cause' with his friend Don McLeod. The organization raises money for local charities and initiatives in British Columbia and Alberta by hosting an annual motorcycle ride. The organization combines Graham Wardle's passion for charity work and riding motorcycles.
All the proceeds from the items available for purchase on Graham Wardle's website go to different charities. These charities include The Canadian Mental Health Association, Sophie's Place of the Centre For Child Development, and The Jane Goodall Institute of Canada.
Graham Wardle has raised over $26,000 for charities from purchases made on his website.
He Went to Capilano University
Wardle attended the Motion Picture and Production Program at Capilano University in Vancouver.
During his time at college, Graham Wardle participated in the making of several films. He graduated in 2007 after completing three years of film school.
Graham Wardle is a Filmmaker and Photographer
In addition to being a well-known actor, Graham Wardle is also a filmmaker and photographer. In 2012, he produced The Vessel along with friends and Capilano alumni as part of the Crazy 8's project.
Wardle also co-founded Lone Maverick, a movie production and entertainment company in 2013. When he isn't acting, he is busy creating his own works. The Canadian also enjoys photography in his free time.
Graham Wardle Has His Own Podcast
Graham Wardle hosts his own podcast called "Time Has Come." He began the podcast in May 2020 and regularly posts episodes on YouTube, Spotify, Apple, and his website.
"What has the time come for in your life? What is emerging for you? What rests within your soul that is ready to be awakened?" Wardle states in the bio of his podcast.
Wardle talks with various guests on the joys and journeys of life. He converses with people from all walks of life, discussing different matters.
Listen to Graham Wardle's podcast here.
Graham Wardle is on On Cameo
Graham Wardle is one of the many celebrities who are currently on Cameo. Cameo is a website that gives celebrities the ability to send personalized videos to their fans.
Graham Wardle appears to be quite a star on Cameo, as he has over 100 five-star reviews. The star sends out birthday wishes, congratulations, and pep talks to his adoring fans. You can book a Cameo from Graham Wardle for yourself or a loved one!
Is Graham Wardle Married to Amber Marshall in Real Life?
Graham Wardle is not married to Amber Marshall. Though their characters, Ty Borden and Amy Fleming, are married on the show Heartland, they are not married in real life.
Is Graham Wardle Married?
Graham Wardle and his ex-wife Alison Wardle divorced in 2018. It is unknown if he has a partner and is considered to be single.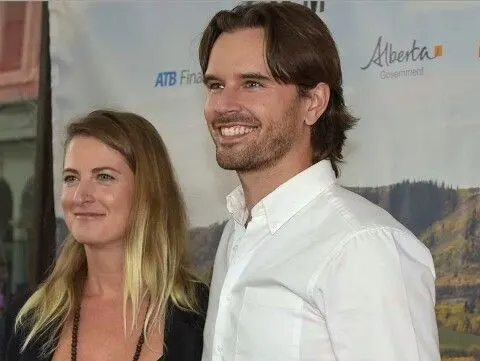 Graham discussed his divorce in a Facebook Live broadcast in early 2020.
What Do Graham Wardle's Tattoos Say?
Graham Wardle has two tattoos, one on each arm. The one on his left arm says "Know Yourself" and the one on his right arm says "Be Yourself"
*Spoiler coming up for anyone who hasn't seen Season 14!*
"The left side of the body represents the inner world and the right side of the outer. My left tattoo is there to continuously point my attention inwardly towards the deepest question I know, "Who Am I?" The right tattoo is there to remind me to act and live from that answer," said Graham Wardle.
Is Graham Wardle Still on Heartland?
Graham Wardle left his role as Ty Borden on Heartland before season 14. In the first few scenes of season 14, Ty Borden becomes seriously ill from a gunshot wound and dies soon after.
After 14 years on the show, Graham Wardle decided to leave Heartland to have a fresh start and pursue new challenges in his acting career.
Also read: