As an icon of the Sand Wash Basin, the mesmerizing stallion Picasso has gained a large following over the years.
However, as he has not been seen since December 2019, many now speculate that the beautiful steed is no longer with us.
Picasso was always seen every spring by tourists who come to visit the herd of horses located in the Sand Wash Basin.
Sadly, this spring no one saw the spunky stallion which leads many to believe he likely passed away in an unknown location.
Though he may no longer be with us, his legacy will forever live on.
Picasso's Rise to Fame
As we mention in our Picasso guide, branded as "America's most famous wild horse", this stunning pinto Mustang quickly became a symbol of the American West.
Picasso is famously known for his unique coat markings, two-toned mane, and his many scars that embody the perseverance of living in the wild.
It is believed that Picasso was born in 1990. In 2008, a worker with the Humane Society noticed the fierce stallion during a Bureau of Land Management roundup and described his markings like a Picasso painting.
The name stuck and he soon became a sought after sight by many visitors.
Picasso's rise to fame is credited to photographer Scott Wilson, who captured an amazing shot of the stallion seen below.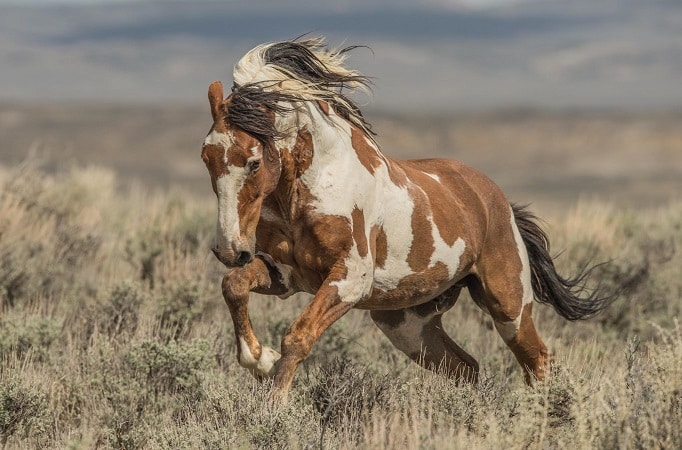 His spirit captivated countless people, who began to flock to the Sand Wash Basin in hopes of catching a glimpse of him.
He continued to be photographed by many people, as his fierce personality and striking appearance shined. In his younger years, he was often seen leading bands of mares and young horses, fighting off competitor bachelor stallions.
In his prime, photographer Patti Mosby said she once saw two bands of horses make a path as the legendary stallion passed by.
During the last couple years, Picasso was typically seen roaming alone. In his last known sighting, by a volunteer of the Sand Wash Basin Wild Horse Advocate Team, he appeared thin, with a swollen knee and lump on his stomach.
Though no remains have been found, and it is likely they never will be, Picasso has likely passed away after living a long life.
The Legacy of Picasso and His Impact on the Sand Wash Basin
Though it is probable that Picasso is no longer with us, he leaves a lasting legacy in the heart's of his followers.
His high profile boosted awareness of the horses of the Sand Wash Basin, helping the lives of the American Mustang now and in the generations to come.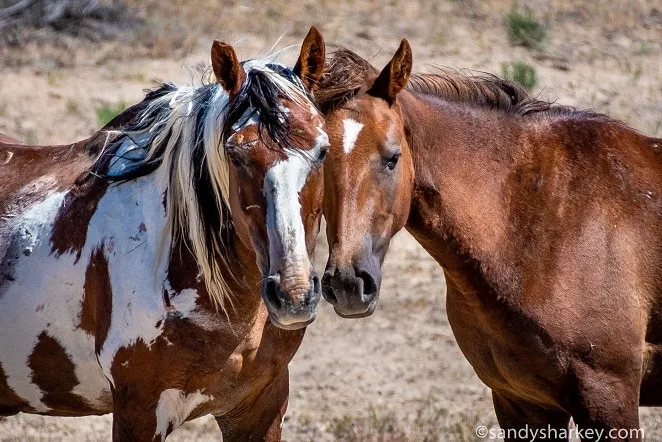 See more of Sandy's photos here on her Facebook page.
We reached out to Stella Trueblood, from the Sand Wash Basin Wild Horse Advocate Team, who spoke about the legacy of the beloved Picasso.
"Those of us who have been visiting the Basin for years surely miss his presence, it's odd not to see him. His territory was in the south end of the Basin, so easier to spot.
We all have special memories of him, one that stands out to me was he was very playful. He often sought out younger colts for playtime, I watched him on several occasions do this," said Trueblood.
Many people share fond memories of Picasso, whether they saw him in person or online. Not only has he been featured in many pieces of artwork, but he even has his own Breyer horse modeled after him.
"Interesting phenomenon about Picasso – he was just one of many horses in the Basin and not the most attractive by far, but he had something special that caught the attention of people," said Trueblood.
Even after life, Picasso's impact can still be seen. He leaves behind many descendants, who roam the beautiful Sand Wash Basin.
He has raised awareness of the horses living in the Basin and has inspired many to advocate for America's wild horses.
Beautiful and fierce, Picasso will be remembered for years to come.