Our readers support us. This post may contain affiliate links. We earn from qualifying purchases. Learn More
With Yellowstone season 5 part 1 coming to an end, many fans can't way for part 2.
The winter finale of Paramount's blockbuster Western series Yellowstone left us on the edge of our seats, picking up right where the Dutton family drama left off during the Christmas break.
Jamie moves ahead with his fervent ploy to take down his dear old dad by impeaching him in the state senate.
Beth comes to the chilling realization that the only way to shield her father from Jamie's malevolence and Market Equities alliance is to take him out permanently.
In episode 8, we got our first scenes at Four Sixes ranch and how Jimmy is getting on there. We also got a few scenes of Emily.
Avid Yellowstone viewers may notice that at the end of some episodes, there is a tribute to certain people, often behind-the-scenes crew or people close to the Yellowstone team who have recently passed away.
After Yellowstone Season 5, episode 8, there was a tribute to Glenn Blodgett that read "In Memory of Glenn Blodgett."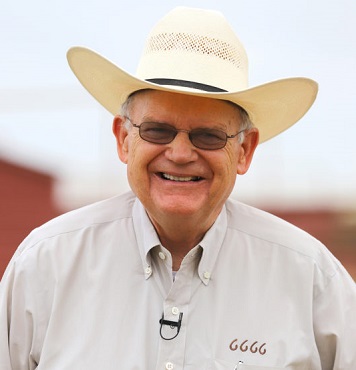 However, Glenn Blodgett's name is not part of the main acting cast on Yellowstone, and most fans have not heard of him.
So who is he exactly, and how is he connected to Yellowstone?
Who is Dr. Glenn Blodgett?
Dr. Glenn Blodgett died on November 20, 2022. He worked at 6666 Ranch, where he helped care for and train horses.
As Taylor Sheridan, the Yellowstone creator, is a part owner of 6666 Ranch, it is likely he knew Glenn Blodgett.
As an American Quarter Horse industry leader and global ambassador for the breed, he is in the Texas Cowboy Hall of Fame and Texas Horse Racing Hall of Fame.
Not only did Blodgett play a crucial role in the ranch's success as a leading breeder of American Quarter Horses, but he also made waves in the industry as a whole.
Here is Glenn Blodgett talking about his work with the American Quater Horse Association in 2015:
Dr. Glenn Blodgett Worked for 6666 Ranch since 1982
That's right! Blodgett joined the 6666 Ranch in 1982 and devoted himself to breeding Quarter Horses.
Under his leadership, the ranch became the all-time leading breeder of American Quarter Horses and won the 1993 AQHA Best Remuda Award.
In 2012, Blodgett was elected to the American Quarter Horse Association's executive committee, and three years later, he was elected as its president. And a year later, the American Association of Equine Practitioners honoured him with the title of AAEP Distinguished Life Member.
With numerous accolades and inductions into prestigious Halls of Fame, it's clear that Dr. Blodgett was one of the most accomplished veterinary specialists of his time.
His contributions to the advancement of horse breeding have cemented his place in history.
Our thoughts and prayers go out to Dr. Glenn Blodgett's family.
Also read: Who Owns 6666 Ranch? 4 Sixes Ranch History, Size & Facilities