So you decided to surprise your horse trainer for Christmas, her birthday or just to get back on her good side. Great! But what are the best gifts for horse trainers?
The best gifts for horse trainers can be as simple as a bottle of wine or a pack of fancy coffee. You can also help your trainer battle the elements by giving him a waterproof jacket or a baseball hat. For a more personal gift, consider a personalized painting or ornament of her favorite horse.
Gifting horse trainers something thoughtful is a great way to show your appreciation for all the hard work they put into improving you and your horse. And since equestrians are notorious for spending every last cent on their horses, your gift will surely receive a warm welcome!
Here are the 15 best gifts for horse trainers:
Ariat Women's Jacket
If you want to help your horse trainer be more comfortable working outdoors, you should surprise her with a warm water-resistant jacket. Especially if your yard has no indoor arena, this gift might make her less miserable and less tempted to take your stirrups away!
This comfy winter jacket will let no rain or wind through. Your horse trainer will definitely appreciate the soft inner lining and handy multi-pocket design.
Headband
Many of us don't know how handy these things are until we try one! If your barn is in a windy location, wearing a hat is often not enough to protect the ears.
A warm headband is the perfect Christmas gift for horse trainers who frequently complain about numb ears on cold winter days. Its snug fit will make it easy to wear a riding helmet over it and the materials will ensure it lasts forever.
Pivo Pod
If your horse trainer is a fan of tech gadgets and you've got the budget, the Pivo Pod might just be the perfect gift! It's like a portable cameraman that tracks your every move and creates beautiful videos of your riding sessions.
The Pivo Pod was designed with horse riders in mind and you can specifically set it to follow your horse. All you need is a tripod and smartphone to set up your unit, then place it in the center of the arena and voalá! The pilot will make sure you're always in the frame wherever you ride.
But there's more, the Pivo Pod App has various special effects that allow you to create GIFs, panoramas and 360° motion time-lapses.
Read our Pivo Pod review or see our guide on the best auto-follow cameras for equestrians.
Thermos
Do you often feel for your trainer having to work outdoors all year round regardless of the weather? Then why not get her something to keep her favorite hot drinks hot and cold drinks cold throughout the day!
A top-quality quarter gallon thermos could be a game-changer in your horse trainer's daily life. Perfectly portable and leakproof, this gift will make sure she always has the perfect drink at hand during those long working hours.
Personalized Baseball Cap
Many horse trainers choose baseball hats to protect themselves from the sun and will wear it every day in the summer. If your trainer is one of them, why not get her a baseball hat in the yard's colors and name embroidered on it?
Nothing excites team spirit more than having a piece of uniform clothing. Maybe you could convince some of your teammates to get a custom hat for themselves as well as your trainer?
Saddle Soap
No equestrian can own too much saddle soap! Since leather care products are essential to keep our boots and tack clean, a tin of high-quality saddle soap makes for a thoughtful gift for your horse trainer.
Ariat saddle soap will soften, condition, and waterproof your trainer's leather gear. A simple gift appropriate for any occasion!
Also read our guide on the best saddle soaps.
Custom Saddle Pad
Having a collection of saddle pads in various colors to match their clothing is every horse rider's dream. Would your horse trainer appreciate a new addition to her selection? Then why not get her a personalized saddle pad in the missing color!
Saddle pads are like tea towels: owning too many is the standard. These high quality quilted saddle pads come with an option to have the rider's and horse's name printed in beautiful metallic colors.
Horse Treats
Which horse trainer doesn't like to spoil her horse every now and again? Opting for a pack of delicious treats is always a safe bet when it comes to choosing a gift for your horse trainer!
These appetizing hedgy treats are safe to feed alongside all equine diets and will surely win any horse's approval. Keeping your trainer's horse in mind is a great way to show how much you care about her!
Spa Gift Set
Every horse trainer loves their job, but it is still hard physical work, especially if they also help out with yard duties. A pampering spa set is what they need to relax those sore muscles, even if they don't know it yet!
A lavender-infused bath set is a perfect gift for your always tired horse trainer. It comes in a beautiful handmade bag and includes 10 pieces of self-care items such as bath bombs, body butter, hand cream and body lotion. Your horse trainer will thank you later!
Shadow Box
If you've got a flair for creativity, why not make a personal gift for your horse trainer? The time you spend creating something really special always tells more about how much you value your relationship than a ready-made gift.
A decorative shadow box full of memories is one of the options to consider. There're many ways to go about the design of the gift. You can create a photo montage, include the first ribbon you won together with a personal message or objects from your first trail ride together. It's up to you.
A rustic shadow box will give a natural frame to your memories. Its high-quality materials and the hinged door will add an extra touch to the finished gift.
Horse Scent Candles
Although your horse training spend most of their day around horses, why not let her bring the joy of horses home with them with a horse scented candle.
These handmade candles have become really popular among equestrians and they come in a variety of horse and barn smells such as high-end leather, fresh-cut hay, blanket season, early morning hack, and many more.
Winter Horse Riding Gloves
Riding horses doesn't stop all year round, so it's inevitable your horse training will be spending many cold days in the ménage teaching or riding. Why not get him or her a pair of stylish winter horse riding gloves to keep their hands warm.
The pair we've chosen above are stylish, warm, lightweight, and you can still use your phone's touch screen with them. They can be word as horse riding or everyday gloves.
Custom Horse Portrait
If you want to give something really memorable to your horse trainer, why not draw or paint their favorite horse? Don't worry if you've never been much of an artist, you can easily order a custom horse portrait online.
The seller on Etsy can quickly turn any photo you send into a digital watercolor painting! You can send multiple photos for the artist to choose from, just make sure they're good quality. The file will be sent to you within 1-10 working days and you can request as many adjustments as you like with no additional charge.
Horseshoe Bridle Hook
What horse trainers wouldn't love some horseshoe art in their homes or tack rooms? These handmade horseshoe hooks would make a gorgeous addition to your trainer's storage unit. You could install them on the day of the occasion to surprise her!
Other horseshoe art to consider is curtain arms, bottle holders, hoof picks, or decorations, all made from used horseshoes. The items can be found in this Etsy store.
Custom Stable Name Plate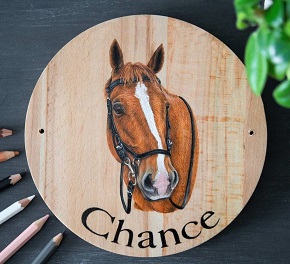 Most barns don't really put much effort into their stable nameplates. You could make your horse trainer's stand out by gifting her horse a personalized plaque!
This Etsy artist creates beautiful hand-drawn nameplates with the horse's portrait and name. All you have to do is send the name and photo of your trainer's horse and you will receive a glossy wooden nameplate. A truly bespoke gift that's guaranteed to capture your horse trainer's heart!
Also read our guide to the best gifts for equestrians and horse owners.
See our other equestrian gift articles here.