This post may contain affiliate links. We earn from qualifying purchases. Learn More
The Netflix original show Free Rein has captured the hearts of horse lovers around the globe. It follows the adventures of 15-year-old Zoe and her special horse, Raven, who first meet on a charming British island.
Free Rein is primarily filmed in North Wales, United Kingdom, specifically on the island of Anglesey and the town of Beaumaris. Parts of the show were also filmed in Shropshire and Cheshire, England.
The popular drama series has pocketed two Emmy Awards and released three seasons so far. Besides the main series, audiences can enjoy two special episodes, Free Rein: Valentine's Day and Free Rein: The 12 Neighs of Christmas.
Zoe's inspirational journey showed audiences that life is all about falling off – and learning to pick yourself up again.
Below, we answer the most common questions about the popular TV show Free Rein!
What Island is Free Rein set?
The show's storyline kicks off when Zoe visits her mom's childhood home on a picturesque British island. There, she encounters a beautiful black horse and makes a bunch of new friends.
Free Rein is set on a fictional island inspired by the Isle of Wight, United Kingdom. Throughout the series, the place is referred to as "an island off the coast of England."
In real life, most scenes set on the island were filmed in Anglesey, North Wales. The small town of Beaumaris appears as the island's pier on the show. Other filming locations for Free Rein include the towns of Ellesmere, Whitchurch, and Malpas in Shropshire, England.
The exact location of Brightfields Stables, where Zoe discovers equestrian life, is unknown. However, it has been revealed that the stables are located somewhere alongside the Welsh border.
What Horse Breed is Raven From Free Rein?
Zoe first meets Raven on the beach while searching for her missing sister, Rosie. Raven is agitated and rears up, but Zoe somehow manages to calm the wild stallion. The connection they had on this first encounter will last for the rest of the series.
Raven from Free Rein is played by a Friesian cross horse named Maca. He belongs to the show's stunt coordinator Steve Dent, alongside most other horses in the series.
In Free Rein, Raven's real name is Midnight Blue, and he is the son of world-famous Thoroughbred racehorse Ruby Dawn. Naturally, he is Jaylen Barron's favorite horse on the set, who plays the show's star, Zoe. "He's the sassiest little thing," the actress told Showtimes.com.
The other horses in Free Rein also have unique personalities in real life. For example, the horse playing Bob, whose real name is Benji, was rescued from a neglected field before he began his career in film. He now knows many clever tricks, such as how to untie himself or ransack the tack room!
Benji is also co-writer Vicki Lutus' favorite horse to work with. "He's the biggest diva on set, without a doubt," she told Horse and Hound magazine.
To learn more about the Free Rein horses, check out the video below:
Can the Actors in Free Rein Actually Ride?
The actors in Free Rein appear as natural, confident horse riders. So you might be wondering, can they actually ride, or is it all just tricks and stunts?
At the start of the series, not many actors in Free Rein could actually ride. However, over time they became decent riders as riding lessons were mandatory on set.
In the interview of Showtimes.com, actress Jaylen Barron revealed she didn't have any experience with horses when she auditioned for the role of Zoe. However, three seasons later, she became fond of horses and riding.
Still, regardless of an actor's experience with horses, the more difficult riding scenes will always be done by stunt doubles. These include high-speed canter, jumping, or falling off a horse. Here's a cool video about the stunt work that goes on behind the scenes of Free Rein:
Olympic Dressage Rrider Charlotte Dujardin Appears in Free Rein
It seems like this coming-of-age horse series is full of surprises! As it happens, Bob's dressage performance in Season 1 Episode 10, "Show Down," was judged by none other than dressage superstar Charlotte Dujardin.
Dujardin shared her experiences regarding filming with Shropshire Star. "I was very nervous to take part in this, but it was an amazing opportunity for a dressage rider like me and has a great cast," she said.
The famous rider appeared as herself in the series, creating plenty of hype and excitement with her presence. Her cameo was certainly a nice treat to dressage enthusiasts around the world.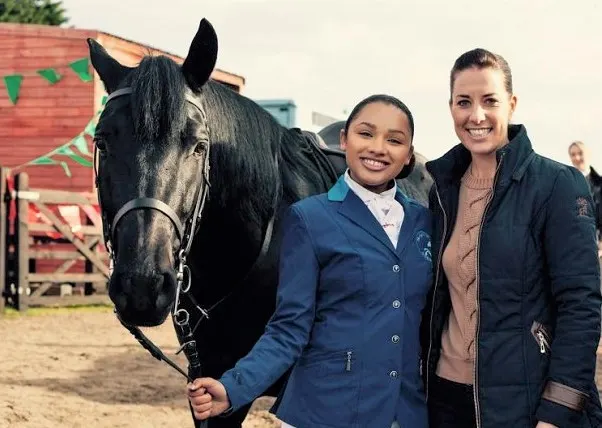 Zoe and Suzie are Best Friends in Real Life
As revealed by Jaylen Barron (Zoe Phillips) on Showtimes.com, she and Carla Woodcock (Suzie) are best friends in real life! In the interview, Barron shared "I love her, she's hilarious, and she's extremely sarcastic".
Suzie is Mia's best friend in Free Rein, who is the mean, rich girl in the series. Unlike Mia, Suzie is less temperamental and always means well. She and Zoe will become friends later in the series.
Jaylen Barron is an American actress known for her roles in Shameless (2011-2021), Free Rein (2017-2019), and Blindspotting (2021- ). Whereas Carla Woodcock is an English actress with major roles in Free Rein and Ackley Bridge (2017- ).
Is There Going to be a Free Rein Season 4?
Currently, fans can enjoy three seasons of Free Rein, each consisting of ten 30-minute episodes. Season 3 premiered on July 6, 2019, and proved to be very popular, but is there scope for a new season?
It is not known whether there is going to be a Free Rein Season 4. Netflix is yet to announce the renewal or cancellation of the series.
Since Netflix appears undecided about Free Rein, there is still hope for the series to return. We'll update this article as soon as we hear something, so make sure to check back often!
Where Can I watch Free Rein For Free?
Free Rein is available to watch exclusively on Netflix in over 190 countries. Netflix currently offers a 30-day free trial to non-subscribers, although you will only have access to a limited series selection.
Free Rein is an inspirational show about falling off and learning to pick yourself up again. If you love horses, it is guaranteed that you'll love the series too. While Free Rein is not available anywhere other than Netflix, their basic plan is only $8.99/month, and you can cancel any time!