Our readers support us. This post may contain affiliate links. We earn from qualifying purchases. Learn More
The horse racing world has long been dominated by male jockeys. However, there have been some famous female jockeys who have made a name for themselves in this competitive sport.
These notable women have shown the world they have what it takes to make it in the horse racing industry. They have won some of the biggest races in the world, proving just what women are capable of doing in the sport.
These famous female jockeys are breaking barriers and making way for future women riders in horse racing.
Here are 12 women who shook up the jockey industry.
1. Julie Krone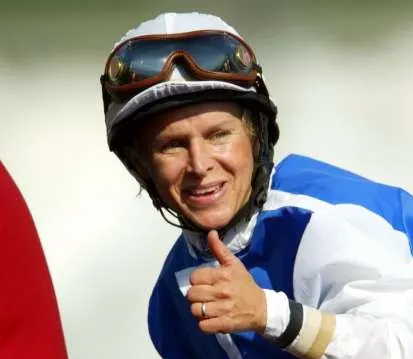 Julie Krone was born on July 24, 1963, in Benton Harbor, Michigan. Krone grew up showing horses, following in her mother's footsteps.
At the age of 14, she watched 18-year-old Steve Cauthen win the 1978 Triple Crown, which inspired her to become a jockey. On January 30, 1981, she made her professional racing debut at Tampa Bay Downs in Florida, aboard a horse named Tiny Star. Just a month later she won her first race and she soon became well-known in the horse racing world due to her success.
In 1993, Krone became the first and only female jockey to win the prestigious Belmont Stakes while riding Colonial Affair. During her career, she also went on to win notable races at the Gulfstream Park, Monmouth Park, The Meadowlands, and Atlantic City Race Course. She won a total of 3,704 starts, making her perhaps the most successful female jockey in America.
Krone retired from racing in 1999 and went on to have a broadcasting career in horse racing. She came out of retirement in 2002 and in 2003 she became the first female to win a Breeders' Cup race. However, in 2004 she retired again after dealing with injuries.
Due to her stellar career, Krone became the first female jockey to be inducted into the National Museum of Racing and Hall of Fame. She also won the 1993 ESPN's Professional Female Athlete of the Year and the 2004 Women's Sports Foundation's Wilma Rudolph Courage Award.
2. Michelle Payne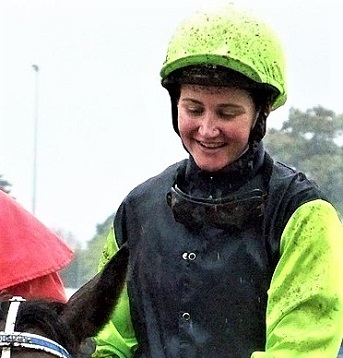 Michelle Payne was born on September 29, 1985, and grew up on a farm in Miners Rest, Australia. As the youngest of ten children, she followed in her older sibling's footsteps, as she is the eighth child to become a jockey.
At just 15 years old, Payne competed in her first professional race. She won her first race at Ballarat aboard Reigning, a horse trained by her father.
At the age of 18, Payne suffered a serious fall during a race that left her with a fractured skull and bruised brain. Fortunately, she went on to recover and continue her racing career.
In 2015, Payne became the first woman to win the Melbourne Cup while riding Prince of Penzance. Her victory was made even more memorable by the fact she won with odds of 100-1. So far in her career, she has won over 700 starts.
Payne is currently the only person in Victoria to hold a dual trainer/jockey license. So far, she has trained over 30 winners.
In 2016, Payne became the first female to win the Chairman's Award and be inducted into the Australian Racing Hall of Fame. That same year she was also awarded the Don Award at the Sport Australia Hall of Fame awards. In 2017, Payne received the Longines Ladies Award and at the 2021 Australia Day Honours, she received the Medal of the Order.
Also, read 8 facts you didn't know about Michelle Payne.
3. Rosie Napravnik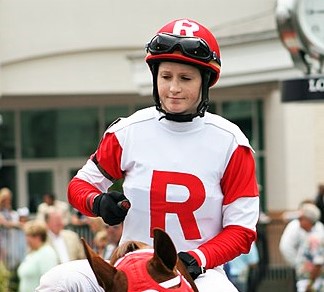 Rosie Napravnik was born on February 9, 1988, in Mendham, New Jersey. As both of her parents had jobs in the horse industry, Napravnik began riding at a young age.
At age seven, she competed in her first pony race with a Welsh Mountain Pony. For several years, she competed in pony racing and eventing. Napravnik spent much of her youth working with different trainers.
Napravnik left her senior year of high school to pursue her career in Thoroughbred racing. She won her very first race and her success continued on from there. Napravnik won several major races including the 2011 Louisiana Derby and the Kentucky Oaks in 2012 and 2014. She is also the only woman to have competed in all three Triple Crown races.
She is the first woman to win two Breeders' Cups, as she won the 2012 Breeders' Cup Juvenile and the 2014 Breeders' Cup Distaff. After her 2014 Breeders' Cup victory, she retired from horse racing, revealing that she was six weeks pregnant. She won a total of 1,877 starts.
Napravnik continues to assist her husband, Joe Sharp, with training horses. She has even competed in eventing with an OTTB (off the track Thoroughbred). She is now an advocate for repurposing OTTBs, giving them new careers.
4. Chantal Sutherland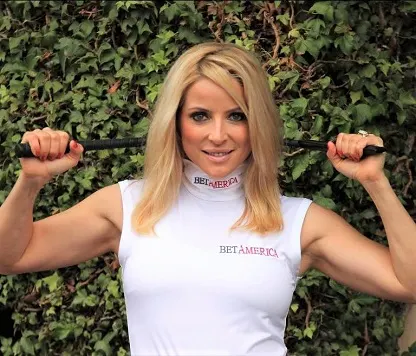 Chantal Sutherland was born on February 23, 1976, in Winnipeg, Manitoba. In addition to being a jockey, Sutherland is also a model and TV personality.
Sutherland grew up riding horses and her father owned and trained Standardbreds. After graduating college, she gained an interest in Thoroughbred racing. In 2000, she began her career in racing, winning her first race at the Woodbine Racetrack.
In 2001 and 2002, Sutherland received the Sovereign Award as Canada's top apprentice jockey. She has won many major races in Canada and America, including the Miami Mile Handicap, Eclipse Stakes, Hollywood Gold Cup and Sunset Handicap. She is also the first female jockey to win the Santa Anita Handicap.
Sutherland is also the first female jockey ever to race in the coveted Dubai World Cup. So far, Sutherland has 1,060 wins under her belt.
5. Rachael Blackmore
Rachael Blackmore was born on July 11, 1989, in Killenaule, Ireland. She began riding at a young age, competing at Pony Club shows and pony racing.
Blackmore attended the University of Limerick, where she graduated with a degree in equine science. During her time in college, she began competing as an amateur jockey.
Blackmore had her first win as a professional jockey in 2015. In 2017, she went on to become first woman to win Ireland's conditional riders' championship. Her first Grade 1 race victory came in April 2019 when she won the Mares Novice Hurdle Championship Final aboard Honeysuckle.
In 2020 and 2021, Blackmore won the Irish Champion Hurdle. In 2021, she had a notable Cheltenham Festival, winning not only the Champion Hurdle, but also the Ruby Walsh Trophy. Blackmore became the first female jockey to win the Grand National, winning the 2021 race aboard Minella Times.
Also read, 8 facts you didn't know about Rachael Blackmore.
6. Diane Crump
Diane Crump was born on May 18, 1948, in Milford, Connecticut. She is the first woman to compete in a pari-mutuel race in the United States.
Crump's first race was on a horse named Bridle 'n Bit at Hialeah Park Race Track. She had a police escort at the track due to the hostility she was facing, as the crowds were angry about a female jockey. Just two weeks later, Crump won her first race.
In 1970, Crump became the first jockey to compete at the Kentucky Derby. In addition to racing in America, she has received invitations to race in Puerto Rico and Venezuela. During her career, she won over 200 races.
Crump's career in horse racing gave way for other female jockeys to follow in her footsteps. After retiring from racing, she went on to work as a trainer and now runs an equine sales business.
7. Rosemary Homeister, Jr.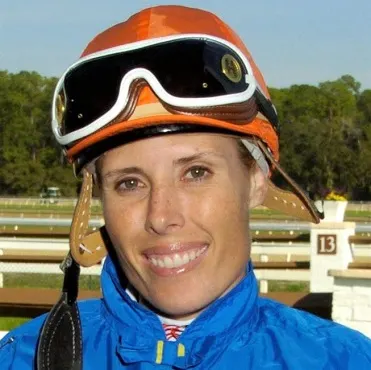 Rosemary Homeister, Jr. was born on July 5, 1972, in Hollywood, Florida. She comes from a family of equestrians, as both of her parents were jockeys as well.
Homeister began her career as an exercise rider and breaking yearlings. She started her riding apprenticeship in 1992, becoming the first woman to win the Eclipse Award for Outstanding Apprentice Jockey. From 2000-2001, she led the United States in wins by female jockeys.
Homeister won many major races including the Tampa Bay Breeders Cup Stakes, Clasico del Caribe, Kentucky Cup Turf, and Florida Oaks. She originally retired in 2004, but then returned to racing in 2006. Homeister then retired again in 2015 after winning over 2,700 races.
Homeister is a member of both the Calder Race Course Hall of Fame and the Puerto Rico Horse Racing Hall of Fame. She is also only the fifth woman to compete in the Kentucky Derby.
8. Hayley Turner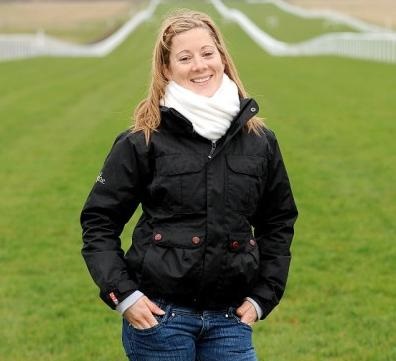 Hayley Turner was born on January 3, 1983, in Nottinghamshire, England. She is considered to be the most successful female jockey in the United Kingdom in flat racing.
Turner's racing career began in 2000. She has won major races such as the July Cup and Nunthorpe Stakes. Turner is the first woman to ever win 100 UK Flat races during a calendar year.
Throughout her career, Turner has raced in the United States, UK, Italy, Germany, and France. She originally retired in 2015 before returning to her racing career in 2018. So far, she has won more than 860 starts.
In 2005, Turner received the British flat racing Champion Apprentice award. She was named the 2008 Channel 4's Racing Personality. In 2016, Turner was appointed Officer of the Order of the British Empire for her contribution in horse racing.
9. Donna Barton Brothers
Donna Barton Brothers was born on April 20, 1966, in Alamogordo, New Mexico. She comes from a family of jockeys, as her mother and both of her siblings were jockeys.
Brothers began racing professionally in 1987. During her racing career, she won several major races including the Edgewood Stakes, Louisville Handicap, Thoroughbred Club of America Stakes, and Churchill Downs Debutante Stakes. At the time, she was the leading female rider in the nation by the number of wins.
Brothers retired in 1998 after winning 1,130 starts. She went on to marry Frank Brothers, a Thoroughbred trainer, and began a career in broadcasting.
Brothers now works as a broadcaster for NBC Sports and NBCSN, covering horse races and equestrian events. She has covered the Breeder's Cup Championships, World Equestrian Games, PBR World Championships, Kentucky Land Rover Three Day Event, and even the Triple Crown races. She often conducts post-race interviews from horseback.
10. Nina Carberry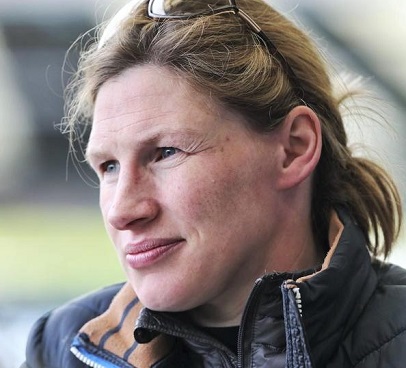 Nina Carberry was born on July 21, 1984, in Ashbourne, Ireland. She comes from a great racing family, as she is the daughter of jockey Thomas Carberry.
In 2005, Carberry had her first Cheltenham Festival aboard Dabiroun in the Fred Winter Juvenile Novices' Handicap Hurdle. From 2007-2009, she won the Cross Country Handicap Chase three consecutive times. In 2011, she became only the second female rider to win the Irish Grand National.
Carberry has won at the Cheltenham Festival an impressive seven times. She is the most successful female rider in the festival's history. Carberry has won over 400 races in her career. She is the most decorated female National Hunt rider in history. She retired from horse racing in 2018.
11. Jamie Kah
Jamie Kah was born on December 7, 1995 and grew up in Adelaide Hills, Australia. She comes from a family of athletes, as her parents were Olympic speed skaters.
Kah began a riding apprenticeship in 2011 and rode in her first race in March 2012. Just 14 days after her debut race she had her first win at the Easter Saturday meeting at Clare. She completed her first full season of racing by winning the Adelaide Jockeys' Premiership.
Kah's success in the saddle only continued on from there. After two more Premiership wins, she won her first Group One race in 2019.
In October 2020, Kah was ranked the best female jockey in the world. She achieved another big record to become the first jockey to win 100 races in a Melbourne Metropolitan racing season. Her partner is fellow horse jockey Clayton Douglas and the two have a property on the Mornington Peninsula where they keep retired racehorses.
12. Anna Lee Aldred
Anna Lee Aldred was born on April 19, 1921, in Montrose, Colorado. As the daughter of a racehorse trainer, she began riding at the age of three and racing ponies at the age of six.
At 18 years old, Aldred became the first female to receive a jockey's license. At first, officials tried to deny her a license and prevent her from racing. However, they couldn't find anything in the rule book stating women couldn't race so they gave her a license in Mexico.
A fierce individual, Aldred had a successful career in the horse racing industry. In 1944, she retired from racing and opened up a riding school in California. She then became a trick rider and would perform at rodeos throughout the western United States.
Aldred also worked as a "ponyboy" leading jockeys and racehorses at the Montrose fairgrounds, as well as riding at the opening of the annual fair. In 1983 she became a member of the National Cowgirl Hall of Fame and in 2004 she became a member of the Colorado Women's Hall of Fame.
Also read: 12 Most Famous Racehorses in History