This post may contain affiliate links. We earn from qualifying purchases. Learn More
For centuries, horses have been revered for their incredible athleticism. The sport of horse racing has long celebrated the speed and stamina of these magnificent creatures.
From the mighty Secretariat to the underdog Seabiscuit, we are taking a look at some of the fastest horses of all time. These incredible equines made a lasting impact in the racing world for their record-breaking speed.
While the average speed of a horse at a gallop is between 25-30 mph, these racehorses have reached speeds of over 35 mph, with some even reaching over 40 mph.
These talented horses have become legends in the equine industry, as their incredible talent is second-to-none.
Fastest Horses Ever
Every year, thousands of Thoroughbreds are born around the world in hopes they will become the next greatest racehorse. However, only a handful of horses make it to the top with only a few achieving legendary status.
Here are the fastest horses in history:
1. Secretariat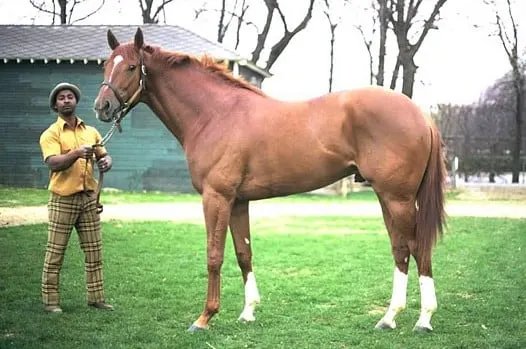 Perhaps the most famous racehorse, Secretariat's career was one for the storybooks. During his career from 1972 to 1973, he won 16 of his 21 starts, including winning the Triple Crown.
Affectionately known as Big Red, Secretariat won the Triple Crown in incredible fashion, setting record times in every race that still stand today. On top of this, he won the Belmont Stakes by a shocking 31 lengths. Secretariat's success on the racetrack is in part to his oversized heart.
Secretariat's legendary career earned him two consecutive Horse of the Year titles, alongside five Eclipse Awards, and the #2 spot on The Blood-Horse's Top 100 US Thoroughbred Champions of the 20th Century list.
2. Winning Brew
Winning Brew may not be as recognizable as some other names on this list. However, the talented mare holds the world record for the fastest racehorse in the world.
At the Penn National Race Course in 2008, Winning Brew hit a swift speed of 43.97 mph. She covered a quarter-mile distance in just 20.57 seconds. This earned her the record for the highest race speed recorded over two furlongs.
Despite this truly incredible feat, Winning Brew had a short-lived racing career. However, she did manage to win two races in her nine starts.
3. Man o' War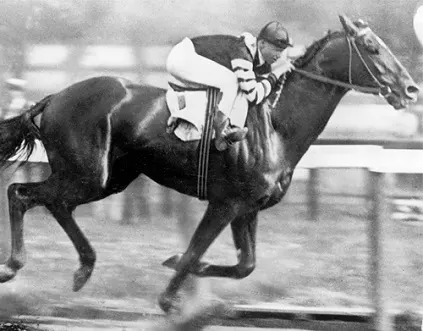 Man o' War is hands down one of the most successful racehorses ever to live. The fierce chestnut stallion won 20 of his 21 races.
Also known as Big Red, Man o' War's career lasted from 1919 to 1920, in which he earned a staggering $249,465 (equivalent to over $3 million today). Man o' War won the 1920 Preakness and Belmont Stakes, however, he did not race in the Kentucky Derby.
His incredible feats on the racetrack earned Man o' War the title of the best racehorse of the 20th century. After retiring, he became a leading sire with descendants like the legendary War Admiral and Seabiscuit. His remarkable speed on the racetrack earned him a spot in the National Museum of Racing and Hall of Fame.
4. American Pharoah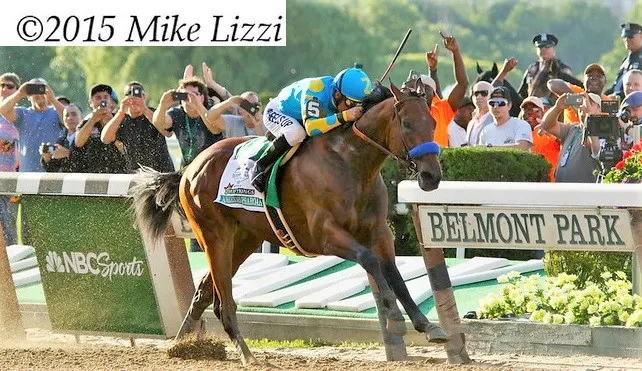 American Pharoah made headlines after breaking a nearly 40-year drought to win the Triple Crown. The bold bay stallion won 9 of his 11 starts, earning a remarkable $8,650,300.
American Pharoah's win in the Belmont Stakes was the second-fastest ever among the Triple Crown champions, only behind Secretariat. He is the first and only horse to win the Breeders' Cup Classic Grand Slam of racing, as he won both the Triple Crown and the Breeder's Cup Classic. He broke the Breeder's Cup track record winning by six and a half-length.
In 2015, American Pharoah earned an Eclipse award for American Horse of the Year and a Champion three-year-old title. The racing icon was inducted into the US Horse Racing Hall of Fame in 2021.
5. Citation
Citation was the first racehorse ever to break the barrier of $1 million in earnings. The bay stallion won 32 of his 45 starts from 1947 to 1951. The Triple Crown champion ranks a very respectable 3rd on the list of the Top 100 US Thoroughbred Champions of the 20th Century.
In 1948, Citation had a stellar record of 19-1, including winning the Triple Crown. After taking a year off due to complications of an osselet injury, Citation returned to the racetrack in 1950 to continue his remarkable winning ways.
The champion racehorse retired after winning the 1951 Hollywood Gold Cup in fashion. His legendary career earned him a spot in the National Museum of Racing and Hall of Fame.
6. Seabiscuit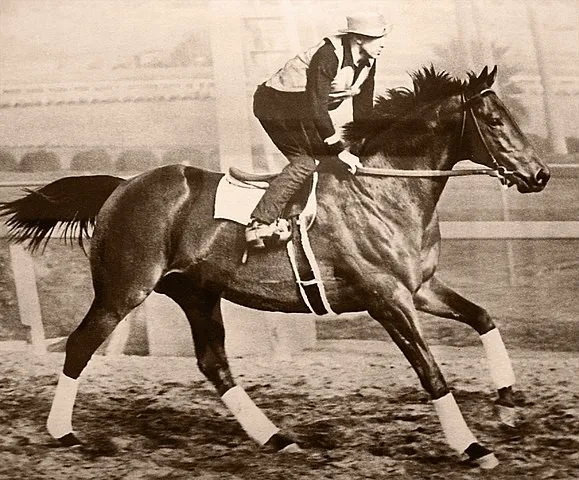 Despite a shaky start to his racing career, Seabiscuit soon found his way on the racetrack. Known as an underdog, he gained the admiration of the American people, becoming a symbol of hope during the Great Depression.
From 1935 to 1940, the bay stallion ran a whopping 89 starts, winning a respectable 33 races. His career took off in 1937 when he won 11 of his 15. His most memorable moment was beating Triple Crown champion War Admiral in an epic one-on-one race.
Seabiscuit took home the 1938 American Horse of the Year award and was the most profitable racehorse of his time having earned $437,730. He was inducted into the Hall of Fame thanks to his impressive speed.
7. War Admiral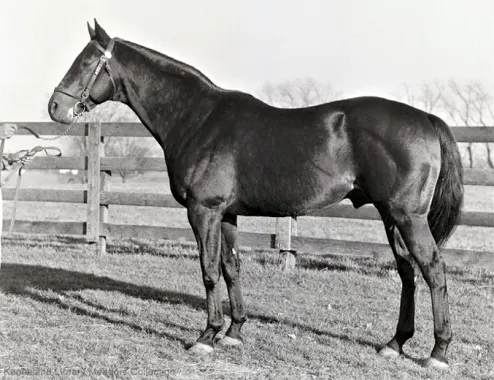 As a son of Man o' War, War Admiral possessed his father's legendary talent. During his stellar career, the brown stallion won 21 of his 26 starts from 1936-1938, earning $273,240 in purses.
War Admiral shined in 1937, as he won all eight races he competed in, including the Triple Crown, earning him the title of Horse of The Year. Despite facing an injury during his career, War Admiral made an epic comeback, continuing to impress with his speed.
Upon retiring, War Admiral became one of the most influential broodmare sires in North America. The hall of fame racehorse's line lives on in Triple Crown winners American Pharoah and Justify, among other champion racehorses.
What Makes a Racehorse Fast?
It takes a special horse to make it in the world of racing. Not every horse is built for the speed and stamina needed to excel on the racetrack.
Stride
Stride is one of the biggest factors in the speed of a horse. Not only does stride length matter but also stride angle and stride rate.
The average stride length of a horse is 12 feet. However, the average stride length of a racehorse is 20 feet. The record for the longest stride belongs to the incredible Man o' War who had a stride of 28 feet.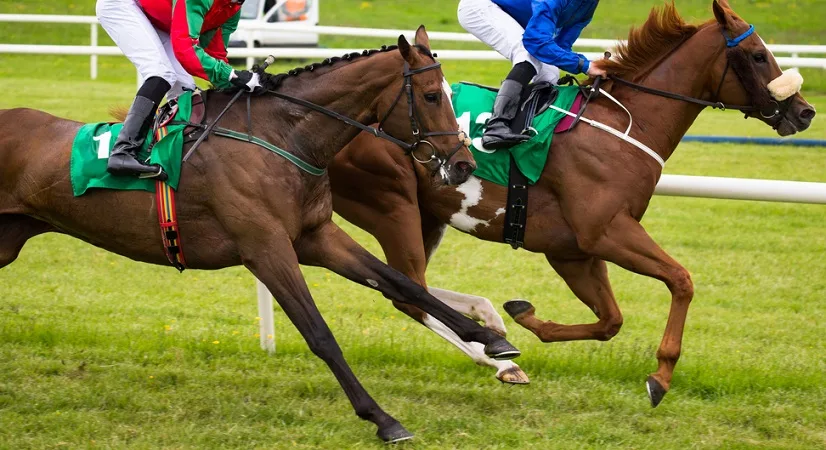 The stride angle is the length between a horse's front and back hoof, often measured at the push-off point of the rear hoof. Typically, the stride angle is used to figure out how far a horse will flatten out when racing.
Often, a horse with a higher stride angle will have a longer stride, resulting in a fast horse. Secretariat holds the record for the highest stride angle at 110 degrees.
Next is the rate of stride, which is the number of strides a horse has in a minute. On average, a horse at a gallop will have 120-130 strides per minute. However, a winning Thoroughbred may have 160 or more strides per minute.
Conformation
Conformation plays a large role in a horse's speed. A horse with a slender, balanced, athletic build has the makings of a great racehorse.
Ideally, a racehorse should have powerful hindquarters, a deep chest, a lean build, and a long neck. The shoulder should be deep, well-muscled, and sloped, and the withers should be high and well-defined. The legs of a good racehorse should be clean and long.
Training
A well-balanced diet and consistent training are key to a successful racehorse. Regular training help builds a horse's stamina and improves their performance on the racetrack.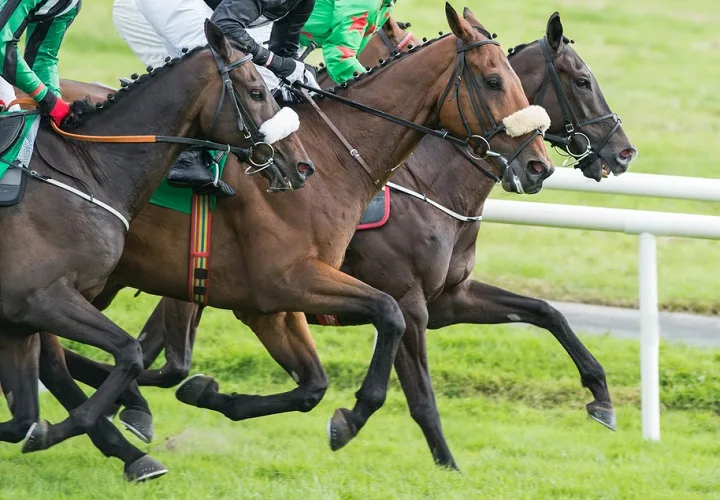 Racehorses are often under strict training regimes in order to prepare them for the demands of racing. Training is vital in maximizing a horse's speed and potential.
Breeding
Breeding plays a large role in the success of a racehorse. Breeders will carefully study the bloodlines and records of racehorses in order to breed a horse that is fast.
Genetics can be a big factor in the speed of the horse. For example, Man o' War was the sire of War Admiral and grandsire of Seabiscuit. War Admiral, Seabiscuit, and Man o' War are considered to be among the greatest racehorses to ever live.
What Horse Breeds Are Used for Racing?
Horse racing is one of the oldest sports in the world. While Thoroughbreds are the most common racehorses today, other breeds are used for racing including the Quarter horse, Arabian, Appaloosa, Standardbred, and Paint Horse.
Thoroughbred
Descended from Arabians, Thoroughbreds have been the racehorse of choice for hundreds of years. These tall, slender horses are known for their incredible athletic ability that allows them to excel on the racetrack.
Thoroughbreds are raced all over the world in both flat and steeple races. Their speed and stamina make them forces to be reckoned with. They are able to run a mile faster than any other horse breed.
Quarter Horse
The Quarter horse excels at sprinting, with the fastest Quarter horse clocking in at 55 mph. While Thoroughbreds can run faster for longer, Quarter horses can run a quarter-mile faster than any other horse breed.
Today, Quarter horses are primarily known for being western horses. However, Quarter horse racing is still prominent in America.
Appaloosa
Appaloosas are most famous for their gorgeous spots. However, many people don't realize these versatile horses excel at the racetrack.
Appaloosa horse racing occurs across America, allowing this special breed to showcase their athleticism and talent at the racetrack. Racing Appaloosas is a long-held tradition in America.
Arabian
The Arabian horse is one of the oldest horse breeds in the world. With their athletic builds and dished faces, they are known for their beauty and endurance.
Arabians are one of the most versatile horse breeds, successfully competing in many different disciplines. Not only do Arabians compete in endurance races but they also compete in flat races where they get to showcase their speed.
Standardbred
Harness racing is a long-held tradition around the world. Today, Standardbred horses dominate the harness racing industry.
Standardbred racing is split up into trotters and pacers. While trotters compete at the diagonal gate of the trot, pacers compete at a lateral gait where legs on the same side move in unison. Standardbreds exhibit incredible speed and stamina as both trotter and pacer harness racers.
Paint Horse
Paint horses stand out in the crowd thanks to their flashy coloring. While these stocky horses often compete in western disciplines, horse racing also occurs within the breed.
Paint horse racing is an exciting event in America that goes back generations. This special breed brings a splash of color to the racetrack.