Our readers support us. This post may contain affiliate links. We earn from qualifying purchases. Learn More
Old western movies and TV shows are famous for starring iconic actors such as John Wayne, Jimmy Stewart, and Roy Rogers. However, these old westerns also starred some legendary horse movie stars.
Some of the most famous western horses include Trigger and Silver, but several other horses also found fame in Hollywood. These equine companions of famous cowboys in old Western films and TV shows are commonly referred to as Wonder Horses. They are popular for being the noble steeds of cowboy heroes, while also having great on-screen personalities.
Here are famous western horses.
1. Trigger
Perhaps the most iconic horse from old Hollywood, Trigger was the beautiful palomino stallion of Roy Rogers. Known as "the smartest horse in movies," the clever stallion knew over 100 tricks that he would regularly perform on-screen.
Before being purchased by Rogers, Trigger went by the name Golden Cloud. His sire was a Thoroughbred and his dam was believed to be a Quarter horse cross. Though the original Trigger is said to have appeared in every film with Roy Rogers, there were also other horses that played Trigger as well, including Trigger Jr.
Also Read: 7 Interesting Facts About Trigger, Roy Rogers' Horse
2. Buttermilk
Buttermilk was Dale Evan's beloved mount in many of her films. Originally named Soda, the buckskin Quarter horse was owned by legendary Hollywood trainer Glenn Randall, before becoming Evan's horse.
As a colt, Buttermilk was rescued by a farmer while being transported to slaughter. After his fateful rescue, Buttermilk became a roping and cutting horse for competition before becoming a Hollywood star.
3. Black Jack
First known as Thunder, Black Jack's original rider was Will Bill Elliott during the Red Ryder film. Allen Rocky Lane then purchased the horse after taking over Elliott's role in Red Ryder.
Black Jack was a striking black Morgan Stallion. Together, Black Jack and Lane starred in several roles. Black Jack even has his own comic book series.
4. Champion
Owned by the legendary Gene Autry, Champion appeared in over 70 films and TV series with his owner. Also known as Champion the Wonder Horse, the dark sorrel Tennesse Walking Horse first belonged to actor Tom Mix.
Champion even had his own TV series, The Adventures of Champion. Throughout Autry's acting career, multiple horses played Champion, though the original Champion is the most recognizable one.
5. White Flash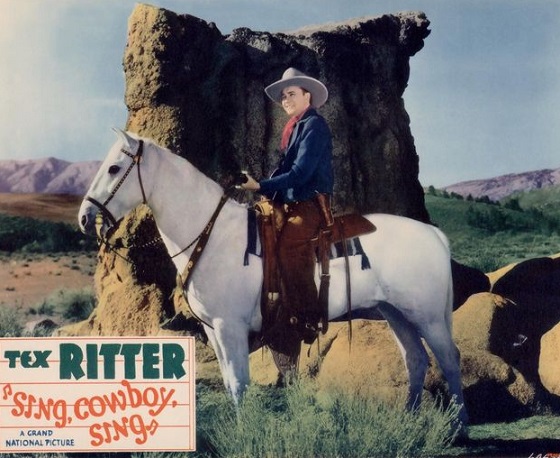 Owned by Tex Ritter, White Flash appeared in over 20 films with his owner. He stood out for his bright white coat.
In Ritter's later films, a different horse played the role of White Flash, though they still referred to him as White Flash. The original White Flash could no longer play the role due to old age.
6. Koko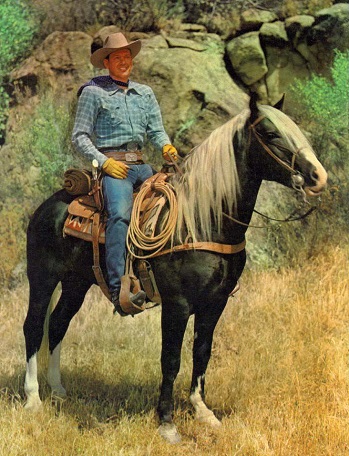 Together, Rex Allen and Koko starred in over 30 films. Referred to as "The Miracle Horse of the Movies" Allen purchased the stallion from trainer Glenn Randall.
Rumor has it that Koko was set to be Dale Evan's horse, but he proved to be too much horse for her to handle. Koko, who is believed to be a Morgan or Morgan cross, had a striking appearance, as he had a liver chestnut coat with a flaxen mane and tail. In addition to their time in Hollywood, Koko and Allen also traveled the rodeo circuit.
7. Silver/White Cloud
Silver is best known for his role as the Lone Ranger's trusty steed. Though several horses have played the part of Silver, the original horse went by the name White Cloud.
With his signature white coat, White Cloud stood over 17 hands tall. Actor Clayton Moore personally picked White Cloud for the Lone Ranger series. It is said that White Cloud had Tennessee Walking Horse in his breeding.
8. Pie
For 22 years, Jimmy Stewart rode Pie, his favorite horse to work with. Though Stewart tried to purchase Pie on multiple occasions, he never had success persuading Pie's owner to sell.
Stewart often referred to the chestnut gelding as a friend, regularly talking about him in interviews. The two had a strong bond and Stewart would even whisper directions to the horse and he would do them. Pie was said to be a Quarter horse and Arabian cross.
Also Read: 17 Famous Horses in Movies & TV Series
9. Tony
The first horse to bear the title "The Wonder Horse," Tony was the faithful companion of Tom Mix. Together, the iconic duo starred in a whopping 181 films.
Tony had a large repertoire of tricks he performed on-screen. He could jump through glass, untie knots, open fences, and once he even had a bridge cut out underneath him. The dashing sorrel, who is said to be a Tennesse Walker, also appears in storybooks and comic books.
10. Dollor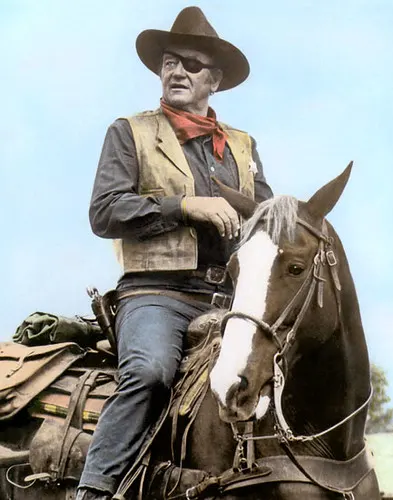 Dollor appeared alongside the iconic John Wayne in several films. In fact, Wayne even rewrote the script for The Shootist just to say Dollor's name more often.
Though Wayne didn't own Dollor, he liked the horse so much that he signed a contract that he would be the only one to ride him in films. Wayne rode many horses throughout his career, but the sorrel gelding was his favorite.
11. Silver
Silver the horse was owned by actor Buck Jones. He starred in over 70 movies, approximately 50 of those films being with Jones.
Though Silver had a gorgeous white coat, he did not star in The Lone Ranger. Sadly, Silver's career ended tragically after he died in a fire.
12. Tarzan
Tarzan the Wonder Horse portrayed Ken Maynard's onscreen companion in numerous films. The pair stared in over 50 silent and sound films together.
The incredibly talented Tarzan knew numerous word commands. He performed impressive stunts including jumping off a cliff, dancing, untying ropes, answering questions by shaking his head, and dragging Maynard to safety. Tarzan was a palomino Saddlebred and Arabian cross.
13. Fritz
Fritz was the first horse ever to be named in the credits of a movie alongside his human costars. Though originally he was owned by film producer Thomas Ince, William Hart bought Fritz as he strongly admired the horse.
Affectionately known as the "pinto pony," Fritz famously did risky and unique stunts. He would jump in flowing rivers, over fire, and threw windows. Fritz, who had many admirers for being the first-named horse in Hollywood, starred in several silent films.
14. Dice
Dice, or Pair O' Dice, appeared in many classic old westerns. One of his most iconic roles included playing Diablo in The Cisco Kid. Throughout the series, other horses also played the part of Diablo.
Dice was an overo Paint horse owned and trained by Ralph McCutcheon. In addition to acting, Dice also competed in rodeos. Columbia Studios used Dice exclusively, which also launched McCutcheon's career as a handler and trainer for the studio.