Our readers support us. This post may contain affiliate links. We earn from qualifying purchases. Learn More
Rodeos are a staple in American culture. From barrel racing to bull riding, they are packed with fast-paced events featuring some of the most talented cowboys and cowgirls.
Though the United States is home to the most famous rodeos in the world, Canada and even France host some as well. Often several days long, guests will gather from all over to watch this popular Western pastime. No matter what event you watch, you are sure to have a blast.
Here are the 8 most famous western rodeo events in the world.
1. Calgary Stampede
In Calgary, Canada, the Calgary Stampede spans 10 days of July, celebrating and preserving western heritage, culture, and community spirit. With approximately one million visitors every year, it is dubbed the "The Greatest Outdoor Show on Earth".
As one of the largest rodeos globally, the Calgary Stampede hosts a variety of events, including a parade, stage shows, concerts, agricultural competitions, chuckwagon racing, rodeo events, and First Nations exhibitions. It has been held since 1912, with roots tracing back to 1886.
It takes more than 2,500 volunteers to run the event every year. The Calgary Stampede hosts various rodeo events, including bull riding, barrel racing, steer wrestling, roping, saddle bronc, and bareback riding. In addition, it hosts novice events in junior steer riding, bareback, saddle bronc, and wild pony racing. Each winner of a major rodeo event wins a whopping $100,000, making it one of the richest rodeos.
2. Cheyenne Frontier Days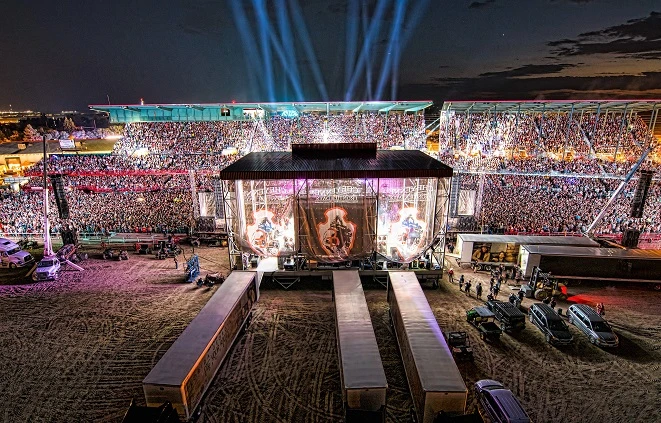 In scenic Cheyenne, Wyoming, the Cheyenne Frontier Days includes an outdoor rodeo and western celebration. Held across ten days every July, it bills itself as the "World's Largest Outdoor Rodeo and Western Celebration."
The rodeo portion of Cheyenne Frontier Days includes barrel racing, bareback riding, roping, bronco riding, bull riding, steer wrestling, and a wild horse race. The Professional Rodeo Cowboys Association (PRCA) has awarded Cheyenne Frontier Days the Large Outdoor Rodeo Of The Year award on 16 occasions. The rodeo has taken place annually since 1897.
In addition to rodeo events, it also hosts concerts, comedy acts, a midway, a carnival, an Indian village, an old frontier town, and wild west shows. In addition, there are also pancake breakfasts, a cook-off, and a fiesta day. Around 3,000 volunteers work tirelessly to make the event happen, with around 200,000 visitors coming annually.
3. Houston Livestock Show and Rodeo
Located in Houston, Texas, the Houston Livestock Show and Rodeo, also called RodeoHouston takes place across 20 days every March. It is the largest livestock exhibition and rodeo globally, with attendance surpassing the two million mark.
Showcasing the skills of the American cowboy and cowgirl, the rodeo has a total purse of $2.17 million. Events include roping, bronco riding, barrel racing, bareback riding, steer wrestling, bull riding, chuckwagon races, calf scramble, and mutton bustin'. It comprises two different competitions, the Super Series and the Super Shootout: North America's Champions.
In addition to the rodeo, there is also a livestock show, carnival, BBQ world championship, parade, trail rides, and concert. Some of the biggest names in music have performed at RodeoHouston, including Beyonce, Bon Jovi, Taylor Swift, Kiss, and the Jonas Brothers. The show has been held since 1931 and requires 33,000 volunteers to run.
4. National Finals Rodeo
Organized by the Professional Rodeo Cowboys Association (PRCA), the National Finals Rodeo is America's premier championship rodeo event. The rodeo takes place every December for ten days in Las Vegas, Nevada.
There are seven events at the finals with ten championships. The events include roping (team and tie-down), bareback riding, steer wrestling, bronco riding, barrel racing, and bull riding. In addition, there is an All-Around Award given to the highest money winner in two or more events.
Often called the "Super Bowl of rodeo," world champions are crowned in each event. Since 1959, only the best of the best compete, as the finals showcase the top 15 money-winners of the PRCA in each event. No other events take place across the 10 days as the only focus is on the riders.
5. Pendleton Round-Up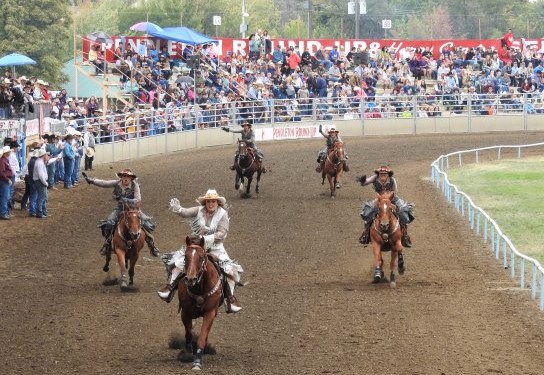 Located in Pendleton, Oregon, the Pendleton Round-Up has been going strong since 1910. Every year, it takes place across eight days in September, bringing around 50,000 people into the city.
Pendleton Round-Up includes bronco riding, bareback riding, roping, barrel racing, steer wrestling, bull riding, Indian relay races, and even wild cow milking. An all-around award is given to the competitor who wins the most amount of money in multiple events. The rodeo is also home to the Xtreme Bulls Finale as well.
In addition to the rodeo competition, the round-up also features a parade, concert, and village. It is also famous for the Happy Canyon Night Show portraying Native American culture before Lewis and Clark's expedition and the American West's settling.
6. Prescott Frontier Days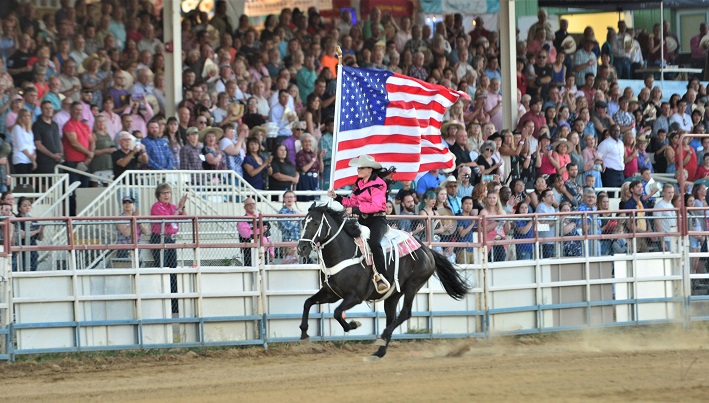 Located in Prescott, Arizona, the Prescott Frontier Days occur annually on the 4th of July weekend across seven days. Tracing back to 1888, it is officially the World's Oldest Rodeo.
Events at the Prescott Frontier Days include steer wrestling, bareback riding, bronc riding, roping, barrel racing and bull riding. In addition to the traditional events, there is also wild horse racing. Prescott Frontier Days has also teamed up with Horses with Heart to host the Happy Hearts Rodeo for Exceptional Children.
The festival also has a parade, arts and crafts show, and dance. This historic rodeo attracts thousands of spectators every year.
7. EquiBlues
When you think of rodeos, France is probably not the first place to come to mind. However, the stunning town of Saint-Agrève, France, is home to Europe's premier rodeo, EquiBlues.
EquiBlues spans five days in August, bringing a taste of the American West to France. To showcase western riding, the rodeo features speed, barrel racing, pole bending, cattle, and handling events. Since 1998, it has attracted the best cowboys and cowgirls from all across Europe.
In addition, the rodeo also has country music, line dancing, and a western village where people can immerse themselves in the life of a cowboy. With attendance often in the thousands, 140 volunteers work to make this unique rodeo possible.
8. National Western Stock Show & Rodeo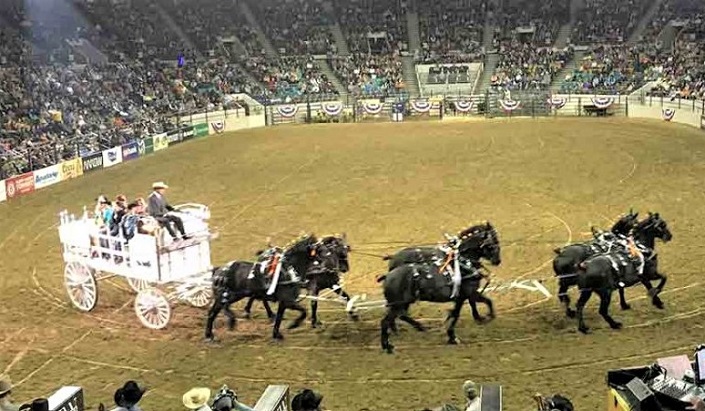 Since 1906, the National Western Stock Show & Rodeo has taken place in Denver, Colorado. The 16 days of competition attracts thousands of people from all over the country every year.
The rodeo features many events including bareback riding, steer wrestling, roping, bronco riding, roping, barrel racing and bull riding. Throughout the 16 days, the elite competition includes the Colorado vs the World Rodeo, the Mexican Rodeo Extravaganza, the MLK Jr. African-American Heritage Rodeo, Pink Pro Rodeo and PBR. It is one of the largest indoor rodeo events.
In addition to the rodeo, it is also home to a horse show and the world's largest stock show. The horse show includes Quarter horses, Paint horses, hunters & jumpers, reining, mules, draft horses and pulling competitions. There are also several presentations and events, including a wild west show, dog show, exceptional rodeo, and gymkhana.