This post may contain affiliate links. We earn from qualifying purchases. Learn More
Some horses have achieved such fame that they just can't be forgotten. What makes a horse famous? Well, it can be anything from racing fame, Hollywood notoriety, or recognition as a war hero.
The most famous horses are racehorses such as Secretariat, Seabiscuit, and Man O' War. Due to the huge popularity and how horse racing is engrained in western culture, many of these famous horses have an almost legendary status.
Below we have chosen a combination of famous horses from modern and ancient times. Here are the most famous horses in history.
1. Trigger
Trigger was a the famous palomino horse of Roy Rogers Trigger not only accompanied Rogers in movies such as "Don't Fence Me In" and "The Golden Stallion", but also performed live before large audiences.
Trigger knew at least 150 trick cues and was well-known for his ability to walk on his back legs. He was fully house trained as well, which came in handy when he would visit sick children in the hospital.
Trigger was so special to Rogers that when the palomino died, Rogers had the horse taxidermied in a rearing position. Trigger still stands tall today in the Roy Rogers/Dale Evans Museum in Branson, Missouri.
Also read, 7 interesting facts about Trigger.
2. Sergeant Reckless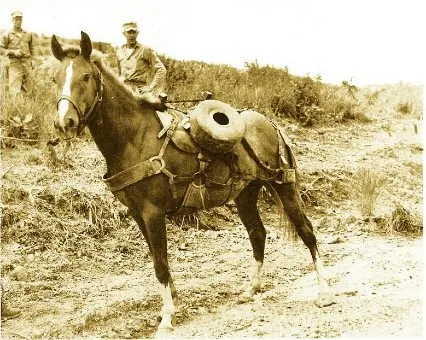 Sergeant Reckless achieved the military rank of sergeant for her bravery and service in the service of the military.
This humble warhorse came from humble beginnings as a packhorse in the Korean war, to become a decorated veteran by the end of her tenure.
Honored for her faithful service, she not only delivered supplies to soldiers on solo missions but also evacuated wounded soldiers from battle-torn areas.
Sergeant Reckless was wounded twice in the line of duty, earning her two Purple Hearts and a Good Conduct Medal.
3. Godolphin Arabian
This famous Arabian stallion is one of the few horses recognized as the foundation sires for the Thoroughbred horse breed as we know it today.
Nearly every modern Thoroughbred racehorse can trace its lineage back to to the Godolphin Arabian, who lived in the UK during the 18th century.
Godolphin was known for being very strong and powerful with a very high crest. He was highly sought after by the breeders of his time.
4. Comanche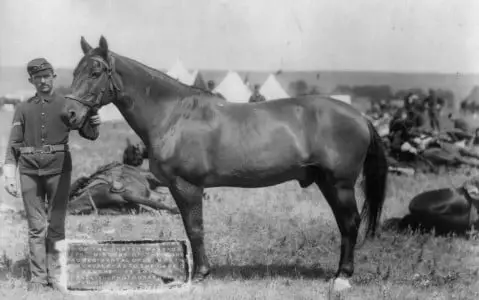 Comanche achieved fame in times of war, but through a sad outcome. He was the lone survivor of the Battle of the Little Bighorn in 1876.
Comanche was bought and ridden by Captain Miles Keogh. Comanche was compensated for his status as a war hero with a luxurious retirement.
5. Marengo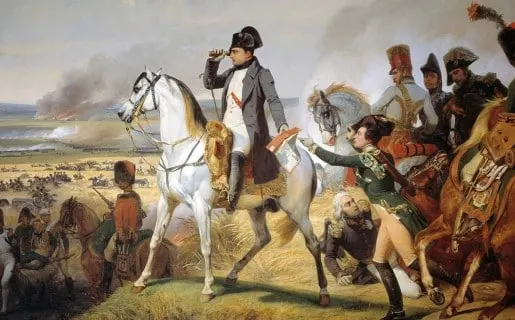 Marengo was the famous horse of Napoleon Bonaparte. He fought in such battles as Austerlitz and Waterloo.
Marengo was reputed to be capable of going as far as 80 miles in just five hours, known for his long-distance gallops.
During the battle at Waterloo, he was captured by the English and brought back to the UK for the rest of his days.
Fun Fact: The skeleton of Napoleon's horse Marengo is on display at the National Army Museum in London.
6. Bucephalus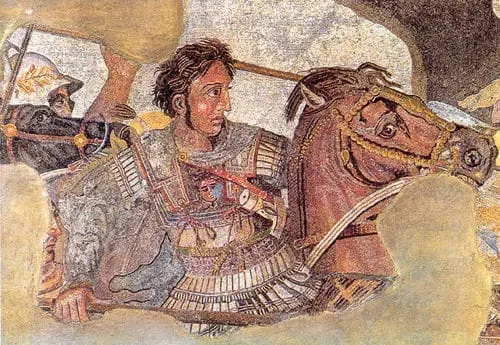 Bucephalus was the famous horse owned by Alexander the Great. He was tamed by young Alexander when no one else could break him.
He was known for his courage and stamina, riding into many battles undaunted. It is believed that Bucephalus died from injuries sustained in battle.
7. Seabiscuit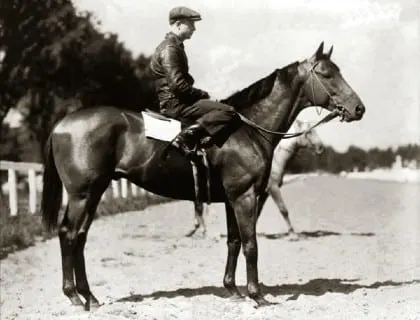 One of the most famous racehorses of the 20th Century, Seabiscuit's story was one of unlikely success. Seabiscuit overcame a pitiful start in life to take on one of the most powerful racehorses of the time (War Admiral) and beat him.
He overcame injuries and prejudices because of his small size to prove that the heart is the most important element needed to dominate on the track.
Seabiscuit won America's Horse of the Year in 1938, proving to be the best underdog story the racing world had ever seen.
The media loved Seabiscuit as well as the public, and Seabiscuit loved his fans. He showed the world that it doesn't matter where you come from, the important thing is how you finish. Seabiscuit finished well.
Also read, 8 facts you didn't know about Seabiscuit. Discover the life, story, and common FAQs about this incredible horse!
8. Frankel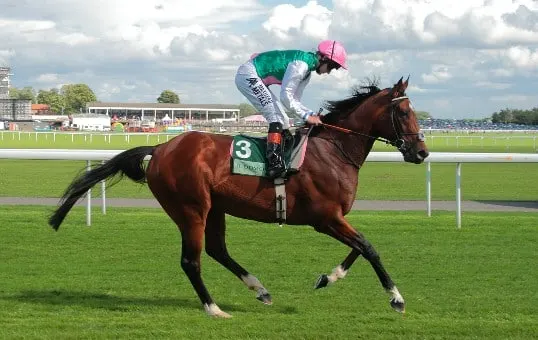 Frankel has been called "The Unbeatable Wonder Horse" thanks to his perfect record on the racetrack. He was rated the highest of any racehorse in the world in 2011, and dubbed the equine version of Usain Bolt.
At 16.1 hh, he is an iconic British racehorse and undefeated European champion. Some have even compared him to the great Secretariat.
9. Man O'War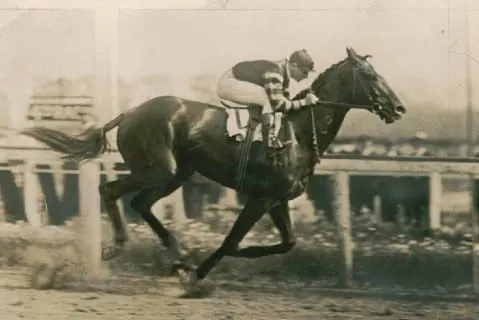 This American Thoroughbred racehorse is considered an all-time great for his bloodlines as well as his prowess on the track.
He has sired more successful progeny than most other racehorse stallions, and his bloodlines extend to such greats as Seabiscuit, Secretariat, War Admiral, Hard Tack, Battleship, and more.
Man O'War was named Outstanding Horse of the 20th Century and has been featured on such high profile periodicals as The Blood-Horse, Sports Illustrated, ESPN, and the Associated Press.
Man O'War was only beaten once in a highly debated victory by a horse named Upset, which some say is not a valid race due to a faulty start.
Also read our guide about the life and story of Man O' War.
10. Secretariat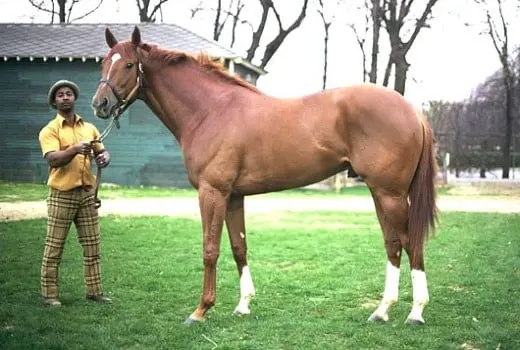 Secretariat is widely considered the most famous ever. Due to his unrivaled horse racing career, numerous equine awards and status in Hollywood, almost everyone knew of this horse.
When Secretariat became the first horse to win the Triple Crown in 25, the world sat up and took notice. He set a record-breaking victory in the Belmont Stakes race, winning by 31 lengths. Many consider his victory there to be one of the greatest races in history.
Born March 30, 1970, Secretariat set records that still stand today. During the Kentucky Derby, he accelerated with each quarter mile and crossed the finish line at 1:59 2/5, a new course record that still stands. Only one other horse in history has ever finished in under two minutes.
Named Horse of the Year twice, as well as being the first two-year-old to be voted Eclipse award as the horse of the year, by a unanimous vote.
Secretariat was also a media superstar, the first horse to have a Hollywood agent to help manage his appearances. He was named one of ESPN's 100 Greatest Athletes of the Twentieth Century. He was featured on the covers of Time, Newsweek, and Sports Illustrated.
Secretariat was also featured on a commemorative stamp. Secretariat even has his own famous film called Secretariat.