Our readers support us. This post may contain affiliate links. We earn from qualifying purchases. Learn More
Elegant and graceful, dressage is the ultimate test between horse and rider. There have been several famous dressage riders and horses that have risen to the top to become the best this equestrian sport has to offer.
With precision and athleticism, dressage requires excellent communication between horse and rider. The two must work together to execute different movements, gaits, and transitions. Dressage has become a popular sport and a fan favorite to watch at the international level.
Famous Dressage Riders
1. Isabell Werth
As the most decorated dressage rider, Isabell Werth has dominated the dressage scene since the 1990s. Werth was born on July 21, 1969, in Issum, Germany, and began riding when she was just five years old.
The German rider originally focused on riding show jumping and eventing, but made the switch to dressage after meeting Dr. Uwe Schulten-Baumer. Schulten-Baumer, a dressage trainer, formed a close bond with Werth. He coached her from 1986 until 2001, during which she rode horses Gigolo FRH and Antony FRH to numerous victories on the international level.
Werth originally worked at a law firm and then in marketing. She then opened up her own dressage barn in 2004 in Rheinberg/Niederrhein, Germany.
Considered one of the most famous equestrians ever, Isabell has competed at the 1992, 1996, 2000, 2008, and 2016 Olympic Games, bringing home ten medals, six of which are gold. She has won more Olympic medals than any other equestrian athlete. In addition to her Olympic wins, she has won over 40 medals at the World Equestrian Games, European Championships, and World Cup Finals. Most recently, she has found success with her mares Bella Rose 2 and Weihegold.
Also read: 8 Facts & FAQs About Isabell Werth
2. Steffen Peters
Steffen Peters was born in Wesel, Germany on September 18, 1964, and became an American citizen in 1992. Peters is a four-time Olympic competitor and three-time winner of the United States Equestrian Federation (USEF) Horseman of the Year award.
Peters began riding at the age of seven and by 15 was competing in international competitions. He first began training in America in 1984 before opening up his barn in the states in 1991. In 1996, he competed at his first Olympic Games with his horse Udon, who his father gave him a gift when he was 16. Together, they took home team bronze.
Since then, his success in dressage continues on. Peters has won multiple medals at the Pan American Games, including four gold medals. He has also taken home a gold medal at the 2009 World Cup Final with Ravel. Peters also won team bronze at the 2016 Olympics with Legolas 92.
3. Charlotte Dujardin
Charlotte Dujardin was born on July 13, 1985, in Enfield, England and began riding at only two years old. She is the most successful British dressage rider in history, winning three Olympic gold medals and one Olympic silver medal.
At just three years old, Dujardin came in second place at a Pony Club show jumping competition. To finance her and her sister's riding, Dujardin's mother would buy and sell ponies. As we mention in our ultimate fans guide to Charlotte Dujardin, she took up dressage after encouragement from her trainer Debbie Thomas.
In 2007, Dujardin began working for Carl Hester after he spotted her talent with horses. Then, in 2011, Roly Luard and Hester asked her to help develop Luard's Dutch Warmblood, Valegro. At first, the intention was for Hester to show Valegro, but the Dutch Warmblood and Dujardin proved to be quite the team.
Valegro and Dujardin quickly rose to success and have won multiple gold medals. In 2012, the pair took home team and individual gold at the Olympic Games. At the 2015 World Cup Final, they won gold and received the highest dressage score ever at 94.3%. Just the next year, they took home another gold at the Olympic Games in individual and a silver in team dressage.
For her services to equestrianism, Dujardin was appointed Officer of the Order of the British Empire in 2013 and Commander of the Order of the British Empire in 2017.
See 'The Girl On The Dancing Horse' book about Charlotte and Valegro here on Amazon.
4. Laura Graves
Laura Graves is the first-ever American dressage rider to be ranked #1 in the world in the FEI World rankings. She was born on July 22, 1987, in Burlington, Vermont, and began riding at a young age.
When she was 15, her parents bought a foal from the Netherlands named Verdades. From a young age, Verdades was opinionated and at times difficult to work with. After some rough experiences with Verdades, including breaking her back, Graves decided to go to cosmetology school.
Still wanting to be involved in horses, Graves ended up taking a position with dressage trainer Anne Gribbons. She continued to ride Verdades, but he needed a lot of work. In order to fund her riding, she had to work hard as a waitress and then bartender. She went on to purchase a six-stall barn in Orlando, but was in need of a trainer.
Graves begin riding with Debbie McDonald and things began to click with Verdades. In 2014, they took the world by surprise by coming in second in the Grand Prix at the United States Dressage Festival of Champions. Then, in 2016, the pair took home team bronze at the Olympic Games. Together, they went on to win silver medals as well at World Cup Finals, World Equestrian Games, and gold at the Pan American Games.
5. Anky van Grunsven
Theodora Elisabeth Gerarda "Anky" van Grunsven is the only rider to win gold medals at three consecutive Olympic Games. Van Grunsven was born on January 2, 1968, in Erp, Netherlands, and began riding dressage at the age of 12.
Originally, van Grunsven began riding show jumping. After graduating high school, she decided she wanted to ride professionally. With her horse Prisco, she began competing in show jumping, but after the pair not having much success, she made the switch to dressage in 1980. They went on to compete at the 1988 Olympics and two years later they were the Dutch champions.
Van Grunsven competed at every Olympics from 1988 and 2012. She won a total of nine medals: three gold medals, five silvers, and one bronze. She won gold in 2000 with Bonfire and 2004 and 2008 with Salinero. In addition, to the Olympics, she also won numerous medals at the European Championships, World Equestrian Games, and World Cup Finals. Among her numerous victories, she took home nine gold medals from the World Cup Finals.
Van Grunsven is married to Dutch national equestrian coach Sjef Janssen. She was pregnant with her first child at the 2004 Olympic Games and a few weeks after giving birth to her second child in 2007, she won the European Championships. Van Grunsven has won numerous honorary awards including 1993-1996, 1998, 2000, and 2004 "Rider of the Year" in the Netherlands, 1994 "Sports Woman of the Year" and in 2001 she was named "Rider of the Century".
Famous Dressage Horses
1. Valegro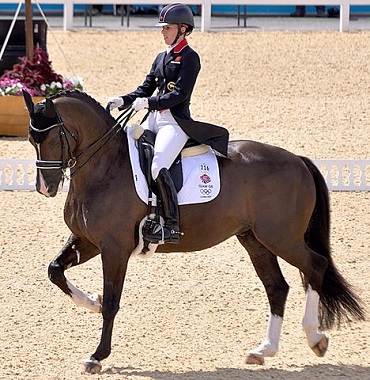 Valegro is a dark bay Dutch Warmblood gelding that was born on July 5, 2002, in the Netherlands. Affectionately known as Blueberry, he was imported to England to train with Carl Hester and is owned by Hester, Roly Luard, and Anne Barrott.
Valegro made his dressage debut with Charlotte Dujardin and in 2011 they won their first international title. In 2012, the duo took home team and individual gold at the Olympic Games. Valegro went on to win multiple medals at the European Championships, World Equestrian Games, and World Cup Finals.
In 2015, Valegro scored the highest score ever in dressage ever at the World Cup Final at 94.3%. Just a year later in 2016, he won his second Olympic gold medal in individual dressage, along with a silver medal in team dressage.
Valegro retired in 2016 after giving a performance at the London International Horse Show. He still resides at Hester's stable and enjoys going on regular hacks.
Also read: 8 Interesting Facts About Valegro
2. Totilas
Totilas was a black Dutch Warmblood stallion born on May 23, 2000, in the Netherlands. He was the first-ever to score above 90% in a dressage competition.
In 2006, Dutch owner Cees Visser for investment company Moorland purchased Totilas and Edward Gal became his rider. Together, Gal and Totilas amassed multiple world-record scores at international competitions. At the 2010 World Equestrian Games, they became the first duo ever to win all three available dressage gold medals (team, special, and freestyle) at one FEI World Games.
Later in 2010, German breeder Paul Schockemöhle purchased Totilas for an estimated €10 million. Matthias Alexander Rath became his rider and together they took home team silver for Germany at the 2011 European Championships. The pair was set to compete at the 2012 Olympics but Rath fell ill and Totilas received an injury. This ended their chances of an Olympic medal and Totilas was out from competing for two years.
The pair won a bronze in the team event at the 2015 European Championships. However, shortly after in August 2015, a bone inflammation in his left hind hoof led to his retirement. Totilas spent his retirement standing at stud. Sadly, he passed away on December 14, 2020, from complications after colic surgery.
3. Verdades
Verdades is a bay Dutch Warmblood gelding born on April 17, 2002, in the Netherlands. He was imported as a foal to Vermont for owner Laura Graves.
Lovingly known as Diddy, the bay gelding was opinionated from a young age. After being difficult to work with, Graves was set to sell him. However, things took a change for the better under the guidance of instructor Debbie McDonald. In 2014, Verdades and Graves surprised the dressage world by coming in second in the Grand Prix at the United States Dressage Festival of Champions.
The pair continued on their winning ways and in 2015 they took home gold at the Pan American Games. In 2016, Verdades and Graves took home bronze in team dressage at the Olympics. The pair was the runner-up at the 2019 World Cup Finals.
Verdades was inducted into the Equus Foundation Horse Stars Hall of Fame in 2016. In 2020, Graves announced the retirement of Verdades. There is hope to do a retirement ceremony in the future, but right now he is just enjoying going for hacks.
4. Weihegold
Weihegold is a black Oldenburg mare born on July 7, 2005, in Germany. The black mare is owned by Christine and Frank Arns-Krogmann, leased by Madeleine Winter-Schulze, and ridden by Isabell Werth.
Weihegold and Werth began competing together in 2014. In 2016, they took home individual silver and also team gold at the Olympic Games. Then, from 2017-2019 Weihgold and Werth took home a total of five gold medals from the European Championships and World Cup Finals.
So far, Weihegold has scored 90% or higher five times. Their success continues on as they have placed either first or second in all their competitions throughout 2020 and 2021. The pair is on their way to competing at their second Olympic games.
5. Bonfire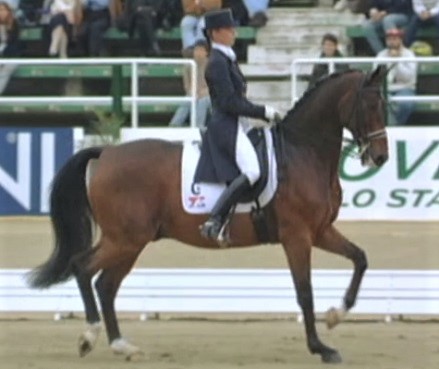 Gestion Bonfire was an Oldenburg gelding born on March 21, 1983, born in Germany. During the 1990s, he dominated the dressage scene.
Anky van Grunsven first met Bonfire when he was just two and a half years old. Shortly after, van Grunsven's father purchased him. At first, his hot temperament made it seem he was unlikely to succeed in dressage, but his talent soon came through.
By the time he was seven, he was showing at the Grand Prix level. In 1992, van Grunsven and Bonfire competed at the Olympic Games, taking home team silver for the Dutch team. The team went on to compete at the 1996 Olympics winning silver in both team and individual. They came back at the 2000 Olympics, winning individual gold and team silver once again.
Bonfire also won multiple medals at the World Equestrian Games and World Cup Finals. He was The Netherlands national champion an impressive nine times.
Bonfire retired after the 2000 Olympic Games. A retirement ceremony was held at van Grunsven's hometown, with a celebration ride at an international jumping competition in Maastricht, Netherlands. Bonfire passed away on October 28, 2013, after battling complications relating to Cushings disease.