This post may contain affiliate links. We earn from qualifying purchases. Learn More
Hold onto your hats, folks, because we're about to embark on an exhilarating ride through the thrilling world of barrel racing!
This high-octane equestrian sport has captivated the hearts of fans and competitors alike for decades, and it's time to dive headfirst into the lives of some of the most exceptional athletes to ever set hoof on the arena floor.
From record-breaking runs to inspiring comebacks, these famous barrel racers embody the true essence of grit, determination, and unparalleled talent.
So, saddle up and join us as we gallop through the remarkable journeys of the legendary barrel racers who have left an indelible mark on this fast-paced, heart-pounding sport.
1. Brittany Pozzi Tonozzi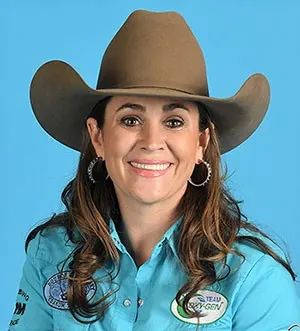 Brittany Pozzi Tonozzi was born on February 9, 1984, in Victoria, Texas. Tonozzi's father taught her how to run barrels and she began competing at rodeo events in 1995.
In 2003, she joined the Women's Professional Rodeo Association (WPRA) and her equestrian career took off. She won the NFR (National Finals Rodeo) average title in 2006 and 2007. In 2007 and 2009, she took home the top honor of winning the World Barrel Racing Championship at the NFR. She has qualified for the NFR an incredible 14 times.
So far, Tonozzi has earned over $2 million in prize money from barrel racing. In 2020, she was ranked number one in the Pro Rodeo World Standings. She is not the only equestrian in her family, as her husband Garrett Tonozzi is a PRCA (Professional Rodeo Cowboys Association) team roper.
2. Sherry Cervi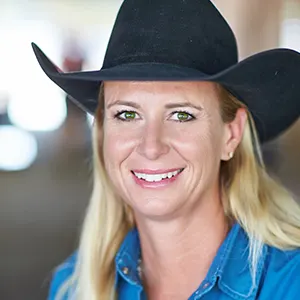 Sherry Cervi was born on September 17, 1975, in Tucson, Arizona. Both of her parents belonged to the Professional Rodeo Cowboys Association, which led Cervi to compete at her first rodeo at the young age of six.
After competing in barrel racing growing up she joined the WPRA. Cervi has qualified for the NFR finals a record 19 times. She won NFR world titles in 1995, 1999, 2010 and 2013. After numerous victories, she is the highest-earning barrel racer in history, earning over $3 million.
In 2018, she was inducted into the National Cowgirl Museum and Hall of Fame. She has founded and hosts the Sherry Cervi Youth Championships. Her husband, Cory Petska, shares her love for horses, as he competes in team roping with the PRCA.
3. Charmayne James
Charmayne James was born June 23, 1970, in Boerne, Texas, to a family full of equestrians. Her mother was a rodeo queen, barrel racer, and team roper, while her dad once worked as a feedlot cowboy.
James began riding at the age of three and was running barrels at six years old. At only 13, James began to compete on the professional circuit with her horse Scamper.
Together, the duo won an amazing ten championship titles at the WPRA World Barrel Racing Championships. In addition, they also won six NFR championships. Later, in 2002, James won her eleventh world title with her horse Cruiser.
James was the first barrel racer to earn over $1 million. She is a member of the ProRodeo Hall of Fame and National Cowgirl Museum and Hall of Fame. In addition, she was also the first barrel racer in history to win more money in a single season than any other PRCA cowboy. She is tied with Sherry Cervi for qualifying for the most NFR finals at 19.
4. Martha Josey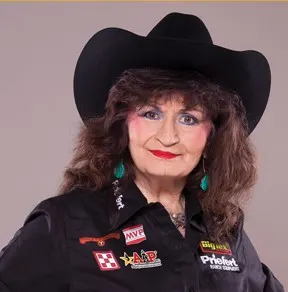 Martha Josey was born in Gregg County, Texas, on March 11, 1938. Josey inherited her love for horses from her parents, as her father was one of the first directors for the American Quarter Horse Association (AQHA).
Josey began riding at a young age and after attending a rodeo event in her teens, she took up barrel racing. Together with her first barrel horse CeBe Reed, they won 52 consecutive competitions.
With her second horse, Sonny Bit O'Both, she went on to win the 1980 World Barrel Racing Champion title at the NFR. Sonny is the only horse ever to win both the AQHA and the WPRA championships in the same year.
As her career continued on, she won the 1997 NBHA Senior World Championship and the 1998 NFR championship. In 1999, she was awarded the Dennis D. High Lifestyle Achievements Award and the Women's Sports Foundation AQHA Female Equestrian of the Year. That same year, her horse Orange Crush won the AQHA "Best of America's Horse Award".
Josey is a member of the Cowgirl Hall of Fame, Rodeo Hall of Fame of the National Cowboy and Western Heritage Museum. She even won gold at the barrel racing exhibition that was part of the 1988 Winter Olympics. Her husband, R.E.
Josey is a three-time AQHA World Champion in calf roping. Josey and her husband continue to work in the equestrian world, even founding the Josey Jr. World Championship Barrel Race. She even has her own line of Circle Y saddles.
5. Lisa Lockhart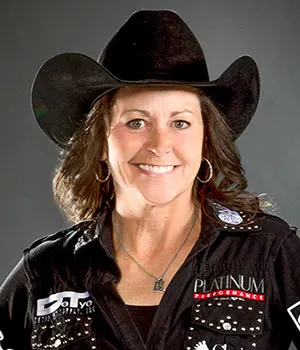 Lisa Lockhart was born on November 11, 1965, in Wolf Point, Montana. She began riding at the young age of six.
After college, Lockhart made the change from competing as an amateur into a professional, joining the WPRA in 1993. She has qualified for the NFR finals 14 times, second only to Charmayne James and Sherry Cervi who both qualified 19 times. Lockhart has been the NFR Average Champion two times, holding two of the top four fastest NFR Average times.
In addition, she is a two-time winner of the RFD-TV American Rodeo. She has won over $2 million and has been top five in the World Standings five different years. Her husband, Gary, is also an equestrian, as a professional tie-down roper.
6. Fallon Taylor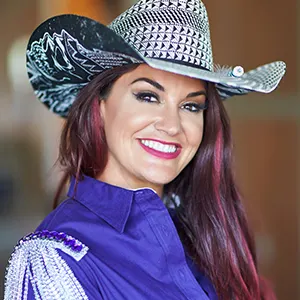 Fallon Taylor was born in Tampa, Florida on July 18, 1982. After watching her first rodeo at age seven, she began training with the legendary Martha Josey.
When Taylor was just eight years old, she joined the WPRA. At age 13, she qualified for her first NFR. The next year she won the coveted RodeoHouston. During her teen years, she qualified for the NFR finals four years in a row.
After her teen years, Taylor took a break from barrel racing to act and model, but still continued to work with horses. In 2009, she suffered a serious injury while riding that fractured her skull and left her paralyzed for three days.
It took some time for her to gain the confidence to get back in the saddle. After some encouragement from her ex-husband, Taylor made a return to competitive rodeo.
Her new partner was Flo's Heiress (Babyflo) and together they were the 2014 WPRA Barrel Racing World Champions and 2018 AQHA Barrel Racing World Champions. In addition, Babyflo was also the 2013 WPRA/AQHA Barrel Racing Horse of the Year.
Ever since her accident, Taylor has been an advocate for wearing a helmet. She is also famous for her colorful outfits. She even has her own brand of clothing and horse gear called Ranch Dress'n. Taylor is currently married to Alex McCray.
7. Amberley Snyder
Amberley Snyder was born in California on January 29, 1991. Her father, Cory Snyder, is a former Major League Baseball player.
Snyder began barrel racing at only seven years old. In 2009, she won the All-Around Cowgirl World Championship of the National Little Britches Rodeo Association. Snyder also competed in pole bending and breakaway roping.
In 2010, on the way to the Denver Stock Show and Rodeo, Snyder was in a serious car accident and was ejected from her truck. She slammed into a fence post, which immediately broke her back, leaving her paralyzed from the waist down.
Despite her life-changing injury, Snyder was determined to get back in the saddle. Within four months of the accident, she was horseback riding once again.
Between physical therapy and the use of her seatbelt with her saddle, Snyder was back to competing a year and a half later. In 2015, she was voted the fan exemption contestant at the RFD-TV's The American, coming in just 0.6 seconds shy of the winning time.
Synder is also a motivational speaker, sharing her story Get Back on the Horse across the country. Netflix also portrayed her story in the film Walk. Ride. Rodeo. Find her book Walk. Ride. Rodeo here on Amazon.
To learn more, read our Amberley Synder guide.
8. Hailey Kinsel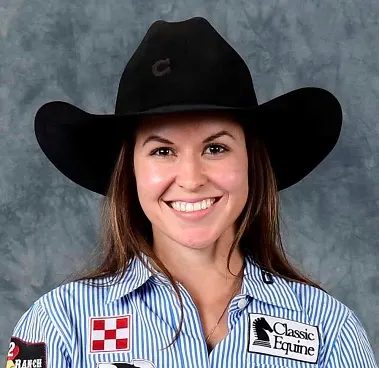 Hailey Kinsel was born in Cotulla, Texas on October 3, 1994. She comes from an equestrian family, as her mom is a former Miss Rodeo.
Kinsel's interest in barrel racing sparked when she was 11 years old. She competed with her barrel horse Josey throughout junior high and high school. Then, for college rodeo, she competed with her horse TJ, with whom she joined the WPRA. Before qualifying for her first NFR, Kinsel won the National Intercollegiate Rodeo Association championship.
From 2017-2020, Kinsel and her horse, DM Sissy Hayday, affectionately known as 'Sister", qualified for the NRF. From 2018-2020, the pair won three consecutive barrel racing world championships, taking the rodeo world by storm.
In 2018, Sister won the WPRA/AQHA Barrel Racing Horse of the Year Award. Kinsel also works as an ambassador for Purina Feed. She is the first barrel racer to win the world title, average title, Top Gun award, and fast time in the same year.
Also Read: 15 Interesting Facts & FAQs About Hailey Kinsel & 6 Most Famous Barrel Racing Horses