Our readers support us. This post may contain affiliate links. We earn from qualifying purchases. Learn More
World champion barrel racer Fallon Taylor has certainly made a name for herself in the equestrian world after an inspirational comeback. With a bold sense of fashion and a need for speed, there is never a dull moment in her life.
Taylor was born on July 18, 1982, in Tampa, Florida. At the age of seven, she watched her first rodeo and she was immediately hooked. With no prior horse experience, Taylor and her family packed their bags, moving to Texas to accommodate her new passion for horseback riding.
Taylor began training with legendary barrel racer Martha Josey. At eight years old she joined the Women's Professional Rodeo Association and by just 13 she qualified for her first National Finals Rodeo (NFR). As a teenager, she qualified for the NFR four times and at age 14 she took home the coveted RodeoHouston title.
Stats about Fallon Taylor:
| | |
| --- | --- |
| Height: | 1.73 m |
| Birthplace: | Tampa, Florida, United States |
| Born: | July 18, 1982 |
| Husband: | Alex McCray |
| Star Sign: | Cancer |
Here are nine facts about Fallon Taylor.
1. She Took a Break From Barrel Racing to Pursue a Career in Acting and Modeling
From 1995-1998, Taylor qualified for the NFR, placing 6th, 9th, 7th, and 12th in the world respectively. After her successful career as a junior exhibitor in barrel racing, Taylor took a break from competing.
Taylor went on to pursue a modeling career in New York City in both fashion and runway. In addition, she also dabbled in acting in Los Angeles, appearing in TV shows such as Two and a Half Men, The Loop, and Four Kings. Throughout her acting and modeling career she continued to train and ride horses in Texas.
2. Fallon Taylor Broke Her Neck in a Riding Accident and Was Given Just a 2% Chance to Live
In August 2009, Taylor was riding a horse when it slipped in a mud puddle. The horse then began to buck and rear leading to her coming off.
"He was snapping and kicking. He reared up and fractured my skull in four places. I picked a spot to land and tried to get off – terrible idea. When I did, he kicked my feet and I went 12 feet in the air and landed straight on my head," said Taylor.
The accident led Taylor to have a fractured skull in four places, shattered bones in her face, and fractured her C-2 vertebra. Her injuries were so severe that she ended up being paralyzed for three days and doctors gave her only a 2% chance to recover and told her if she did survive, she'd never walk again.
After a long, hard journey, Taylor defied the odds and learned to walk again. Determined not to stop there, she made it her goal to get back in the saddle. Though it took time, she was able to get back to her passion of horseback riding.
"I ride ten times better now than the first finals in the 90s, I have a lot more awareness of my body and my horse," said Taylor.
3. At Age 31 She Made a Return to Competitive Rodeo
After making an incredible comeback to get back to horseback riding, Taylor made a comeback to competitive rodeo. After a 15 year break from the show ring, she was ready to make an epic return at age 31.
The horse she chose to take to the ring was Flo's Heiress, a homebred horse. Also known as BabyFlo, the chestnut mare is an offspring of her former barrel horse, Flowers and Money. She also owned BabyFlo's sire, Dr. Nick Bar.
The pair quickly found success and made their way up the rankings. By 2013, the pair qualified for the NFR. They had a spectacular season, winning rodeos across the country.
4. In 2013 Her Horse BabyFlo Won the Women's Professional Rodeo Association/American Quarter Horse Association (WPRA/AQHA) Barrel Racing Horse of the Year
After a phenomenal 2013 season, BabyFlo took home the Women's Professional Rodeo Association/American Quarter Horse Association (WPRA/AQHA) Barrel Racing Horse of the Year. Included in our famous barrel racing horses list, BabyFlo became such a sensation that she was made into a Breyer model.
BabyFlo American Quarter Horse mare whose real name is Flo's Heiress. "Her most notable trait is how hard she runs for how small she is. Every person that sees her compete for the first time is inspired," said Fallon.
5. She Was the 2014 WPRA Barrel Racing World Champion and 2018 AQHA Barrel Racing World Champion
Taylor's success continued on and in 2014, she won her first 2014 WPRA Barrel Racing World Champion title with her beloved BabyFlo. In addition, she ended up placing second in the Average at the NFR with a total time of 145.10.
Taylor and BabyFlo made history again in 2018. The pair put on a wonderful performance to win the AQHA Barrel Racing World Championship.
6. She Won the 2019 Thoroughbred Makeover Barrel Racing Championship
After primarily riding and competing on Quarter horses in her career, Taylor took on a new challenge. In 2019, Taylor won the Thoroughbred Makeover Barrel Racing Championship with Cowboy Swagger.
Taylor acquired Cowboy Swagger after a friend of hers who knew the horse from racing suggested she buy him. As a racehorse, Cowboy Swagger had three wins from 16 starts, with earnings totaling $20,299. His special personality stood out to Taylor.
After consistent performances in the challenge, Taylor and Cowboy Swagger ended up with the best overall score to take home the barrel racing championship. Her fan base rallied behind her and cheered her on in this new endeavor.
7. She is an Advocate for Wearing Helmets
In the world of western riding, most people don't wear helmets as they opt to sport cowboy hats instead. After her riding accident, Fallon has become an advocate for wearing a helmet when riding.
Shortly after she began wearing a helmet, Taylor began the campaign of #whatthehelmet to encourage others to follow in her footsteps. She now wears a helmet every time she competes.
Taylor even has her own line of helmets with Troxel. The helmets feature a sleek ultralight low-profile design. They come in several fun designs.
8. She Has Her Own Clothing Company Called Ranch Dress'n
In addition to being a famous barrel racer, Taylor is also a successful entrepreneur. She is the owner of Ranch Dress'n, which sells western-influenced couture looks.
Her line of colorful and fun clothing includes jeans, t-shirts, hoodies, jackets, rompers, dresses, and more. In addition to clothing, she also sells a variety of other items including saddles, home decor, saddle sacks, helmets, fly masks, and saddle pads.
Also Read: 10 Interesting Facts About Amberley Snyder
9. Fallon Taylor Has Her Own Podcast and YouTube Channel About Life and Horses
Fallon is very active on social media, with a large following on Instagram. In addition, she also has her own podcast and YouTube channel.
On her podcast, Taylor shares different experiences from her life, everything from relationships to horses. She talks about the ups and downs of life and how she overcame obstacles to get where she is today.
On her YouTube channel, Taylor shares tidbits of her life with her horses. She shares videos of her competing with her horses, along with tips and everyday life at her barn. Her channel currently has over 230,000 followers.
10. She Runs an Exclusive Online Community for Equestrian Athletes Called Horse Boss
Taylor runs an online program called Horse Boss designed to help people grow in their riding and training skills. The program includes daily training, lessons, and live coaching.
In the Horse Boss Group, there are over 100 training videos covering a variety of different topics such as novice horses, riding basics, conditioning, overcoming fears, and more. Members have exclusive access to new training techniques, live Q&As, challenges, prizes, and exclusive events. The group allows people to get advice and help from Taylor and other members of the equestrian community.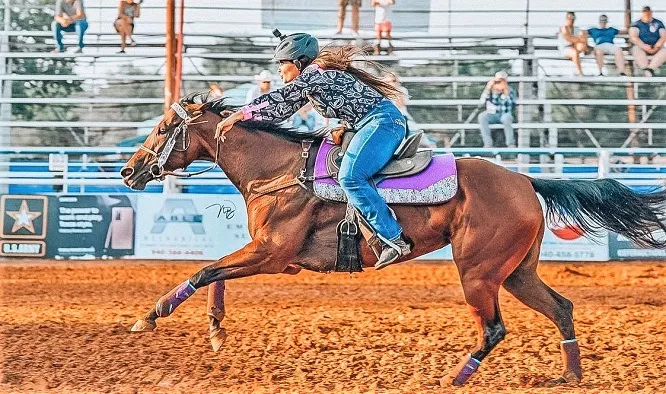 Also Read: 15 Interesting Facts About Hailey Kinsel
Where is Fallon Taylor's Barn?
Fallon Taylor lives in Dallas, Texas, where her barn is also located as well. Her barn includes a trophy room and three arenas. She has a variety of horses at her barn including young horses and seasoned pros. Taylor has several videos on her YouTube channel showing her barn.
How Many Times Has Fallon Taylor Qualified for the NFR?
Fallon Taylor has qualified for the NFR a total of seven times. She qualified in 1995, 1996, 1997, 1998, 2013, 2014, and 2015. In 1995, at just 13 years old, she became tied for the youngest person to qualify. Taylor won her first and only NFR title in 2014 aboard BabyFlo.
How Much Money Has Fallon Taylor Earned?
So far in her career as a barrel racer, Fallon Taylor has made over $1 million in earnings. In 2014, the year she won her NFR world title, she earned $276,441.
Who is Fallon Taylor's Husband?
Fallon Taylor is married to Alex McCray. The couple got married in November 2019 at Little Elm, Texas. McCray owns a sports and nutrition company.
Also read, 11 Best Barrel Racing Quotes & Sayings.