This post may contain affiliate links. We earn from qualifying purchases. Learn More
When Heartland premiered on October 14, 2007, no one dared hope it would last this long. Today, Heartland is the longest-running one-hour drama series in Canadian television history. Millions of horse lovers watch and love the show around the world.
This multi-generational family drama is based on the book series written by Lauren Brooke. It follows the highs and lows of a Canadian ranching family, particularly of Amy Fleming, who has a special gift for healing troubled horses.
The beautiful filming locations, lovable characters, and heartwarming stories have all played a part in Heartland's success. In today's article, we share some interesting facts and tidbits about everyone's favorite horse TV show.
Here are 8 things you didn't know about Heartland!
1. Heartland is a Working Cattle Ranch in Alberta, Canada
The familiar Heartland barn and ranch house are all part of a working cattle ranch in Millarville, Alberta. We know from Roy Foster that his parents moved to the ranch in 1928 to raise White Faced Hereford cattle.
Roy has many happy memories from growing up on the property with his two brothers. One of his brothers, Les, actually built the big red barn that appears on the show.
Today, the ranch is privately owned, and only the Heartland cast & crew have access. While you can't visit the real Heartland Ranch, you can swing by other filming locations in Millarville. A popular destination for Heartland fans is the Millarville Anglican Church that hosted Lou's wedding in Season 3.
Not far from the chapel is the Millarville Farmers' Market and Race Track. This is where all the horse racing and rodeo scenes are shot. The place is open for visitors all year round, but a good time to visit is between mid-June and October, as this is when the farmers' market is open.
Here is a fun behind the scenes video of the real Heartland Ranch set:
2. Fans Can Visit Maggie's Diner in High River
The set for Maggie's Diner, Tack and Feed can be found on the 3rd Avenue of High River, Alberta. High River appears as the fictional town of Hudson in the show and is around a 30-minute drive away from Calgary.
While Maggie's is not a working diner, fans can visit the building and look through the windows at any time. On the other hand, a real-life version of Maggie's is located on 4th Avenue. This retro diner is called Evelyn's Memory Lane, where visitors can sample Alberta's great food and hospitality.
But there's more High River can offer to the fans of Heartland. The Museum of the Highwood, for example, displays a selection of costumes and props that appear in the show. During filming season, passers-by can also spot the trailers of the Heartland crew behind the building.
If you stroll downtown High River, you will also come across several shops selling Heartland souvenirs. Some good ones to pop in are Olive & Finch right next to Maggie's Diner or Walkers Western Wear.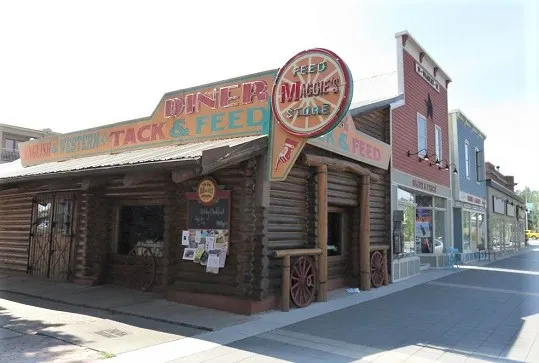 Another spot worth checking out is the red gazebo in George Lane Memorial Park. Some iconic scenes were filmed here, including Amy and Georgie's high school graduation.
3. Most Heartland Horses Belong to the Legendary Wrangler John Scott
John Scott is the head wrangler of Heartland, who coordinates all scenes involving horses. Not only that, but he also supplies the show with horses, cattle, tack, and some of the filming locations.
However, Heartland is only one of the legendary wranglers' many projects. Over the past 50 years, John Scott made a name for himself as an actor, producer, wrangler, stunt coordinator, and promoter. He was the head wrangler of The Lord of the Rings: The Two Towers and executed scenes with several hundred horses.
John Scott also co-founded Stunts Canada in 1970, an association of professional stunt performers. His own company John Scott Productions & Motion Picture Animals has catered to dozens of major film productions over the last 30 years.
The former rodeo rider has worked with every animal imaginable over his career. However, his specialty lies in horses, cattle, and buffaloes. He also has a collection of wagons, buggies, props, trucks, and trailers available on demand.
As far as horses and stuntwork go, John Scott is the best of the best. He will also tell you that more horses have appeared on Heartland to date than actors with lines. His grandson Jake Scott Church also appears on the show as Mallory's boyfriend, Jake.
4. Stormy Has Been Playing Spartan Since Day One
Stormy is a black Quarter Horse gelding who portrays Spartan on Heartland. He has been Spartan's main "equine actor" throughout the entire series, starting from age five.
The role of Spartan was Stormy's first-ever acting job, and it's safe to say he nailed it! Like many professional actors, Stormy also had many stunt doubles over the years. Sonny and Zyada, for example, doubled for Spartan when Amy was auditioning for Dark Horse in the Season 5 finale.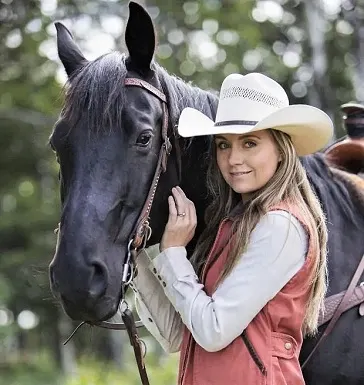 It's no question that Stormy and Amber Marshall (Amy Fleming on Heartland) have a special bond in real life. After all, they've been working together for 14 years and make a great team. In fact, Amber has known Stormy for as long as Amy has known Spartan, which really brings their connection alive on the show.
5. The Heartland Studio is in Calgary, Alberta
Heartland has four primary filming locations. All outdoor scenes around the barn and ranch house are filmed on the ranch in Millarville. The dude ranch is a separate set located close to the Heartland ranch. Then there is High River that takes up the role of Hudson in the show and gives home to Maggie's Diner.
Finally, all interior scenes at the ranch or the vet clinic are filmed in a studio in Calgary. These include the interiors of the ranch house, the barn, the loft, and Scott's clinic.
6. Some Heartland Actors are also Directors
Both Michelle Morgan (Lou Fleming on Heartland) and Chris Potter (Tim Fleming on Heartland) have directed episodes of the show. But while directing is the next step in Michelle Morgan's career, for Chris Potter it's just a hobby.
So far, Michelle has directed one episode of Heartland and three episodes of its spin-off series Hudson. She also wrote and produced three short films, Save Yourself (2019), Mi Madre, My father (2018), and The Impostor (2011).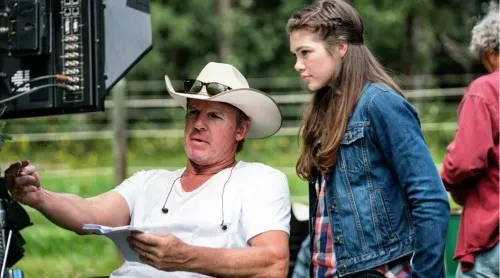 Season 14, Episode 9, "Find Me in the Dark" marks Michelle's directorial debut on Heartland. In an article on the Heartland Blog, Michelle shared how acting and directing at the same time can be challenging. She also thanked the Heartland cast & crew for being so supportive of her new role.
But how does one make the transition from acting to directing? As for Michelle, she started by shadowing seasoned directors and asking questions about the process. She also joined the "Director's Chair, Story & Leadership Program" to further develop her craft.
In contrast, Chris Potter already had directing experience before he came to Heartland. He debuted the American crime drama Silk Stalkings (1991-1999) and co-produced The Good Witch series (2015- ).
As for Heartland, Chris Potter directed 23 episodes to date, some of which are fan favorites! In his interviews, he often talks about the challenge of directing a Heartland episode within the tight CBC budget. He is also eager to share that acting will always remain his true passion.
7. Many Heartland Actors are Real-Life Horse Lovers
Interestingly, horse knowledge is not a prerequisite for any of the roles on Heartland. Nonetheless, several of the main Heartland actors are passionate horse lovers in real life!
Let's look at Amber Marshall, for example. The star of the show has been riding since the age of four and is as talented a rider as her character Amy.
What's more, Amber Marshall lives on a 100-acre Alberta ranch with her husband! Together, they take care of many animals, including horses, cattle, dogs, cats, and even an alpaca. Who better to play Amy Fleming than a real-life version of her character!
Another passionate equestrian from the show is Alisha Newton (Georgie Fleming-Morris on Heartland). Just like her character Georgie, Alisha is also a competitive showjumper. She owns two beautiful horses, an Oldenburg mare Diva and a Dutch Warmblood gelding Aflame.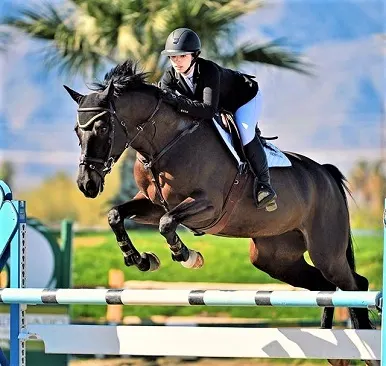 Jessica Amlee (Mallory Wells on Heartland) is also an experienced horse rider herself. Her parents used to own horses so Jessica spent her whole childhood in their company. Who would've thought!
Lastly, two veteran actors Shaun Johnston (Jack Bartlett on Heartland) and Nathaniel Arcand (Scott Cardinal on Heartland) are also experienced with horses. For Shaun, spending the day horseback was a lifestyle as he grew up on a cattle ranch. Whereas Nathaniel's family has always had horses and he always loved being around them.
Also read: Heartland Actors Who Live Like Their Characters in Real Life
8. Shaun Johnston Originally Auditioned for the Role of Tim Fleming
It might surprise you at first that Shaun Johnston originally wanted to be Tim Fleming on Heartland. He thought Grandpa Jack too old for him to play, as Shaun was only in his mid-forties when he auditioned. In fact, Shaun is only two years older than Chris Potter, who plays Tim Fleming on Heartland!
However, once he read the script, Shaun instantly connected with Jack's character. Lucky for us, since he's done such a fabulous job playing the role! According to some of the cast, Shaun Johnston is the hardest worker they know and a prime example of a perfectionist.
Making Shaun look old enough to be Jack was no easy task either. He spends hours in the make-up chair every single day on the set. He also had to deepen his voice and practice Jack's typical walk to authenticate the character truly.
Also, read our other fun Heartland guides. We have guides on all the heartland actors, as well as the latest series news and our popular Heartland quiz!