Our readers support us. This post may contain affiliate links. We earn from qualifying purchases. Learn More
When it comes to the equestrian side of YouTube, Esme Higgs is as big as it gets. This young YouTuber is behind the channel This Esme that has become a worldwide sensation among horse lovers.
Since February 2015, the channel has gathered almost 160 million views and attracted an incredible 681k followers.
Although she didn't start out to become popular, Esme Higgs now runs her channel full-time from her home in East Sussex, United Kingdom.
Esme's most popular video Tack up with me for a Show | GoPro | This Esme currently has no less than 6.3 million views! She is also active on Instagram where she has 273k followers.
On her channel, Esme posts a mix of riding vlogs, horse care tutorials, and videos about her four horses. To illustrate the size of her audience, This Esme racks up about 6 million views each month from 170 countries!!
Being a popular YouTuber also comes with opportunities Esme never would've dreamt of having otherwise.
Here are nine interesting about Esme Higgs.
Esme Higgs Started Riding at the Age of Five
According to Pony Magazine, Esme Higgs has been riding horses since she was only five years old. As a young child, she often watched riders pass in front of her parent's house and wouldn't rest until her family took her to a riding school.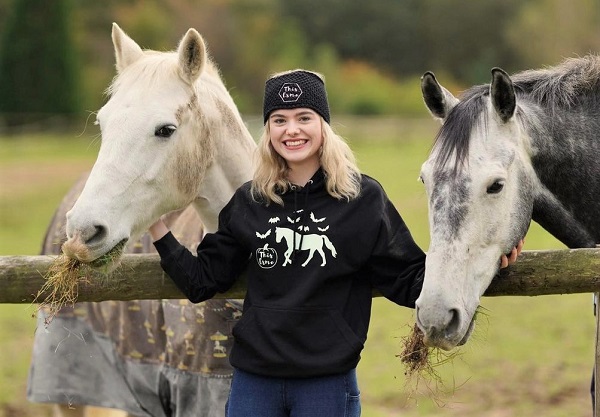 At the age of nine, Esme joined The Pony Club, an organization for young people who want to develop their riding and horse care skills.
The Pony Club is widely popular in the United Kingdom and has been the starting point for many successful equestrians.
Over her years at The Pony Club, Esme became a competent rider and developed an interest in show jumping. She also had the opportunity to speak at the yearly Pony Club conference, where she met and talked to Princess Anne!
The Backstory Of "This Esme" YouTube Channel
Similar to other big YouTubers, Esme Higgs didn't start creating videos to make money. In the beginning, she only used the platform to store videos of her and Casper, a gray Connemara Pony. The purpose of these early videos was to simply track her and Casper's progress and share her experiences with friends and family.
From 2016 onwards, Esme started to upload videos more regularly. She realized it was a lot of fun to make videos look and sound good, and tried to improve each new video she created.
Making videos was also a fun way to spend time with her horses and get away from the increasing amount of schoolwork, Esme shared with Horse and Hound.
Much to her surprise, her small channel started to gain traction in 2017. At this point, Esme was uploading a few short videos a week, using just her smartphone and free editing software. However, her channel kept on growing, and before she knew it, This Esme had tens of thousands of subscribers.
Esme's accomplishment is even more remarkable when you think about how she had to juggle school with YouTube. This became harder and harder as she progressed in her education, but she didn't give up.
After graduating, Esme took a year out to see if she could do YouTube full-time and succeeded!
In her interview with Charles Owen, Esme talks about how her family has always been very supportive of her YouTube journey. They spend long hours filming Esme and her ponies each week to help her gather enough material for her videos.
For example, Esme's young brother Max is responsible for flying the drone and making her videos look epic!
What Esme Higgs Loves About Being a YouTuber
Being a YouTube superstar is hard work, but it certainly has its upsides. What Esme Higgs loves most about her job is sharing her passion for horses and inspiring people around the world.
Esme's videos ended up having a bigger impact than she would've ever imagined. In her interview with Pony Magazine, she shared how some of her fans started riding or got back in the saddle after watching her videos. To Esme, this represents the culmination of her work and inspires her to keep going every day.
Besides telling stories and sharing her passion, Esme has also had some amazing experiences thanks to YouTube. She has spoken on big equestrian events, worked with the FEI, and interviewed some of her equestrian heroes. She even had the chance to ride top eventer William Fox-Pitt's Badminton horse, Little Fire!
One of Esme Higgs' most memorable experiences was filming at the RDA (Riding for the Disabled Association) Nationals. She also enjoyed competing at Hickstead on her horse Casper and riding Icelandic horses across a lava field!
"This job has given me so many amazing opportunities that I'm so grateful for, and so many skills," Esme told Charles Owen. "I've really learnt from it."
Dealing With Negativity
According to Esme, the hardest part of being a YouTuber is trying to constantly please everyone. Despite your best efforts, there will always be people out there who don't resonate with your ideas and personality.
"My viewers are amazingly supportive, and I owe so much to them for enabling me to have the opportunities I've had. Whoever you are, and whatever you do, not everyone is going to like you. You also don't know what may be going on in someone's life that drives him or her to make potentially hurtful comments." Esme told Horse and Hound.
Her best advice is to just delete negative comments and erase them from your mind. There's no point in dwelling on their meaning for too long as some people simply enjoy spreading hate.
What Horses Does This Esme Have?
Esme Higgs who runs "This Esme" has four horses: a crossbred pony, a Connemara, a Thoroughbred cross, and a Welsh Mountain Pony. She also owns three donkeys.
Esme's horses are at the heart of everything she does on social media. They all have big personalities, which greatly contributed to her channel's success. The horses are also camera-trained and remain calm around filming equipment, which makes creating videos a lot easier.
Here are Esme Higgs' three horses:
Mickey
Esme got his first pony Mickey back in January 2010. He is a 13 hand cremello pony of unknown bloodlines. Mickey has the biggest personality out of Esme's horses and likes licking everything, hence the nickname "Licky Mickey."
"Mickey makes me laugh so much sometimes that I can't get my words out and I never know what he's going to do next!" Esme shared in Pony Magazine.
Casper
Esme's second horse Casper is a 15 hand gray Connemara who loves rolling after being groomed! Casper was very green when Esme first started working with him and kept bucking her off repeatedly.
Thanks to Esme's persistence, Casper has turned into a wonderful all-rounder. They mostly do showjumping together, but also enjoy a cross-country course every now and again.
Joey
Before Esme found Joey, she was looking specifically for a "YouTube horse". Joey was perfect as he is bold with not much competition history ad fits into Esme's light horse scheme. He is a young Thoroughbred x Warmblood who is 16.1 hands tall.
Esme's obsession with light horses goes back many years. Her family also encouraged her to stick to grey horses as they stand out against most backgrounds and are the best color for vlogging.
Duke and The donkeys
The newest member of Esme's herd is Duke, an adorable 11 hand Welsh Mountain Pony. Last but not least, Esme's barn is also home to three donkeys, Willow, Runo, and Toby.
Esme Higgs Is an Ambassador for the Brooke Charity
With her channel, Esme also supports charities that work towards creating a better life for horses. She has been involved with The Brooke charity since 2018, when she visited their stand at Olympia Horse Show in London.
The Brooke charity works with governments, owners, and local authorities around the world to help improve the lives of horses, donkeys, and mules.
In 2019, Esme had the opportunity to travel to Senegal and see the charity's impact firsthand. While out there, she made videos about the organization's drought resilience and farriery work.
As an ambassador, Esme's goal is to raise awareness of the challenges working equines face around the world. She also hopes to inspire more young people to get involved with The Brooke charity.
"I'm so excited to take on this role and further my support of this brilliant charity in 2020. Earlier in 2019, I was lucky enough to visit Brooke's work in Senegal and see the huge difference that donations make to the lives of working horses, donkeys, mules and the people who depend on them," Esme told The Brooke charity.
Esme is also involved with World Horse Welfare (WHW), the UK's largest equine rescue and rehoming organization. Their mission is to work with horse owners and authorities to help improve the welfare of horses and reduce suffering in the UK and worldwide.
Esme recently visited the headquarters of WHW and featured the charity on her channel.
Does This Esme Have a Job?
Before she became a full-time YouTuber, Esme worked at a local veterinary practice part-time. She currently runs her channel "This Esme," works with brands, and designs merchandise.
Being a YouTuber involves many different roles, and no two days are the same for Esme Higgs. She usually films 3-4 months' worth of content over a few weeks, then spends a long time editing each video.
As Esme told Horse and Hound, most people don't realize how long editing a video can take. One minute of content takes her up to three hours to produce, and cinematic videos can take twice as long.
It's also not always easy to stay motivated when the demand is high. Esme believes it's important to give yourself a break from content creation to avoid getting burnt out. YouTubers have to be extremely organized and passionate to stay on top of their game long-term.
Esme Works With Various Equestrian Brands
Esme Higgs is an ambassador for some of the biggest equestrian brands, including Aztec Diamond, Baileys and Ariat, Voltaire Design, Charles Owen, Le Mieux, and Omega Equine.
While sponsorships enable her to be a YouTuber full-time, Esme's first priority is to create high-quality content for her viewers.
According to Horse and Hound, Esme only promotes products she uses herself and would recommend to others. At the same time, it's also important to her that both the channel and the brand benefit from a partnership. She prefers to work closely with a brand rather than doing short-term projects, as this provides the most benefits to both.
Esme Higgs' Top Tips For Aspiring YouTubers
Making it as a YouTuber is far from easy, and you have to excel in many different areas to succeed. In her interviews, Esme always drops one or two tips for those embarking on a YouTuber's journey, which we have summarized below.
First of all, Esme warns against the use of copyrighted music. YouTube has become increasingly better at detecting copyright violations, and it's an unnecessary risk that can get your videos taken down.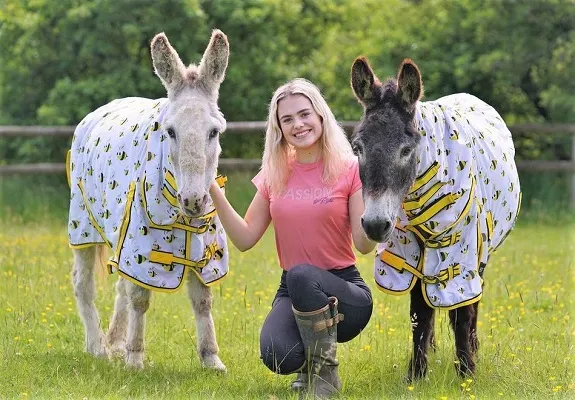 Secondly, she advises YouTubers not to go overboard with spending at the start. According to Horse and Hound, Esme got to 60,000 subscribers before she considered making bigger investments. However, if you're keen to spend money, Esme says it's best to invest in audio rather than video.
For long-term success, she believes it's important to make original content that you're passionate about and keep the process fun! Her advice is to stay true to yourself and don't try to be someone you're not. "Do things for you, not other people because you're not going to make everyone happy. Just do what makes you happy." (Source: Charles Owen)
Esme Has Her Own Merchandise Line
Like many other successful YouTubers, Esme Higgs also created her own merchandise line! She sells various "This Esme" branded products in her shop, such as hoodies, base layers, tops, backpacks, caps, bottles, and more.
Buying merch is the best way to support a YouTube channel you love. If you're already a fan of This Esme, check out her shop here!
Also Read: 11 Interesting Facts About Jesse Drent