Electric fences have become a popular choice among many horse and livestock owners as an effective and safe way to keep animals in pastures. We are sharing the best electric fence energizers and batteries to keep your fence running.
Electric fence energizers, also known as chargers, provide the source of electric current that runs through the fence wire. Energizers vary by their power source and the amount of current they output. Of the power supply units, there are three main options: solar power, battery (DC), and plug-in (AC).
Knowing Which Energizer to Use
When choosing an energizer, you want to make sure to select one that is fitting to your needs. Plug-ins are generally more cost-effective and powerful. However, they require an outlet, which many pastures don't have access to.
Battery and solar are the best options for where you don't have access to electric power. Battery-operated chargers typically run on six or 12-volt batteries, with the batteries commonly being sold separately. Deep cycle batteries are often a popular choice for electric fences, as they are meant to be drained and recharged. Many solar power energizers come with battery backups for when there is not enough sun to power the solar panel.
Top Tip: Why not save the hassle of a cable or batteries and get a solar-powered electric fence charger. See our guide to the best solar electric fence chargers.
Here are the best electric fence energizers and batteries to go with them available on the market.
Best Electric Fence Energizers
1. Zareba EDC5M-Z Battery Operated Electric Fence Charger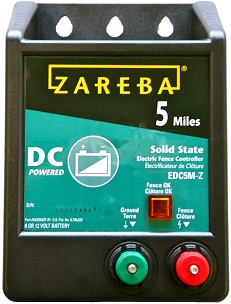 This battery-operated electric fence energizer is designed to work on pastures with horses or livestock for up to five miles. Used with a 6-volt battery, it produces an output of 0.25 joule.
The weather-resistant case works all year round to ensure your fence is always running. It works in moderate, dry weed conditions which is ideal for use with cattle and horse pastures. Digital timing is featured on the charger and an indicator light shows when it is working.
Why we like it:
Comes with a weather-resistant case.
Can be used in dry weed conditions.
Good for small to medium pastures.
2. Parmak MAG12-UO 12-Volt Battery Operated Fence Charger
With the capability of powering up to 30 miles of electric fence, this charger is a great option for large pastures. The low impedance 12-volt battery-operated system will work through wet weeds and brush, making it ideal for different types of landscape.
The unique design provides up to three months of continuous operation between battery charges. Thanks to the weatherproof design, it can effectively be used all year round. A built-in performance meter allows you to see exactly how your fence is running. The portable design allows you to easily transport it to different pastures.
Why we like it:
The low impedance battery system is ideal for working in wet weeds and brush.
Waterproof design.
Works up to three months between charges.
3. Patriot P10 Dual Purpose Electric Fence Energizer
This versatile energizer can be plugged into a 110 V line input, operated by a 12 V battery, or charged with the addition of a solar panel depending on your needs. It is capable of powering up to 30 miles or 100 acres of land which is great for large barns.
This sturdy charger can be used with all types of livestock and horses, as it produces an output of 1.0 joule. The sturdy waterproof design allows it to work no matter the season. An easy-carry handle is built in so you can conveniently carry it wherever you need to go.
Why we like it:
Can be used with AC, battery, or solar power.
Capable of powering up to 30 miles.
Waterproof and easy to transport.
4. Zareba EAC25MZ 25 Miles AC Low Impedance Electric Fence Charger
This sturdy AC charger has the ability to energize up to 25 miles of pasture with 1.0-joule output. It can be plugged directly into a standard two-prong outlet, so you don't have to worry about having any special outlets or cords.
The easy-grip terminals allow for convenient installation, with a light to indicate if the fence is working. Its strong output allows it to work even through strong weeds, which can be a nuisance in cattle and horse pastures. With a weather-resistant case, it can be used all year round on all types of fences.
Why we like it:
Works with standard two-prong outlets.
Easy to install and works through weeds.
Easy-grip terminals and indicator light for convenient use.
Best Electric Fence Batteries
1. Interstate Batteries 12V 35AH Deep Cycle Battery
This 12 volt 35 AH deep cycle battery is rechargeable, so you don't have to keep buying new batteries. Made from VLRA technology, you don't have to worry about spilling or over-pressurization.
Built with professional grade quality, it is sturdy enough to work with electric fence energizers, among many other uses. With a sealed exterior, you don't have to worry about acid leaking out. It includes removable handles for convenience and can be recycled when no longer used.
Why we like it:
Rechargeable.
VLRA technology prevents spills and over-pressurization.
Includes removable handles for easy installation.
2. VMAX V35-857 12 Volt 35AH Deep Cycle Battery
This marine deep cycle battery has all the qualities you need to run an electric fence. With 12 volt 35AH, this high performance battery includes maintenance free operation allowing for ease of use.
Thanks to the special treatment and manufacturing, the unique design is non-spillable and non-hazardous. The long life cycle along with the rechargeable capabilities allows it to keep your electric fence running for hours on end. The specially designed absorbed glass matt (AGM) between the VMAX plates gives the battery many physical and electrical advantages, such as maximizing resistance to shocks and vibrations.
Why we like it:
Non-spillable and non-hazardous.
Rechargeable.
Maximum resistance to shocks and vibrations
3. Interstate Batteries 6V 7AH Sealed Lead Acid (SLA) AGM Battery
This 6 volt 7AH battery is ideal for powering small electric fence enginizers. The AGM & VRLA valve regulated technology work to efficiently to eliminate spills and overpressure.
The maintenance-free, rechargeable design allows for ease of use. Arriving ready to use, the sealed lead acid battery doesn't need to be charged before you put it to use. It is easy to install with a charge that will last for several days. Once you are finished with the battery, it can be recycled.
Why we like it:
Easy to install.
Maintenance-free and rechargeable.
Unique design eliminates spills and overpressure.
Frequently Asked Questions
Can You Use a Car Battery for an Electric Fence?
Car batteries are not recommended to use with electric fences. They run the risk of damaging your energizer, as the continual usage and demands of the energizer will dramatically shorten the life of the car battery.
If you use a car battery for an electric fence, you'll end up spending more money than you need to. The best options for electric fences are to use deep cycle or leisure batteries, as they are designed to be drained and recharged.
Can an Electric Fence Kill You?
An electric fence will not kill you, be debilitating, or burn you if you touch it, however, it can hurt for up to 10 minutes. Electric fences have low current and pulsate, which means they can not kill you or cause permanent damage.
Electric fences are designed to be safe for both people and animals. They are meant to keep animals in, or out, of fenced areas. The animal will find the shock unpleasant, but won't be hurt.
What Are Joules?
Joules are the unit of energy that represents watts x seconds. In order to properly operate, a fence charger needs to have adequate joules in order to push the voltage down the fence line and through a load.
Most electric fences have a joule output between 0.25-2. Joules typically will depend on the brand and size of the fence that the energizer can power. Before purchasing an energizer, it is a good idea to know how many joules it produces to know if it is right for your pasture.