Our readers support us. This post may contain affiliate links. We earn from qualifying purchases. Learn More
The dressage saddle pad seems like a simple thing, but choosing one can be a daunting task. If the pads all seem the same to you, take a deeper look with us.
How to Choose a Dressage Saddle Pad
A dressage pad has two major purposes, which are protection for your horse and saddle and giving competitors the sharp, well-polished look they need in the competition.
The horse's back can easily be rubbed or chaffed by the saddle, and the leather of the saddle can be stained and stiffened by the sweat from the horse's back.
Size
It is important that the contours of the horse's back are well-fitted by the saddle and pad, which should compliment each other to provide the most comfort possible to the horse. If a saddle rubs a horse anywhere it can cause soreness in the horse's back.
A dressage pad used for competition is typically square, white with black or white piping for competition, and should extend just slightly past the edges of the saddle. It shouldn't reach beyond the horse's last rib, however.
Thickness
Desired thickness of the pad depends upon the conditions, especially the fit of the saddle. If the saddle fits the horse perfectly, too much thickness can disrupt the fit.
A heavy winter coat, or a horse who is out of condition, might need less thickness to adjust for these things as well.
Material
Material is dependent on personal preference, as synthetic fleece and cotton do not absorb moisture as well as wool, but they are much easier to clean and care for. There is a fairly significant difference in price as well, the synthetics and cottons being more cost friendly.
Here are our Favourite Dressage Saddle Pads
Weatherbeeta Prime Dressage Saddle Pad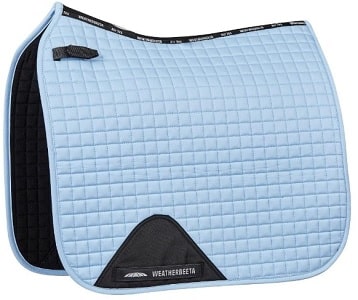 This Weatherbeeta dressage saddle pad is breathable, lightweight, has a mesh spine for extra airflow, and comes in eight different colors.
There is a PVC covered girth patch for durability. It has a high wither design for extra space where needed.
ECP Air Ride Equestrian Pad
This saddle pad is shock absorbent, lightweight, and breathable, with small comfortable ventilation holes to prevent excess sweating. It boasts a ventilated back area to prevent overheating, mesh openings to provide soothing relief to the back, and earth-friendly, recyclable materials.
The ventilation in the material creates a convection process to circulate air over the horse's back to regulate body temperature, soothing uncomfortable areas of the horse's back.
Construction of the saddle pad includes proprietary TPE foam. ECP Air Ride non-slip pads to mold to the contour of your horse's back, keeping the saddle in place. It also returns to original shape after use.
ECP Cotton Quilted
With a perfect diamond quilted top and brushed cotton underside, this saddle pad is all you need to get started. It offers a padded fill to add comfort and protection, along with a contoured topline for better airflow and circulation.
TheECP Cotton Quilted has nylon billet straps secured with hook and loop closure for convenience also. It is available in eight colors.
Roma Ecole Double Diamond
With a Wick-Dri lining and polished poly/cotton shell, this saddle pad by Roma FC has the details you need to make a great impression in the show ring.
The Roma has contrasting rope piping and the traditional diamond quilting detail in high-quality cotton and polyester.
LeMieux Prosport Suede
This is a saddle pad designed to fit a wide range of dressage saddles. It accommodates high withers, with elasticized D-Ring tabs, and a signature girth protection areas.
Beautiful as well as functional, it offers a luxurious suede top with a super soft bamboo lining to absorb and control sweat under the saddle.
The bamboo is soft and lightweight, like a silk and cashmere blend, and has natural antimicrobial and deodorising properties. It is easy to wash and dries much more quickly than normal lining fabric.
Dover Saddlery Quilted Pad
A classic square saddle pad with a moisture wicking umbrella pattern, this is a pad that will suit the purpose of any rider. It has a rolled trim finish and nylon girth/billet straps. A definite staple for any dressage competitor.
Derby Originals Contour Dressage Half-Fleece Pad
A contoured, diamond-patterned quilted top is edged with fleece. It has cut-outs to aid in wither relief and consists of a soft plush half fleece lined underside to provide extra comfort and gentleness for the horse's back.
It is generously sized and has that perfect traditional look in white and black.
Professionals Choice Dressage Show Pad
This saddle pad is a choice worthy of the name, boasting a generous rise for the withers and and oversized shape to allow for shrinkage.
It has a soft, 100% cotton top and bottom. It is machine washable. This saddle pad is available in white and black.
Back on Track Dressage Pad
If a saddle pad with both good quality and stand-out good looks is important to you, this pad will be your pick. It is a classic square pad with stylish design.
The saddle pad is contoured along the topline for better fit and comfort. The lining is breathable, and the hook and loop billet straps and girth loops help keep the pad securely in place
B Verigo Velour Lux Coolmax Dressage Pad
Another fantastic choice for those looking to make a visual impression, this Lux saddle pad is gorgeous as well as functional. It is made of high quality fabric with a velvet-like feel.
It has Velcro billet straps and triple piping to complete the package. There are three colors available, all eye-catching and luxurious.
What do you think of our choices? Are there any dressage pads you would recommend? Let us know below!