Our readers support us. This post may contain affiliate links. We earn from qualifying purchases. Learn More
The 2005 movie Dreamer holds a special place in the hearts of many horse-lovers. Inspiring and charming, it is a great movie that the whole family can enjoy.
After Soñador, a Thoroughbred racehorse severely injures her leg during a race she faces an uncertain future. However, horse trainer Ben Crane's (Kurt Russell) daughter Cale (Dakota Fanning) sets out to save the mare's career. After facing lots of ups and downs, Soñador's career is back on track thanks to Cale's help and determination.
Here are eight facts about Dreamer.
1. The Movie is Loosely Based On a Mare Named Mariah's Storm
While doing research for the movie in Kentucky, writer/director John Gatins spoke with a vet. This vet told Gatins about a racehorse named Mariah's Storm who made an incredible comeback after facing a serious injury. This horse became a loose inspiration for the movie.
Mariah's Storm is a bay Thoroughbred mare born in 1991 with impeccable bloodlines. She had a solid start to the beginning of her career, winning such races as the Arlington Heights Oaks, Arlington Matron Handicap, and Turfway Park Budweiser Breeders' Cup Stakes. However, while running in the Alcibiades Stakes at Keeneland Race Course in order to qualify for the Breeders' Cup, she fractured her front left cannon bone.
In most cases, an injury so severe would be career-ending. However, her owners refused to give up on her. Thanks to the work of several skilled veterinarians, Mariah's Storm fractured cannon bone healed and strengthened.
Mariah's Storm was able to make a successful return to racing. After her injury, she went on to win the Arlington Oaks, Arlington Matron Stakes, Turfway Breeders' Cup Stakes, and Falls City Handicap. Mariah's Storm then went on to compete in the coveted Breeders' Cup Distaff, however, she finished ninth out of ten in the race.
During her racing career, she won 10 of her 16 starts, bringing home earnings of $724,894. Upon retiring from racing, Mariah's Storm went on to have a successful career as a broodmare.
2. Mariah's Storm Has a Foal With a Horse Mentioned in the Film
During the scene where Soñador is up for consideration for the Breeder's Cup, Prince Sadir states that his horse "Rapid Cat is sired by Storm Cat, the best sire in the world." In real life, Mariah's Storm was bred to Storm Cat.
The foal out of Mariah's Storm by Storm Cat was named Giant's Causeway. Giant's Causeway went on to have a very successful racing career in Europe, winning races such as the Eclipse Stakes, Juddmonte International Stakes, and Irish Champion Stakes. He even went on to win the 2000 Cartier Horse of the Year.
Also Read: 17 Famous Horses in Movies and TV Series
3. The Film Mentions Real Life Thoroughbred Horses
During the movie, Cale and her dad Ben go to Ashford Stud to look at the studs they have. The stallions they see include Fusaichi Pegasus, Giant's Causeway, Johannesburg, and Grand Slam.
Fusaichi Pegasus, Giant's Causeway, Johannesburg, and Grand Slam are all real-life horses that stood at stud at Ashford. However, they didn't use the real horses in the film, instead, they used stand-ins.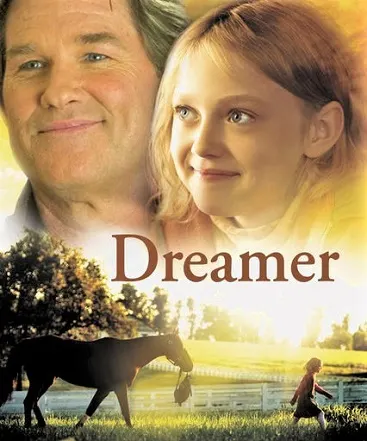 4. Dakota Fanning's Character Was Originally Supposed to Be a Boy
Originally, Dakota Fanning's character was supposed to be a boy. However, directors changed the role specifically so Dakota Fanning could play the part. When she received the original script, it still had the word 'boy' in the description of her character.
5. In The Movie, the Breeders' Cup Scenes Were Filmed at Keeneland
In a triumphant return to her racing, Soñador races in the prestigious Breeders' Cup Classic. For the movie, they filmed the Breeders' Cup Classic at Keeneland Racetrack in Lexington, Kentucky.
The Breeders' Cup takes place every November over the span of two days, featuring 14 races. Every year, the event takes place at a different racetrack. It has been held at Keeneland twice and is set to take place at Keeneland again in 2022.
6. Soñador Translates to Dreamer in Spanish
7. Kurt Russell Bought a Horse for Dakota Fanning After the Movie
After Dreamer was done filming, Kurt Russell bought a horse for Dakota Fanning. The horse he bought her was one she rode during the film.
Fanning came up with the name Goldie for the horse. This was partly due to the fact that the horse is a palomino and that Russell's longtime partner is Goldie Hawn.
8. Paramount Pictures and Warner Bros. Both Turned Down the Film
Dreamer is a film by DreamWorks Pictures. However, the script was originally given to Paramount Pictures and Warner Bros, but both studios turned down the film.
Also Read: 8 Facts You Didn't Know About Hidalgo
How Much Did Dreamer Make at the Box Office?
Dreamer made $38 million at the box office, performing just average in theaters. It had a budget of $32 million and received mixed reviews from critics.
Where Were the Filming Locations for Dreamer?
Most of Dreamer was filmed in central Kentucky. Filming locations included Keeneland Racetrack, Woodford County's Ashford Stud, and also Marshall's Backstretch Diner in Frankfort.
Who Was the First Filly to Win the Breeders' Cup Classic?
In 2009, Zenyatta became the first female horse to win the Breeders' Cup Classic. She won under the direction of trainer John Shirreffs and jockey Mike Smith.
Zenyatta is included in our list of the greatest racehorses ever, excelling in a male-dominated sport. She won an incredible 19 of her 20 starts, taking home a whopping $7,304,580 in earnings. She also won the American Horse of the Year in 2010 and became a member of the National Museum of Racing and Hall of Fame in 2016.
Read our interesting Zenyatta guide to learn more about this one-of-a-kind racehorse!