You're excited to get ready for dress up, and it's time to get your horse costume! There are some cool options out there for ready-made horse accessories, but they can set you back a pretty penny.
Don't fret, there's good news! The best horse costumes are made by their creative and crafty riders!
I've seen some super DIY horse costumes over the years. You can make your own too! Don't be intimidated, I'm happy to help you get set to create your own. Let's get started!
Also see our article on 30 best horse costume ideas for Halloween, Christmas, and fancy dress.
DIY Masked Outlaw or Sherrif
I love Wild West Outlaws, and this theme is an easy one for most riders to pull off without much trouble.
For a DIY horse costume similar to this duo I found, you'll need:
Two straw hats, one being the biggest you can find. Cut generous ear holes for your horse, and affix the hat with alligator clips to the halter or bridle.
Two square handkerchiefs. One for you and the other affixed to the noseband of your tack.
Two light-colored trash bags, Black Permanent Marker, String. Use the black marker to draw a $ sign on each bag front and back. Fill bags with a lightweight fill (such as leaves, straw, or paper). Tie either to the saddle horn, or to each other using enough string to allow the bags to lie at the horse's shoulder in front of your knees.
Extras – You can add all sorts of accessories to this to improve the look. A gun belt, toy revolver, or lasso work really well.
Switching out the bank bags and masks for sheriffs stars is an easy alternate option.
Complete the outlaw look with standard western attire. Don't forget your chaps if you have them!
DIY Knight and Destrier Costume
Medieval inspirations are a slam dunk option for a cool horse and rider costume.
This costume can be straightforward and simple or can be an opulent match to historical attire. For a straightforward option, you will need:
Horse blanket or similarly sized fabric to fashion a long drape for your horse.
Felt or Fabric Triangles, in coordinating colors, approximately 20-30 to affix to the bottom of the blanket and your reins.
Paint
Heavy Cardboard for a shield to carry (24" x 36") and a faceplate for your steed (Approximately 8" x 12"). You can affix the faceplate to the bridle with duct tape or string.
Bonus – Knights Attire from a local costume shop can take this costume to a higher level.
A lance can be made with a flag pole and extra fabric or paint. (Rest it on your boot to carry it.)
Match your attire to the colors of the blanket and accessories for a uniform appearance.
The sky's the limit here. The more time, effort (and money) you put into this costume, the more impressive your holiday look will be. If you do go all out, I'd recommend that you hit your local renaissance faires and enjoy the fun there as well!
DIY Grim Reaper Horse Costume
Black or dark-colored horses are a shoo-in for creepy looks at Halloween. One of the coolest creepy looks that I see in these events is the draped hooded figures inspired by death.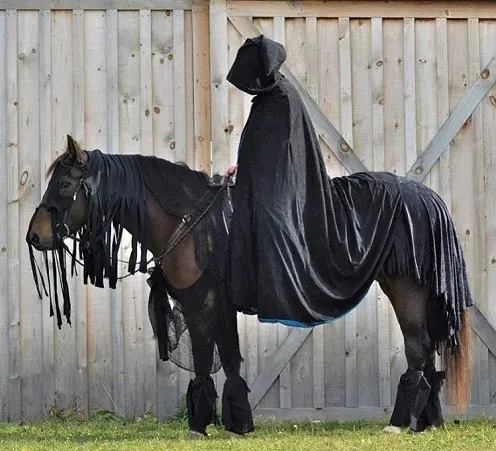 To creep out your buddies and give the kiddos nightmares for weeks, just get creative with:
Black fabric, and lots of it!
For your horse, I'd recommend you cut it long enough to blanket past your feet on both sides, from the shoulder to tail.
For your look, the hooded drape is a loose effect, so a length of fabric that can be gathered for your hood that is long enough to extend past your feet is best.
Use extra bits and scraps of the fabric in the horse's mane, tail, and on the bridle to add to the look.
Wear black clothing, boots, and gloves to stay consistent. A fly mask can be modified to cover your face for full concealment. Creepy cool and super easy.
DIY Zookeeper
One of the great choices that I've seen a lot of varieties of is the Zookeeper Costume.
You can work with the color of your horse to inspire the right animal that you are "keeping" and go from there! For most of the animals, you need to plan for:
Spray on non-toxic paint that is safe for use on hair.
Zookeeper outfit for yourself. This can be a fully store-bought item, or what you have in the closet that is khaki or olive from head to toe. I'd recommend that you at least snag a costume hat for the occasion.
If you want to match your horse and look like a giraffe too, you can find awesome giraffe onesies here on Amazon.
Zebras and Giraffes are popular choices. The key to the success of this look is time and creativity.
If your horse is not the best at standing still for a long period, you may want to plan to do the painting in increments on the day of the show.
DIY Carousel Horse Costume
Great for kids, it's easy to get creative with a Carousel horse costume!
The best of these costumes have adornments head to toe for the carousel pony attire. I'd recommend some, or all, of:
Flowers
Horse Body Paint
Hoof Glitter (which you can DIY with Elmer's glue, water and glitter if needed)
Hair Chalk (for horse and rider!)
A carousel pole! Use the saddle horn to support a long tube. Adorn the tube by dipping a long piece of thin rope in glue, and then wrapping the tube to make the signature spiral. Spray paint gold once the glued rope has completely dried.
On the cheap, a recycled wrapping paper tube works well. Just find the longest one you can and go for it!
This is a super cute costume for the younger riders. Dress up in frilly dresses or party clothes to make your look more finished.
DIY Unicorn and Princess or Fairy
The whimsy and fairytale stories that coincide with a unicorn make this costume a favorite for all ages.
I love, love, love the little girls dressed as fairy princesses atop a "unicorn" with flowing hair. This is another look that is all about the accessories. Hit the craft store and pick up:
Flowers. Lots and lots of flowers. You can use thin metal wire to wind them into your horse's mane and tail very easily.
Ribbon. Small braids spaced throughout, with pieces that are long and loose will add the free whimsy to the look.
Glitter hair spray. Especially if you are in a halter costume class. This small touch is simple to achieve and makes a big difference.
Glittered hooves are a must for this costume.
For the rider, a soft princess dress with over the top whimsy should match the adornments of the horse.
Ribbons, flowers, and glitter for both will tie the look together. Add some fairy wings or a floral crown for extra appeal. You can also find a unicorn horn for horses here on Amazon.
DIY Horse Pumpkin Costume
Nothing says Halloween more than Jack O' Lantern pumpkins!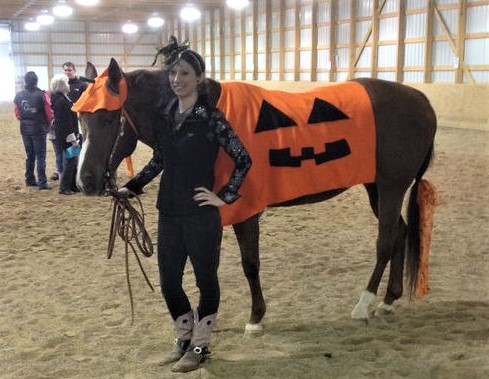 This costume is a great way to join in the holiday dress-up fun. Check out how easy you'll be able to pull this off:
Orange horse blanket or similarly sized fabric.
Matching orange fabric, cut into a football-sized circle
Half dozen 12″ long, Brown or Green, chenille stems (aka pipe cleaners)
Enough black fabric to cut into the face shapes for your Jack O' Lantern
With the blanket, stitch the black fabric face shapes onto each side.
Top your pumpkin by cutting generous ear holes for your horse as well as a small hole right in the middle.
Wind your pipe cleaners together into a stem and push them through the center hole. The bottom of the pipe cleaners wraps around your halter or bridle to hold your top in place!
This costume can be adapted in many ways for those who are riding instead of under halter.
Adding ribbons in green, orange, or black can raise the panache. Go with wired ribbon and you can mold and shape green ribbon to look like vines.
DIY Horse Fancy Dress without a Costume
If you are wanting to participate in the fun without a full costume, especially if you have a group involved, there are lots of ways to jazz up your horse's appearance for fancy dress activities.
Some, or all, of these easy-to-manage options are perfect for DIY Horse Fancy Dress costume.
Hair Chalk, easy to pull on to manes and tails for temporary bold color.
Flowers! No matter the season, flowered wreaths, blankets, and accessories pack a decorative punch!
Wired Ribbon Bows, these are VERY easy to make yourself. Here is a good bow tutorial. Big tail bows could be made with extra-long ribbon tails to add volume and color (Tip – Wrap the ribbon tails around a spray can or your arm to curl).
Bodypaint, to create holiday designs along shoulders or on hindquarters.
Hoof Black or Hairspray and Loose Glitter. Did you know that a liberal application of strong hold hairspray is a fantastic way to add some sparkle to your horse's hooves? Spray, glitter, spray! (Tip – Repeat as much as you'd like for good coverage. Allow the spray to dry between coats)
Leg Wraps. Matching leg wraps add great color to your horse's look (Tip – On a budget, I've been known to buy football socks in the proper color for this. Cut the toes off of two pairs and you're golden).
Don't forget to bling out your tack! Bows, flowers, or ribbons on your tack will bring your fancy dress horse costume look to the next level.
No matter what holiday, parade, or party you're planning for, these ideas are always perfect for fancy dress activities. Just choose your colors, and go for it!
Colors of the Seasons
Want to stay on-point for color coordination? Here are some great color combos for each season:
New Years – Black, White, Gold, Silver
Valentine's/Women's Day – White, Red, Pink
St. Patrick's – White, Green, Orange
Easter/Spring Holidays – White and Pastels (pink, yellow, blue, green)
Patriotic Holidays (USA/UK) – Red, White, Blue
Halloween – Orange, Black, Purple
Autumn Holidays – Orange, Yellow, Brown
Christmas – Red, Green, White, Silver, Gold
If your stablemates want to really make a splash together, sync up and dress all of the horses to match.
You'll have a great time getting ready together and you'll make an unforgettable impression as a group!