This post may contain affiliate links, we may receive a commission if you make a purchase using these links. As an Amazon Associate I earn from qualifying purchases.
Disney World recently announced a new member to the Tri-Circle-D Ranch at the Fort Wilderness Resort & Campground.
Lilly, a white Shetland pony, has quickly become a fan favorite thanks to her adorable looks and spunky personality.
Lily was named after Walt Disney's wife and was the first white Shetland pony to be born at the park. She was born in March 2019 and quickly stole the hearts of people all over the internet.
Her parents, Lady and Ferdinand both live at Tri-Circle-D and pull Cinderella's iconic pumpkin carriage during Disney events.
Around 90 horses call Tri-Circle-D Ranch home. In addition to Shetlands, a variety of other breeds are found at the ranch including Appaloosas, Arabians, Belgians, Clydesdales, Paint horses, Percherons and Quarter horses.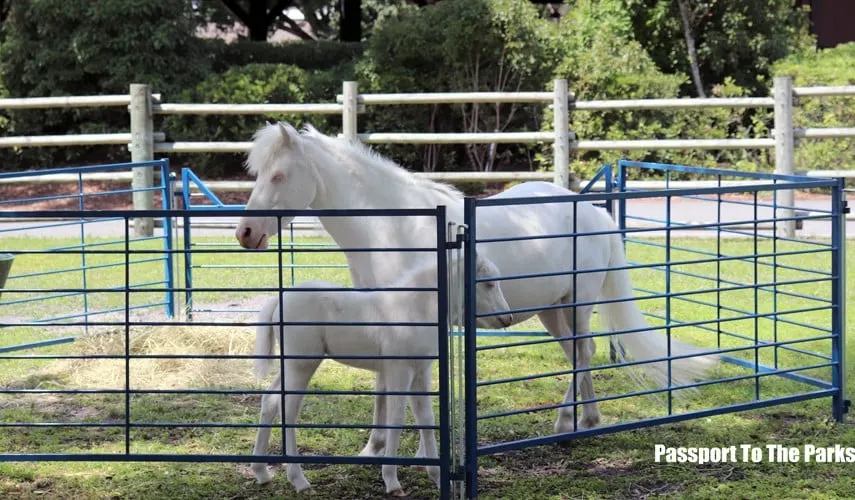 The horses are used for pulling carriages, wagons, and sleighs, as well as trail rides and pony rides. Thirty-five staff members care for the horses, treating them all like royalty.
While Lily is still young, she makes appearances in the show pastures at the ranch. Once she reaches two years old, she will begin her training.
Just like her parents, she will eventually pull Cinderella's magical coach in parades and weddings.
If you are planning a trip to Disney World, consider taking out some time to visit the charming Tri-Circle-D ranch. While there, you can see horses in the barn and pastures.
Trail rides are available for those nine years and older. Wagon, carriage, and sleigh rides are available for the whole family to enjoy.
Horses can also be seen throughout the parks in parades, which are a magical sight to behold.
For pictures of the ranch and the horses that live there, check out their Facebook page here!