This post may contain affiliate links. We earn from qualifying purchases. Learn More
Dawn Olivieri is one of the latest additions to the Yellowstone universe. She plays the role of Sarah Atwood, the unflinching corporate shark Market Equities' CEO Caroline Warner (Jacki Weaver) calls in to bring the Duttons to their knees in season 5.
As Warner says, the time to "take off the gloves" has arrived, and the bold, cold and calculating Atwood is the player that fits the bill.
Only a few minutes after she lands in Montana, she identifies Jamie Dutton (Wes Bentley) as her first target, and we suspect she'll butt heads with Beth (Kelly Reilly) countless times as she tries to crash their family.
Dawn Olivieri is an American actress born on February 8, 1981. Not only does she Sarah Atwood in Yellowstone, but fans may also recognize her as the actress who plays Claire Dutton in 1883.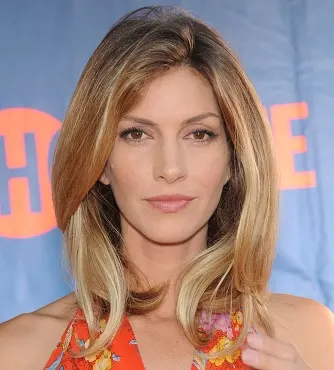 | | |
| --- | --- |
| Birthday: | February 8, 1981 (age 41) |
| Birthplace: | St. Petersburg, Florida, United States |
| Nationality: | American |
| Height: | 5ft 8 (1.73 m) |
| Zodiac Sign: | Aquarius |
Olivieri joined the acting world in her early 20s, landing her first notable role in 2004, and she has been unstoppable ever since.
Her almost two decades of experience as a professional actress have seen her appear in many films and TV series and even star in others.
Notable Dawn Olivieri Movies and TV shows
Deal or No Deal (2005) as Model #14
The Devil's Den (2006) as Jezebel
How I Met Your Mother (2006, 2008) as Anna
Xtra Credit (2009) as Lexy
Heroes (2009-2010) as Lydia
Dozers (2010) as Ashley
The Avengers: Earth's Mightiest Heroes (2010, 2012) as Pepper Potts
The Vampire Diaries (2011) as Andie Star
Missionary (2013) as Katherine Kingsmen
Plush (2013) as Annie
American Hustle (2013) as Cosmo Girl
To Whom It May Concern (2014) as Anna
House of Lies (2012-2016) as Monica Talbot
Secrets and Lies (2015) as Det. Felicia Sanchez
Bright (2016) as Sheri Ward
A Change of Heart (2017) as Laurie
Traffik (2018) as Cara
Darc (2018) as Ivy
SEAL Team (2018) as Amy Nelson
The Hot Zone: Anthrax (2021) as Dani Torretti
1883 (2021) as Claire Dutton
Double Threat (2022) as Ask
Yellowstone (2022- present) as Sarah Atwood
8 Facts about Dawn Olivieri
She Played the Bassoon
We've all seen how enthusiastic Olivieri is about acting. But did you know she was into music in her teens?
In high school, Olivieri was in a band where she delighted in playing the bassoon. She's yet to let us know why she quit or never pursued music in the long run.
She Attended the University of Florida
Olivieri is well-educated, having gone to the University of Florida like fellow Heroes actor Adrian Pasdar. Interestingly, her major was chemistry back then, and she hoped to become a veterinarian.
Although she never got the chance to become a vet, the House of Lies star is passionate about animals and even owns some goats and a cat.
She Enjoys Reading
Olivieri is an avid reader. Being an actress, she doesn't have much free time to escape into a great book, but she tries to read whenever her tight schedule permits.
Olivieri's passion for reading has enabled her to amass a huge collection of books.
She's Also a Voice Actor
Olivieri is not just a film and television actress; she's also lent her voice to various creations. For instance, she played the voice role of Pepper Potts in the animated TV series, The Avengers: Earth's Mightiest Heroes.
What's more, Olivieri had a voice role in the 2008 video game Need for Speed: Undercover as Rose Largo and another as NSA Lucy Kuo in Infamous 2, an action-adventure video game released in 2011.
Her Father Owns a Pawn Shop
Olivieri's father, Salvatore, has a pawn shop in Seminole, Florida. Besides providing secured loans for his customers, he also sells jewelry at the store.
She Was Once a Dutton
Dawn Olivieri's Sarah Atwood may be the Duttons' enemy in Yellowstone season 5, but in Taylor Sheridan's 1883, she was part of the clan!
In the Yellowstone spinoff, Olivieri played the role of Claire Dutton, the biological sister of the Dutton family's first patriarch, James, John's great-grandfather.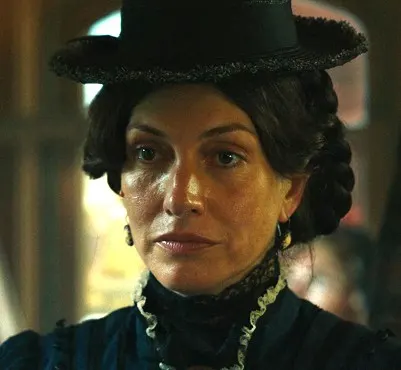 Unfortunately, fans didn't see a lot of Olivieri in Paramount Network's 1883 because Claire only appeared in two episodes before she was killed off.
Unlike Yellowstone, the series is set in the post-civil war era, meaning she has to wear a different costume that makes her almost unrecognizable.
She's Friends with Nikki Reed
Olivieri has mentioned being close with Nikki Reed, with whom she has a lot of things in common. For instance, these two actresses are considerably successful in the film industry, and they love equines.
Coincidentally, Olivieri's Andie Star in the Vampire Diaries was the love interest of Damon Salvatore, portrayed by Ian Somerhalder, who happens to be Reed's real-life husband.
She Dislikes Crowds
Despite being in an industry that requires her to be around people most of the time, Olivieri isn't a big fan of crowds. She prefers being in a quiet place where she can relax and indulge in activities that bring her joy, such as reading and spending time with animals.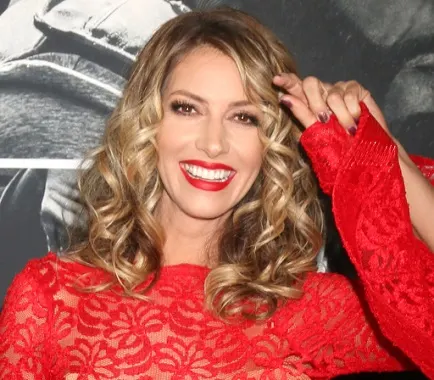 In an interview with Shoutout LA, Olivieri disclosed that although she spent a large chunk of her twenties and thirties in big cities, all she yearned for was living in the wild, even if it meant being alone.
Frequently Asked Questions about Dawn Olivieri
Did Dawn Olivieri play a role in True Blood?
Dawn Olivieri acted as Janice Herveaux, Alcide Herveaux's elder sister, in season 3 of the popular HBO series True Blood.
Is Dawn Olivieri a goatherder?
Olivieri likes animals. She has confessed to being a passionate goatherd and has posted several pictures of her goats on her Instagram profile.
Also read: Who the Yellowstone Cast Are Dating or Married to in Real-Life