Our readers support us. This post may contain affiliate links. We earn from qualifying purchases. Learn More
Buttermilk Sky, famously known as Buttermilk, was a charming buckskin Quarter Horse that starred alongside Trigger, Roy Roger's iconic movie horse. Ridden by cowgirl star Dale Evans, Buttermilk appeared in many Western movies of the 1950s.
Buttermilk's rider Dale Evans was an American singer, songwriter, and actress. She first worked with singing cowboy Roy Rogers on the movie The Cowboy and the Senorita (1944). After their first movie became a hit, the two went on to make 28 more features and a 100-episode TV series together.
Over the years, Evans and Rogers fell in love and ended up tying the knot. And so it happened that the wife of the "King of the Cowboys" became the "Queen of the West". Besides each other, the celebrity couple also had their beloved horses Trigger and Buttermilk for many decades.
Facts About Buttermilk
1. Buttermilk Was Rescued From The Slaughterhouse
According to Cowboy Dressage, Buttermilk and several other horses were en route to the slaughterhouse when a kind cattle farmer rescued him. A the time, the star-to-be horse was only a young cold who had been severely abused.
Despite Buttermilk's bad behavior, the farmer bought him from the horse trader he belonged to. The new owners named him Taffy and gave him all the love and care he needed to become a friendly and trusting horse again.
Recognizing his Quarter Horse talents, they began training him for cutting and roping competitions. And so, Buttermilk spent the first few years of his life on the range.
2. Dale Evans Fell In Love With Buttermilk
When cowgirl star Dale Evans first met Buttermilk, he was in the possession of movie horse trainer Glenn Randall. At the time, Evans had been looking for the perfect horse to star alongside Trigger in movies. It is no surprise that the actress instantly fell in love with the beautiful gelding as soon as she laid eyes on him.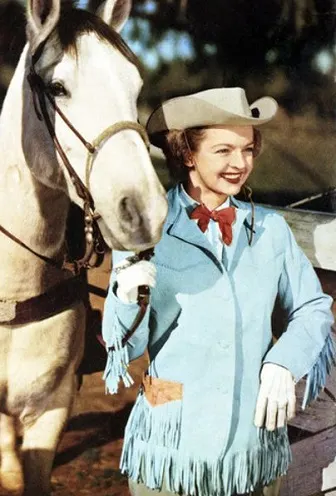 Apparently, Buttermilk was challenging for Evans to ride at first, due to his quick movement and athleticism. However, the "Queen of the West" was well up for the task and the two soon became inseparable both on ad off-screen. (Source: "Hollywood Hoofbeats" by Petrine Day Mitchum)
3. Buttermilk Starred in The Popular Roy Rogers Show
Evans and Buttermilk starred in almost every Roy Rogers movie and in all but six episodes of The Roy Rogers Show. The popular show ran from 1951 to 1957 and has exactly a hundred episodes.
The Roy Rogers Show is an American Western TV series starring Roy Rogers, Dale Evans, and their horses, Trigger, and Buttermilk. The episodes are set in the 1950s and combine elements of the Old West and contemporary times.
In the show, Rogers and Evans rescue the innocent and the weak from typical "bad guys", such as bank robbers, rustlers, and con artists. The series has six seasons that aired on the NBC TV channel.
4. Buttermilk Could Outrun Trigger
Although Trigger was always the main star, Buttermilk could actually outrun him in real life! Evans often had to hold him back so Trigger could have the spotlight. She and Rogers frequently had to retake galloping shots as Buttermilk would break away faster than Trigger.
A Quarter Horse through and through, Buttermilk was always praised for his speed and quick wits. As soon as he heard the word "Action!", the pretty gelding sprang forward in a glimpse of an eye, leaving his equine co-star behind.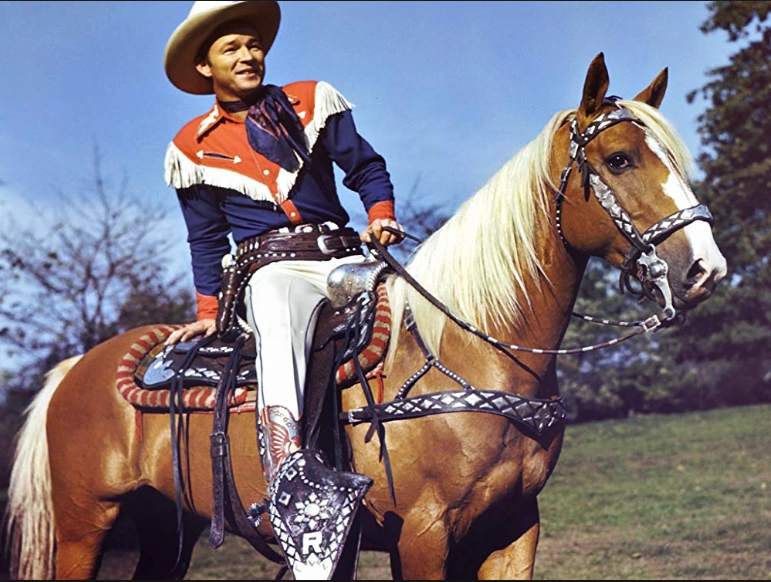 Also, read: 7 Interesting Facts About Trigger, Roy Rogers' Horse
5. Buttermilk Was Adored By The Public
Naturally, Buttermilk had a large fanbase back in the 1950s. Following his match with Dale Evans, the gelding was quick to charm crowds with his outstanding beauty, agility, and gentleman behavior.
Adults and children were both eager to buy Buttermilk merchandise, such as lamps or metal and plastic replicas. In a matter of years, Buttermilk became a huge marketing success and generated a decent income for his owners.
6. Buttermilk Lived Until The Ripe Age Of 31
Born on April 13, 1941, this unlikely colt had a long and successful career complementing the superstar Trigger. Although never in the spotlight, he made his mark on the Hollywood movie industry that will be remembered for many years to come.
According to official records, Buttermilk passed away on October 7, 1972, at the age of 31. This means he was around 88 years old in human years, which is an age to be proud of!
Check out our Horse Years to Human Year Chart here.
Who Bought Dale Evans' Horse Buttermilk?
Hollywood horse trainer Glenn Randall bought Dale Evans' horse Buttermilk from a ranch in Wyoming. At the time, the horse's name was "Soda" and he had a shaggy winter coat that covered his pretty features.
Upon purchasing Soda, Randall shipped the horse to California, where he shed his fluffy winter fur. Beneath the shaggy hair was a truly beautiful gelding with excellent conformation, and so Randall decided to present the horse to Evans and Rogers.
Before meeting Soda, Evans has experimented with two horses that proved equally unsuitable to star next to Trigger. The first horse was a paint that was too striking in color, according to Rogers. She then rode a fiery palomino that looked too much like Trigger, which is why she started looking once again.
Aware of Evans' need, Glenn Randall brought Soda to a movie set where the actress and Rogers were working and tied him up next to Trigger. The two horses looked stunning with contrasting manes and tails, and Evans didn't hesitate to buy him. (Source: "Hollywood Hoofbeats" by Petrine Day Mitchum)
Also, read: 17 Famous Horses in Movies and TV Series
Why Did Dale Evans Name Her Horse Buttermilk?
Since the horse already had a name when Dale Evans purchased him, you may be wondering, why did she name her horse Buttermilk?
Dale Evans named her horse Buttermilk after she saw a cloud pattern in the sky. She was watching the sunset with wrangler Buddy Sherwood in Lone Pine, California, when the inspiration came to her.
Let's be honest, the name "Soda" is not exactly fit for a horse that runs alongside the legendary Trigger. Rogers and Evans felt the same way and decided the horse needed a more theatrical name.
According to the book "Hollywood Hoofbeats", when Evans and Sherwood were admiring the sunset, the wrangler suggested the milky clouds looked like "clabber". The actress responded, "You mean Buttermilk?" And so the name was born.
Other sources claim the clouds reminded Evans of Hoagy Carmichael's song, "Ole Buttermilk Sky." Hence why she named her new equine partner Buttermilk Sky, which became Buttermilk over time.
What Happened to Dale Evans Horse Buttermilk?
Following Buttermilk's death in 1972, his hide was mounted on a plaster likeness and displayed at the Roy Rogers and Dale Evans Museum in Victorville, California. The museum later moved to the town of Branson in Missouri.
In the museum, Buttermilk stood next to the preserved hides of Trigger, Trigger Jr., and Roy Rogers' German shepherd Bullet. Unfortunately, the museum in Branson shut down two years after it opened due to financial struggles.
Also, read: 6 Secrets Behind Mr Ed Revealed: Hollywood's Famous Talking Horse
Was Dale Evans Buttermilk Stuffed?
Dale Evans' horse Buttermilk was not stuffed but mounted on a plaster likeness. The work was ordered by Roy Rogers himself and done by Bishoff's Taxidermy of California.
For nearly four decades, Buttermilk stood in his full glory and tack awing visitors as they passed by. Sadly, he is now in private hands and cannot be viewed by the public.
How Much Did Buttermilk Sell For?
Buttermilk reportedly sold for $25,000 to an unknown buyer. After the museum in Branson closed in 2010, all artifacts were put up for auction, including Buttermilk, Trigger, and Bullet.
The museum's collection sold for $2.9 million on the auction in July 2010. Trigger alone fetched a whopping sum of $266,500, which is more than ten times what Buttermilk sold for. Roy Rogers dog Bullet also sold for an impressive $35,000.
The auction included over 1,000 items from the original Roy Rogers and Dale Evans Museum.
Where is Trigger and Buttermilk?
Trigger and Buttermilk were both purchased on auction in 2010 following the closure of the museum that displayed them. Trigger was bought by an executive of the Nebraska cable TV network RFD-TV. The buyer of Buttermilk remains unknown.
As stated in an article of CBS News, RFD-TV chief financial officer Steve Campione said the network is hoping to start a museum where they plan to display Trigger.
Also, read: