This post may contain affiliate links, we may receive a commission if you make a purchase using these links. As an Amazon Associate I earn from qualifying purchases.
Ekaterina Yakovenko's incredible artistic talent shines through in the custom plush horses she makes.
Her work has attracted people from all over the world, all of who are in awe of how life-like her plush horses are.
Yakovenko, who lives in Kyiv, Ukraine, creates custom plush horses for her customers based on photos of their horses.
The whole process takes between 30-45 days and she uses plush or velour to create her masterpieces.
She can create all sorts of different breeds and coat patterns, with each creation being as beautiful as the next.
She has made several breeds including Friesians, Norwegian Fjords, Clydesdales, Appaloosas and Arabians to name a few. In addition to plush horses, she also makes hobby horses.
All of the horses Yakovenko makes are created by hand. She can even add on tack and accessories to any horse plush. Every horse she makes is created with care and attention to detail, to make unique one-of-a-kind creations.
Custom horses start at $220 and are all carefully made with precision and passion. Yakovenko, who is an avid equestrian herself, has made it her full-time career to create plush horses.
Her stunning talent of sewing and design shines through with every horse she creates. Just take a look at some of the gorgeous horses she has made!
Yakovenko does her business through her Facebook page, Plush equine art by Ekaterina. She ships worldwide and has many customers from America. All images are by Ekaterina.
A custom plush horse by her would make a thoughtful present for any horse owner, as it is something they could cherish forever.
Yakovenko's work is truly exquisite. Her passion for horses and art can be seen in every horse she creates. Her work has brought joy to many people, as she creates special and meaningful pieces.
To buy any of her creations, visit and message Ekaterina's Facebook page here. Perhaps they would make a wonderful horse toy for someone close to you.
Here are more of Ekaterina's incredible creations: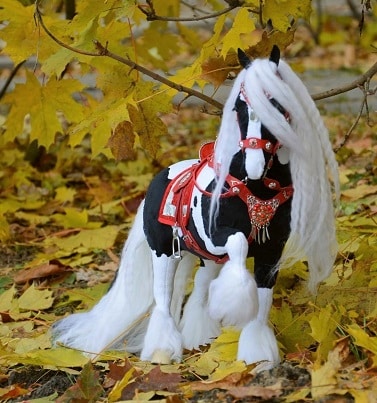 Also read: