This post may contain affiliate links. We earn from qualifying purchases. Learn More
Episode 7 of 1923 featured plenty of drama, including the arrest of rival sheepherder Banner Creighton.
While Banner may be in jail for now, with the help of businessman Donald Whitfield, he may be walking free in no time.
In "The Rule of Five Hundred" we are introduced to a new character Chadwick Benton, who comes to the help of Banner Creighton. Upon visiting Banner in jail, he guarantees he will have him out by the next day.
Chadwick Benton is played by Currie Graham. Currie Graham is a Canadian actor born in Hamilton, Ontario, on February 26, 1967.
Who is Chadwick Benton in 1923?
Chadwick Benton is a lawyer that works for Donald Whitfield in 1923. Donald hires Chadwick to get Banner Creighton out of jail.
After Banner winds up in jail, Chadwick comes to visit him. Despite Banner's concerns, Chadwick is confident he will get Banner out of jail.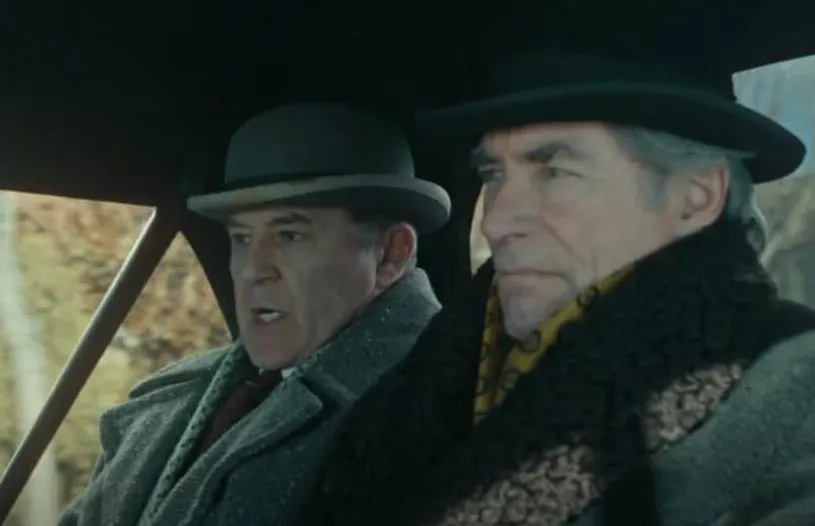 Banner is in jail for two counts of murder and four counts of attempted murder. He fears that these charges will lead him to receive the death penalty.
Chadwick reassures him that they will post bond once bail is set. He makes it clear to Banner that in the meantime that he should not talk to anyone while in jail.
As Donald has teamed up with Banner to take down the Duttons, he is eager to get him out of jail with the help of Chadwick.
Notable Currie Graham Movies & TV Shows
NYPD Blue (1993-2005)as Lieutenant Thomas Bale
Suddenly Susan (1996-2000) asNate Knaborski
Assault on Precinct 13 (2005) as Mike Kahane
Raising the Bar (2008-2009) as Nick Balco
Hitchcock (2012) as PR flack
Pompeii (2014) as Bellator
Murder in the First (2014-2016) as Mario Siletti
Agent Carter (2015-2016) as Calvin Chadwick
1923 (2022-present) as Chadwick Benton
4 Facts About Currie Graham
He Signed Up For the Drama Program At His High School to Catch Sleep
Currie Graham was a high school basketball player and was first introduced to acting when he signed up for his school's drama program. He thought it would be a good opportunity to get sleep before basketball games.
Instead, Graham quickly fell in love with acting after signing up for the drama program. He performed in school plays as his passion took off.
He Studied Acting at the American Academy of Dramatic Arts
Originally, Graham's parents wanted him to study to become a doctor. However, his parents put aside their dream for him and supported him as he studied acting at the American Academy of Dramatic Arts in New York City.
Also read: Who Plays Banner Creighton in 1923? Meet Jerome Flynn
In Addition to Film and Television, He is Also a Stage Actor
While Currie Graham is best known for acting in film and television, he has also done stage acting as well. Both during and briefly after his time at the American Academy of Dramatic Arts Graham performed in theater performances.
He Frenquetly Stars in Guest Roles
Currie Graham has a prolific career in television, guest-starring in many popular series. Some of the most notable series Graham has had guests roles in include Law & Order (1990-present), ER (1994-2009), CSI (2000-2015), Criminal Minds (2005-present), Grey's Anatomy (2005-present), Mad Men (2007-2015) and Westworld (2016-2022).
Is Currie Graham Married?
Currie Graham is married to Larissa Laskin. Larissa Laskin is a Canadian actress best known for her roles in Extreme Measures (1996), John Q (2002) and Weeds (2005-2012). The couple married in 2005.
Does Currie Graham Have Children?
Currie Graham has one daughter named Sasha with his wife Larissa Laskin. The family resides in Los Angelos.
Also read: Who Plays Donald Whitfield in 1923? Meet Timothy Dalton