Our readers support us. This post may contain affiliate links. We earn from qualifying purchases. Learn More
The cowboy hat is a quintessential part of any cowgirl's outfit. Whether for wearing to a rodeo or a night out on the town, having a quality cowboy hat is a must.
The best cowgirl hats for women are comfortable, durable, and stylish. Whether you want a classic western style or something bolder, there are plenty of options. No matter your needs or budget, we have you covered.
Best Cowgirl Hats for Women
1. Western Outback Straw Cowgirl Hat
Great for summer concerts or a night out on the town, this straw hat lets you express your style while staying cool. The fit is firm yet relaxed, making it comfortable to wear for hours.
The hat is designed to help reduce your exposure to UV rays for ideal sun protection. It is a modern twist on a classic style with a curved brim and a front that tapers.
Each hat features a beautiful band that includes beads and a metal emblem. There are 15 different hat colors and band combinations that you can choose from, which is great for making a fashion statement. It comes in at a great budget-friendly price.
2. Livingston Women's Woven Straw Cowgirl Hat
Lightweight and breathable, this straw hat comes in various woven patterns. Each hat comes with an eye-catching band that will get you compliments.
The wide brim helps shield and block your face from harmful sun rays. It is casual enough for everyday wear, but you can easily dress it up for a night out of dancing. There is even a pull-on closure, so you don't have to worry about it falling off.
There are eight fun and stylish options this hat comes in. For additional comfort, it features a sweat-absorbent inner band. It is a great affordable option with solid workmanship.
3. Queue Essentials Women's Woven Straw Cowgirl Hat
Make a statement with this bold yet elegant straw cowgirl hat. Whether you wear it out horseback riding or for a music festival, you will look good while being comfortable.
The design is durable yet breathable and will protect you from the sun. Thanks to the elastic sweat headband, you don't have to worry about sweat dripping down your face, even on the hottest summer days.
Each hatband is handcrafted and features a stunning design. There are 13 different options to choose from to meet your style needs.
4. Charlie 1 Women's High Desert Wool Felt Hat
Simple and sophisticated, this hat is a must-have for the chic cowgirl. The gambler crown creates a classic, sleek appearance.
The hat uses only the finest wool felt fabric that is high-quality and durable. It features a stunning hat band embellished with a concho design.
Wear it to a concert or out to your favorite restaurant, as its pecan color will perfectly complement your outfit. This high-quality hat will make for a beautiful addition to your wardrobe.
5. Bullhide Star Studded Premium Wool Cowgirl Hat
This hat's classic western style is excellent for wearing to a rodeo or line dancing. The wire brim on this hat allows you to shape it however you want to, letting you personalize it to your style.
The quality wool felt construction not only looks good but is also durable. A custom-fit sweatband allows for a comfortable fit for hours on end.
The faux leather hat band features black leatherette lacing and star conchos. This sleek black hat will go well with many different outfits, making it a great addition to your wardrobe.
6. Charlie 1 Horse "Runaway Gray" Ladies Felt Cowboy Hat
This chic hat embodies the classic cowgirl style. Wear it out riding or every day, as its cattleman's crease is a timeless look.
The hat is made of quality fur felt that looks good with many different outfits. It even features a southwest woven hat band that adds a touch of character to the hat.
With durability and style, this hat is the quintessential classic cowgirl hat. It conforms to your head for a comfortable fit.
7. Stetson Women's Lariat Cowboy Hat
This simple hat is elegant and versatile, as you can wear it for horseback riding or line dancing. It makes an excellent hat for western pleasure classes or rodeo events.
The driftwood color is a great neutral option that allows you to wear it with many colors. With 5X quality fur felt, you know you are getting only the finest materials. It even includes a self-matching hat band with a stunning silver squared 3-piece buckle accent.
A leather sweatband will keep you comfortable, whether you are out riding or dancing. The cattleman crown is a style you can always count on being in fashion.
8. Queue Essentials Straw Canvas Cowgirl Hat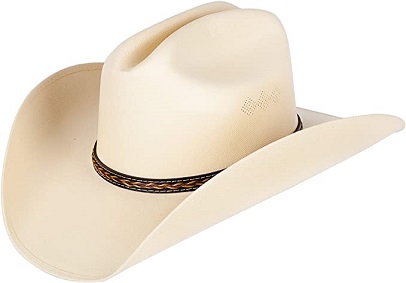 If you want a budget-friendly traditional cowgirl hat, then look no further than this. Wear it to rodeos, concerts, or any occasion, as this hat compliments just about any outfit.
Lightweight yet durable this hat has an elastic headband that ensures a comfortable fit. The hat band features stitched accents for a refined look. The flexible internal sweatband allows you to adjust it to your head, while the sidewall vents provide excellent airflow.
This elegant design is available in five classic colors. The hat also comes in canvas or felt, depending on the color.
What to Consider When Choosing a Cowgirl Hat: Top Brands and Styles
When shopping for cowgirl hats, the best brands to look for are Resistol (Charlie 1), Bullhide, Livingston, Stetson, and Queue Essentials. Ariat, American Hat Company, and Justin are also good brands.
These hats are built with expert craftsmanship from only the best materials while also coming in various styles.
How Much Does a Cowgirl Hat Cost?
Cowgirl hats range in price largely, as they can be anywhere from $15 to $5,000 and upwards. Luckily, there are plenty of quality hats that can meet your budget, as on average, you can expect to pay between $30-$150.
For a lower price point, cowgirl hats will generally cost around $20-$50. Though you can still find decent hats at this budget, they typically won't have the same quality as higher-end styles.
If your budget is in the middle range, you can expect to pay around $50-$100 for a good quality hat that is durable. You can expect to pay $150 and up, even into the thousands for those with a higher price range. These hats are made of only the finest materials and are built to last while being stylish.
For those wanting a custom cowgirl hat, JW Brooks is an excellent place to go. Their hats are all carefully handcrafted from only the finest fur felts to meet your exact needs. You can even choose from custom brim embroidery so you can stand out among the crowd.
Typically, cowboy hats are either straw, felt, or leather. Straw is the most practical option for warm weather as it is more breathable. Felt is generally the more popular option for winter wear and for special occasions.