This post may contain affiliate links. We earn from qualifying purchases. Learn More
Horses hold a truly special place in our hearts. One cowboy named Kevin Adkins from Kansas had spent every day with his horse Vic for nearly two decades, with the pair sharing a close relationship.
Adkins and Vic had an incredible bond, sharing both the good times and the bad times.
Despite receiving a cancer diagnosis, Adkins was able to still spend time with his beloved Vic.
However, his illness soon led him to the hospital where he was no longer able to visit his best friend everyday.
Fortunately, the cowboy's daughter made her father's dying wish to come true as he was able to see Vic one last time in an emotional reunion.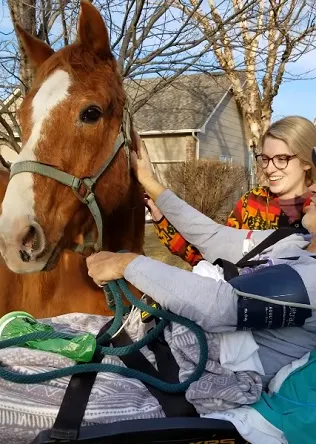 Adkins bought Vic nearly 20 years ago from D&J Ranch and the pair was inseparable from day one. No matter the day, Adkins always made time for his trusty steed.
From riding to simply spending time with each other, the duo had a strong friendship.
For as long as he could, Adkins was determined to not let cancer get in the way of spending time at the barn.
Even when he couldn't spend time in the saddle, the 55-year-old would still visit his 27-year-old horse.
Unfortunately, as his cancer progressed he was admitted to the hospital and went weeks without seeing Vic.
While in the hospital, the cowboy expressed a desire to see his faithful companion one last time. Luckily, his daughter Delaney was able to arrange an ambulance to take her father to see Vic.
In the touching reunion, Adkins spent some precious moments with his cherished Vic. In the emotional video taken by his daughter, Adkins can be seen happily smiling as he spends time with Vic right by the side of his stretcher.
After sharing many years together, the two friends said their final goodbyes.
Also Read: Cowboy Dedicates 11,000 Acres to a Wild Mustang Horse Sanctuary
Sadly, Adkins passed away the next day after a three-year-long battle with cancer. Vic served as an honorary pallbearer at his funeral.
During their time together, the pair had an amazing relationship that showcased the incredible bond between man and horse.
In his memory, the Kevin B. Adkins Cowboy Relief Fund was set up to help other families in need in the cowboy community.
See their emotional last moments together below:
Also read: