This post may contain affiliate links. We earn from qualifying purchases. Learn More
He struggled with the government and his neighbors, but American cowboy Dayton O. Hyde refused to give up.
After lots of hard work and dedication, Hyde founded the Black Hills Wild Horse Sanctuary in South Dakota, where over 500 wild Mustangs call home.
Hyde was born on March 25, 1923. In addition to being passionate about horses, he is also known as an author and conservationist.
Hyde even began his career as a Rodeo photographer on his way to being a cowboy.
Dayton O. Hyde's Journey to Saving Wild Mustangs
His journey to save wild Mustangs began in 1987 when he visited Nevada to buy cattle. While there, Hyde was shocked to see wild horses stuck in captivity that had been captured by the federal government.
"It was just too cruel to take a wild horse away from their freedom and home and be contained in a corral," said Hyde.
Hyde was determined to help these wild Mustangs out, as he had always loved horses from a young age. He set out to start a sanctuary where these beautiful creatures could run free.
However, it was not an easy journey and Hyde had to fight hard to get there.
South Dakota Governor George Mickelson got news of Hyde's plan and offered to show him land in South Dakota that could be used for a sanctuary.
The land was located in the Chilson Canyon in the Southern Black Hills, bordering the Cheyenne River.
Unfortunately, there was a large amount of opposition from the neighbors and local government, but Hyde and Mickelson decided to team up and form a partnership.
"If you're telling me it couldn't be done, then that's the wrong thing to say to a cowboy," said Hyde in the 2013 documentary Running Wild: The Life of Dayton O. Hyde. See the trailer below.
In 1988, Hyde founded The Institute of Range and the American Mustang (IRAM) and his dream started to become reality.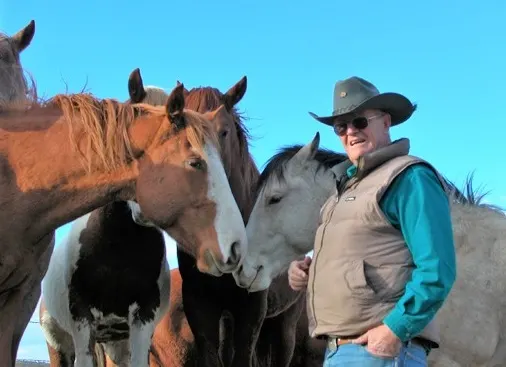 The IRAM, which is a non-profit organization, works to preserve and protect America's wild horses. By the fall of that year, horses began to arrive at the Black Hills Wild Horse Sanctuary.
Also read: Willie Nelson Rescues 70 Horses From Slaughter and Creates a Sanctuary
One of the first Mustangs to arrive was a stunning two-year-old blue roan filly named Prairie Lark. Prairie Lark became Hyde's partner in exploring the vast sanctuary and welcoming hundreds of horses to freedom.
From there, Hyde dedicated his life to these horses. He would work tirelessly every day to ensure these horses could safely run free, saving wild horses from unknown futures.
Hyde even described operating the sanctuary as "seven days a week; no vacations, no salaries."
Dayton O. Hyde's Legacy
On December 22, 2018, Hyde passed away at the age of 93 after living a full life. He has been called a cowboy, a fighter and even "the most dangerous man in American conservation."
Today, Hyde's legacy still lives on at the Black Hills Wild Horse Sanctuary. Hundreds of Mustangs still roam free on 11,000 acres in the beautiful plains of South Dakota.
The IRAM still works to save the Mustang and preserve different endangered bloodlines and bands, including Spanish, Choctaw Indian, Curly and American Mustangs.
To donate, visit the Black Hills Wild Horse Sanctuary website here.
Also read: