This post may contain affiliate links. We earn from qualifying purchases. Learn More
Today, cowboy boots are one of the most popular styles of footwear. Though originally designed for horseback riding, these versatile boots are now also used for fashion, work, dancing, and everyday wear.
The history of cowboy boots goes beyond the Wild West. For centuries, riding boots have been a staple in equestrian wear.
The cowboy boot we know and love today first came to be to meet the needs of the working cowboy.
Originally, the cowboy boot had a simple design that put practicality above all else. Today, the modern cowboy boot comes in many different types and designs. Many styles offer decorative stitching, embroidery, and exotic leathers.
The Precursor to Cowboy Boots: Hessian Boots and Wellington Boots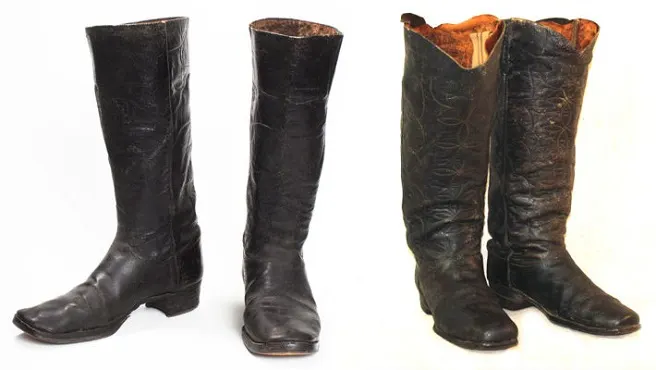 The concept of riding boots dates back hundreds of years. Equestrians needed boots that were practical for riding and would keep their feet safe.
Before the cowboy boot, there were the Hessian and Wellington boots. Hessian boots were a popular aspect of calvary uniforms in Europe during the 19th century. These boots had a tall shaft, rounded toe and a slight heel.
Though today's Wellington boots are tall rubber rain boots, the original style was quite different. Named after the Duke of Wellington, the original Wellington was like a modified Hessian boot. They had a slightly shorter shaft, rounded toe, slight heel and were more practical than Hessian boots.
Wellington boots were mass-produced in America and were also a popular choice among the calvary. They were the footwear of choice for American cowboys until around the 1860s.
Influence of the Vaqueros
The footwear worn by Vaqueros played a large influence on American cowboy boots. Mexican Vaqueros developed a stylish riding boot influenced by the riding boots the Spanish originally brought over.
First trained by the Spaniards in the 1500s, Vaqueros worked to wrangle cattle on horseback. To keep up with the high demands of their job, they developed riding boots that had rounded, pointed or tribal toes. These stylish riding boots became the inspiration for American cowboy boots.
Also read: 10 Famous Cowboys & Outlaws Who Ruled the Wild West
Cowboy Boots and the Old West
Bootmakers in the cattle ranching areas of Texas, Oklahoma, and Kansas created the American-style cowboy boots in the 1800s. During the 1850s and 60s, cowboy boots began to have decorative stitching, geometric cutouts, and an underslung heel.
Some of the top early bootmakers include Charles Hyer of Hyer Brothers Boots and H. J. "Daddy Joe" Justin of Justin Boots. The boots were practical and functional above all else, but some styles did feature decorative elements. Soon, they were the footwear of choice for cowboys all throughout the west.
The Modern Day Cowboy Boot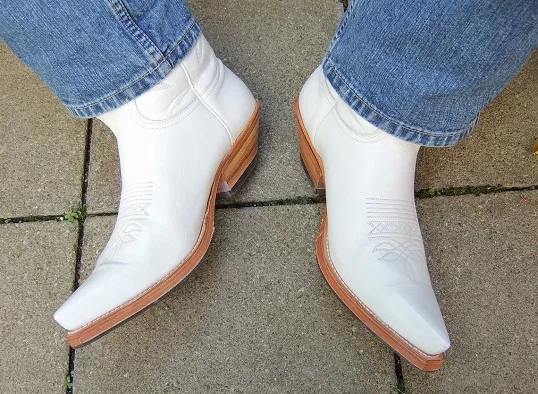 Cowboy boots took a more modernized style in the 1930s and 1940s. Thanks to the plethora of Old Western movies Hollywood created, cowboy boots came into the spotlight.
These modern cowboy boots became more stylized, featuring a very pointed toe. In addition, they became more colorful and had more decorative designs and stitching. They were not only known as a riding boot, but also as a symbol of fashion.
These flashy boots soon became a popular style of footwear among the American population. People would wear them not only for riding and work, but also for dancing, going out, and even for formal wear.
Styles became more elaborate, and different kinds of leather were used, including snake, buffalo, and alligator.
Roper Boots and Rodeos
As rodeos grew in popularity in America, ropers needed a durable shoe practical for not only riding, but quick dismounts. Though the new fashionable cowboy boots had many uses, they weren't quite right for ropers.
This led John Justin, Jr. of Justin Boots to develop the roper style of cowboy boots in the 1950s. He designed a practical boot for cowboys that let them comfortably chase after calves when roping.
To abrupt make dismounts safer and more comfortable, they feature a round toe and short, square type of cowboy boot heel. In addition, they also have a shorter shaft than traditional cowboy boots.
Roper boots also have a snugger fit around the ankle to provide superior support when wrangling calves. For the comfort of the cowboy, they typically have padded insoles and durable rubber outsoles.
Unlike more flamboyant styles of cowboy boots, ropers generally have a simple design.
The Design of Cowboy Boots
Not just any boot is a cowboy boot. Though there are many styles of cowboy boots, they all have a tall shaft, Cuban heel, and a square, round or pointed toe.
The toe and heel style allows the boots to be safe, comfortable, and practical while horseback riding. Though it varies by style, most heels are between one to two inches tall. The heel can be either straight or slanted, depending on the style.
The tall shaft on cowboy boots is not only stylish, but also practical as well. The shaft can be anywhere from eight to 17 inches tall depending on the style.
For a durable build, cowboy boots are traditionally made of full-grain leather. However, they can also contain other materials, such as rubber outsoles or suede uppers. Many boots will feature decorative stitching, embroidery, and even colored leather.
The most common styles of cowboy boots include western, work, riding, roper, dress, stockman, buckaroo, walking, packer, and exotic. Cowboy boots come in different styles of toe, including pointed, snip, classic, round, fashion, square, and broad square.
There are also a variety of cowboy boot heel styles such as fowler, roper, walking, cowboy, riding, and fashion.
Also read: 8 Most Expensive Cowboy Boots Ever