Our readers support us. This post may contain affiliate links. We earn from qualifying purchases. Learn More
No closet is complete without a good pair of cowboy boots. By choosing one of the best cowboy boot brands, you can ensure you are getting a quality pair of shoes.
The best cowboy boot brands are Ariat, Durango, Laredo Justin, Dan Post, Smoky Mountain, Twisted X, Tecovas, Tony Lama, and Ferrini. These western boob brands produce quality, comfortable, and stylish boots that look and feel good.
These brands offer all different styles of boots, including for riding and fashion. No matter your budget, you will be able to find a quality pair of boots to meet your needs.
Best Cowboy Boot Brands
1. Ariat
Ariat has long been the leader for equestrian footwear for both western and English riding. The inspiration for their name comes from the legendary racehorse Secretariat.
By combining the style and practicality with modern athletic footwear technology, they have created a large range of comfortable cowboy boots that is second-to-none.
Ariat use the finest materials, including full-grain leather, to create boots that are built to last. They offer top-quality boots for toddlers, children, women, and men coming in a variety of prices.
Ariat offers boots for work, showing, fashion, casual and everyday riding. Their world-class products are a favorite among many top equestrians as they are safe, comfortable, durable, and practical. Their footwear meets all the demands of equestrian life, with their cowboy boots being among the most popular.
See Ariat cowboy boots on their website and Amazon.
2. Durango
Durango cowboy boots are a top choice among many rodeo competitors. The brand was founded with the comfort and safety of western riders in mind.
Durango offers everything from fashion to riding boots. Their many different designs are comfortable and durable without sacrificing style. They have become a leader in western footwear for their reliability, while also offering styles that won't break the bank.
Durango boots offer sizes for toddlers, children, men, and women. They use high-quality leather for their boots, including ostrich leather on their exotic boots.
See Durango boots on their website and Amazon.
3. Laredo
Laredo has offered quality cowboy boots for over 45 years. Cowboy-approved, their boots are capable of withstanding years of wear.
Whether for work, riding, or a night out on town, their boots are stylish and also practical. They offer traditional western styles and modern exotic styles to meet your needs. They select only the best products to make their boots.
Laredo boots are available in sizes for men, women, and children. They have become one of the most popular cowboy boot brands for fashion boots.
Find Laredo boots here on Amazon.
4. Justin
As one of the industry's top leaders, Justin has been producing high-quality cowboy boots since 1879. With superior craftsmanship, they use only the finest leather and materials to make their boots.
With true western character, Justin boots are a top choice for many cowboys. They offer a large line of working and riding boots, as well as fashionable options as well. They have even partnered up with the American Quarter Horse Association (AQHA) to provide an exclusive boot collection for AQHA and its members.
Justin offers boots in men's, women's, and kid sizes. They offer comfortable boots that have excellent durability.
Find Justin boots on their website or Amazon.
5. Dan Post
Dan Post offers high-end cowboy boots that are handcrafted with cushioned comfort. They are becoming a growing favorite thanks to their fashion-forward styles.
Dan Post boots are carefully crafted with the finest exotic skins and premium leathers. They incorporate technologically advanced materials to provide comfort from the moment you put them on. They offer hardy pull-on work boots and also elegant fashion boots that are perfect for date night or formal events.
Dan Post boots are available in men's and women's sizes. Their beautiful boots come in a variety of fashionable designs.
Find Dan Post boots on their website and Amazon.
6. Smoky Mountain
Smoky Mountain boots offer a wide variety of fashionable and practical boots. Their quality-crafted, fashionable and durable boots are a practical choice for western riders.
Smoky Mountain offers a variety of boots ideal for riding and working. They come in many fun patterns that will stand out in the ring. Their boots use quality leather to produce a product that is made to last.
Smoky Mountain sells boot sizes in men, women, kids, and even toddlers. They come at a variety of price points including many budget-friendly options.
See Smoky Mountain boots on their website or Amazon.
7. Twisted X
Though relatively new to the game, Twisted X is becoming one of the fastest-growing cowboy boot brands. They are dedicated to creating comfortable handcrafted footwear.
Twisted X offers a variety of cowboy boots for work, riding, fashion, and casual. They even offer lines of boots to help different causes such as cancer research and veterans. In addition, with the goal of giving back to the environment, they have a line of eco-friendly shoes.
Twisted X boots come in men's, women's, kids, and infant sizes. They offer fun styles that are practical, durable, and comfortable.
See Twisted X boots on their website or Amazon.
8. Tecovas
Every pair of Tecovas boots are handmade in Leon, Mexico, where the tradition of boot making goes back several generations. Their simple, timeless designs are always in style and are perfect for any wardrobe.
Over 200 steps go into constructing a pair of Tecovas boots, so you can rest assured you are getting a quality boot. They use only the finest leather and materials when crafting each boot. They offer a variety of boots for work, horseback riding, and dress.
Tecovas come in sizes for men and women. Their high-quality boots are great for any occasion.
See Tecovas boots on their website.
9. Tony Lama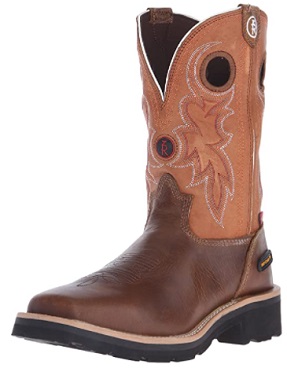 Started by Anthony Lama in 1911, Tony Lama has been producing premier cowboy boots for over 100 years. Lama passed down his boot making skills to his children, keeping the business in the family.
Tony Lama incorporates traditional western style into their handcrafted boots. They offer top-notch boots for casual wear, dress wear, and also riding. They use only the best materials and quality leather to produce superior footwear.
Tony Lama makes boots for men, women, and kids. Their hardy boots offer excellent comfort while being highly practical.
Find Tony Lama boots on their website and Amazon.
10. Ferrini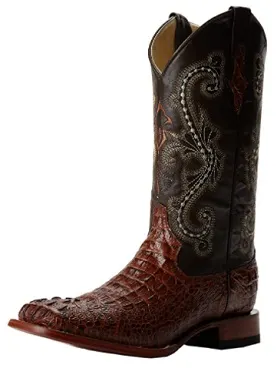 For three generations, Ferrini has carefully crafted each pair of cowboy boots they produce. Their classic and authentic boots will meet all of your needs.
Ferrini boots come in many fun, vibrant colors and patterns that will stand out wherever you go. Their fashionable boots are great for anyone wanting to spice up their wardrobe. They carefully match, trim and hand-stitch all their boots using hides and also exotic skins.
Ferrini makes boots in women's and men's sizes. Their footwear is not only sturdy, but also comfy as well.