This post may contain affiliate links. We earn from qualifying purchases. Learn More
Many people associate wild horses in America with the west, but in fact, there is a herd of wild horses living in North Carolina. The Corolla Wild Horses are a group of Colonial Spanish Mustangs that roam freely on the Currituck Outer Banks.
These exquisite wild horses can be traced back to all the way back to Spanish settlers. For hundreds of years, these wild horses have called the Outer Banks of Corolla, North Carolina home.
Today, efforts are being made to preserve and protect these American treasures.
About the Corolla Wild Horses
Between 1992-2007, DNA was analyzed and researchers determined that the Corolla Wild Horses are indeed part of the Colonial Spanish Mustang breed.
They are considered to be one of the oldest and rarest strains in the world, unfortunately meaning that they are a rare breed of horse.
Tough yet small, Colonial Spanish Mustangs stand around 12-13 hands tall. They are believed to be descended from a mixture of breeds that include the Spanish Barb, Arabian, and Andalusian. Unlike most domesticated breeds of horses that have six lumbar vertebrae, they only have five.
They have fine, athletic builds and are known to be easy to train. Some of the horses have even shown to be naturally gaited. They are hardy in nature, as they have to survive fierce winters and harsh summers.
Today, there are around 100 Corolla Wild Horses that roam the Outer Banks. However, there are also Colonial Spanish Mustangs found elsewhere as well.
Since the United States Fish & Wildlife Service considers wild horses to be "non-native, feral invasive species, their herd size has been limited.
Fortunately, steps are being taken to change the restrictions in order to increase the herd size and ensure their well-being.
What Do the Corolla Wild Horses Eat & Drink?
Since the Currituck Outer Banks consist of beaches and backwoods, the horses have a unique diet. They typically eat sea oats, grass, acorns, persimmons, as well as other native vegetation and drink fresh water.
It is strictly forbidden to feed the wild horses anything. Since they have their own unique diets, feeding them other foods could potentially make them sick. In fact, you are not even allowed to get within 50 feet of the horses.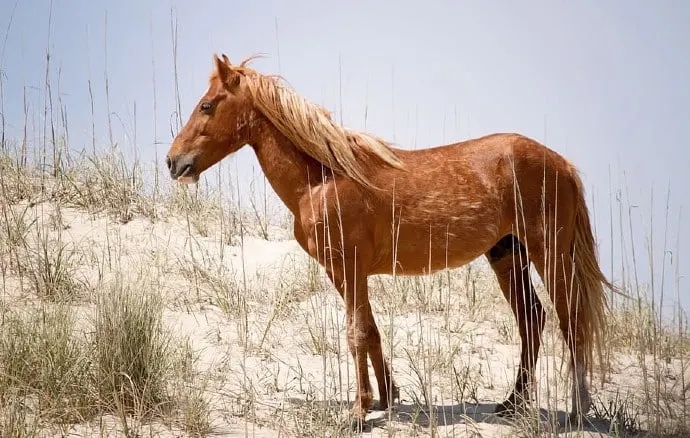 Below is a Video by the Wild Horse Adventure Tours about these beautiful wild horses:
History of the Corolla Wild Horses
The history of the Corolla Wild Horses starts all the way back to the 1500s. During this time, the Spanish were arriving in America in order to explore the new land.
In 1521, Spaniard Lucas Vasquez de Ayllon and his crew arrived in the Outer Banks as part of an expedition. However, after stealing Indian children for slaves, the Spaniards were forced to flee after an Indian uprising. They left behind their livestock as they left for Florida.
Later on in the 1580s, Spanish ships wrecked along the northern Outer Banks from Richard Greenville's expedition. As the ships sank, the livestock on board were forced to flee to the banks.
It is believed that the Corolla Wild Horses are descendants of the horses left from Ayllon's expedition and Greenville's shipwrecks. As time went on, these hardy horses made their home in the remote area of the Currituck Outer Banks.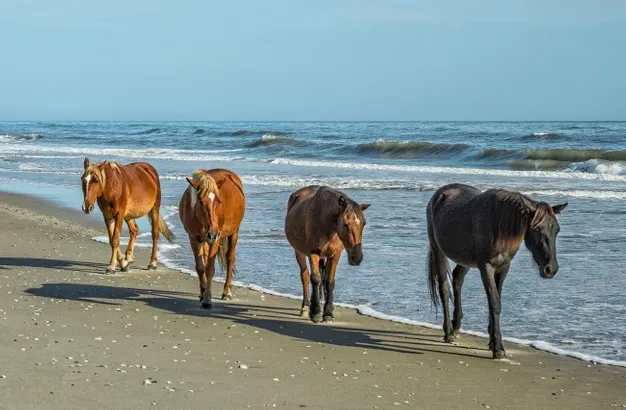 Corolla Wild Horse Fund
From 1985 to 1996, 20 horses were killed by vehicles on a stretch of road in Corolla.
After these tragic accidents happened, a group of people stepped forward to protect these beloved wild horses.
The Corolla Wild Horse Fund was founded in order to protect, conserve and manage the herd. They worked hard to come up with a way that would protect the horses from dangerous roads, but still allow them to roam freely.
In 1997, the fund fully moved the horses to the northern part of the beach where there are no paved roads to keep them safe.
The horses now roam across 7,544 acres, ⅔ of that being private land and ⅓ of that being public land. The herd is regularly monitored, with each horse documented and entered into a database.
Members of the fund respond 24/7, 365 days a year, ensuring the horses are protected, with horses being treated for illnesses and injuries.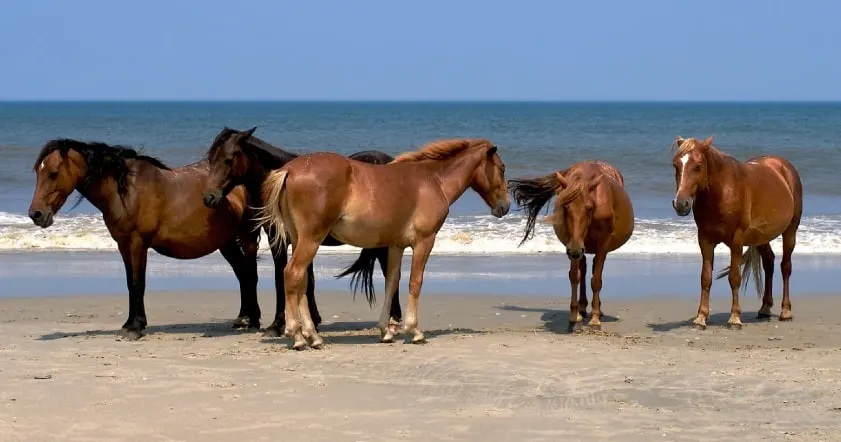 Adoption a Corolla Wild Horse
If any of the horses need serious medical attention, they are rescued and rehabilitated. Once rehabilitated, the horses can no longer be returned to the wild.
The rehabilitated horses are taken care of at the fund's equine facility, with some them able to be adopted out when they are ready.
Members of the Corolla Wild Horse Fund take many steps to ensure the horses are ready to be adopted out.Before a horse can be adopted, those interested must fill out a pre-adoption form.
If the fund decides you are a good fit, several hours are spent with the staff and horse. This ensures that the horses will only go to good, fitting owners.
Visiting the Corolla Wild Horses
Each year, visitors from all over come to see the beautiful Corolla Wild Horses. Seeing these horses in person is truly a breathtaking and unique experience.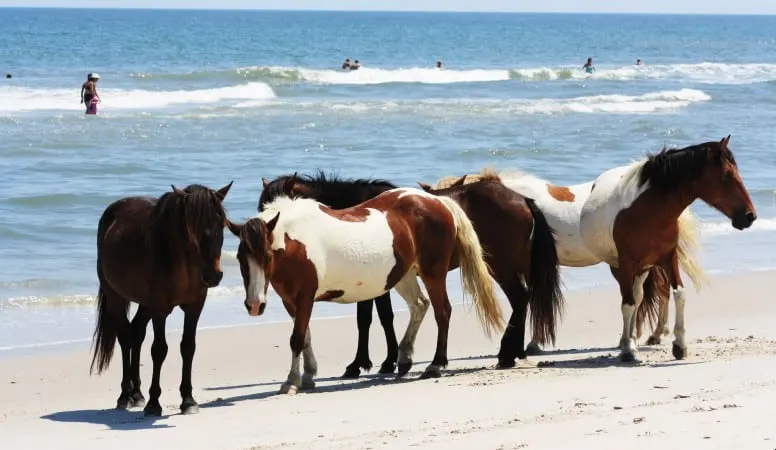 The best time to come see the herd is from spring, specifically from mid-April until the end of May. Horses can typically be spotted in small groups and many times can be seen along the shoreline.
Can You Walk to See the Wild Horses in Corolla?
Yes, you may walk around Corolla to see the wild horses. However, it is important to always respect the horses and remember to keep a distance of at least 50 feet.
Though you can walk along the beaches and dunes, there are certain areas you are not permitted to go. Four-wheel drive vehicles are allowed to be driven in most areas and many recommend it as a better way to see the horses.
However, be wary of the horses when sunbathing on the beach. There have been several dangerous incidents of horses and people clashing on the beach. See this video below:
Corolla Wild Horse Tours
If you would rather go on a guided tour to see the horses, there are many great options available. These family-friendly tours are a great way to learn about the horses and they also give you a better chance to see them.
Guided tours such as ones provided by Corolla Wild Horse Tours are very popular and you should make sure to book in advance to guarantee a spot. They are a fun, safe, and interesting way to view the Outer Banks and its beautiful horses.
For more information on the tours, you can check out the Outer Banks Visitors Guide to see what guided tour options are available.
If you want to see more of these horses in the wild, below is a brilliant, but much longer video shot by two photographers on their day out to film and take pictures of these beautiful creatures.
To learn more about wild horses, see our 40 incredible horse facts guide or take our fun set of horse quizzes.