This post may contain affiliate links. We earn from qualifying purchases. Learn More
Known for creating the "Downunder Horsemanship Method," Clinton Anderson is a famous natural horsemanship trainer. His skills have gained attention worldwide as he has become a popular clinician.
Clinton Anderson was born and raised in Cairns, Queensland, Australia. Though he grew up in the city, he would spend the weekends riding at his grandparents' farm. His grandma gave him riding lessons on her old Thoroughbred mare.
At a young age, Anderson became hooked on horses. His family encouraged him to pursue his passion for horses which led him to become one of the most renowned trainers in the world.
Anderson's unique training methods led him to develop the Downunder Horsemanship Method, which emphasizes the importance of understanding horse psychology.
1. Clinton Anderson Competed in Polocrosse as a Kid
Growing up, Anderson competed in polocrosse. Polocrosse is a combination of polo and lacrosse that combines athleticism and coordination.
At age 12, Anderson began playing polocrosse. He was even chosen to play for the national team in Australia to represent his state.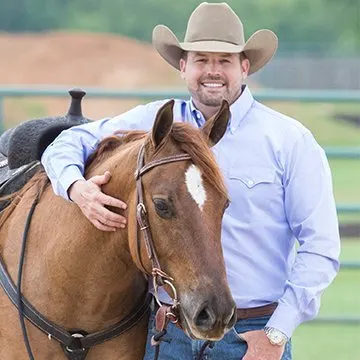 2. At 13 He Attended a Clinic That Would Change His Life and Lead to His First Apprenticeship
At just 13 years old, Anderson met horseman and clinician Gordon McKinlay, who changed his life. After attending a clinic of McKinlay's, Anderson became inspired to have a career in the horse industry.
At the clinic, Anderson learned the fundamentals of groundwork and riding exercises, which are now part of his training program. He went on to have a two-year apprenticeship with McKinlay where he continued to learn and grow as a horseman.
Under McKinlay's expert guidance, Anderson started and trained over 600 horses, several of which were wild horses from the Outback.
3. He Had an Apprenticeship With Cutting and Reining Horse Trainer Ian Francis
After graduating from his apprenticeship with McKinaly, Anderson went on to apprentice with Ian Francis. Francis, a renowned cutting and reining horse trainer, worked with Anderson to help him develop performance horses.
During his apprenticeship, Anderson learned how to get horses soft and supple while preparing them to compete on the national level.
After a year of working with Francis, Anderson opened up his own training facility in Rockhampton, Queensland. He used the skills he learned from Francis to develop his own horses.
4. In 1997, Clinton Anderson Moved to America and Launched Downunder Horsemanship
Clinton continued running his training facility and hosting clinics in Australia until 1996 when he came to America for a short apprenticeship. He worked with world champion Quarter horse trainer Al Dunning before briefly returning to Australia.
In 1997, Anderson left his home country of Australia and moved to America. He brought along his reining mare Mindy, who played a fundamental part in the development of Downunder Horsemanship.
Later that year, Anderson officially launched his Downunder Horsemanship program. His training method, which focuses on mutual respect between horse and rider, quickly became popular. His step-by-step program provides people with the knowledge they need to train their horses to be safe, consistent, and willing.
5. In 2001 He Became the First Clinician to Make a Made-For-TV Horse Training Program
As Clinton's training program grew, he began touring the country to host clinics and even began creating DVDs on his training. In 2001, he became the first horsemanship clinician to create a made-for-TV horse training tutorial.
RFD-TV aired his training program and it quickly became the network's number one horse program. Ten years later in 2011, he launched a 30-minute program on Downunder Horsemanship on Fox Sports Net.
That same year, he went on to create DownunderHorsemanship.TV, an internet TV site that provides free access to the Downunder Horsemanship television show to horse owners all over the world.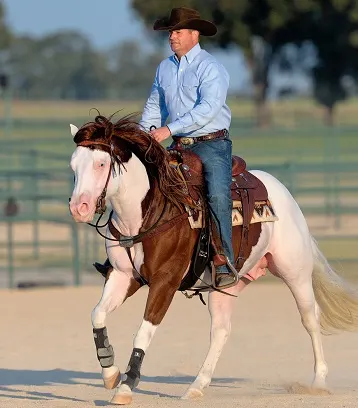 6. He Became the First Person to Win the Road to the Horse Twice
In 2003 and 2005, Clinton Anderson won the Road to the Horse horse competition, becoming the first person to win it twice. Road to the Horse is a competition where people must tame and ride an untrained horse in less than three hours.
The competition attracts the best horse trainers and clinicians from all across the country. It takes someone with exceptional natural horsemanship to win.
7. In 2007 He Created the No Worries Club
In 2007, Clinton Anderson founded the No Worries Club. The exclusive club is specifically for those who practice Downunder Horsemanship.
Anderson dedicates time to the club to inspire and educate people to grow in their horsemanship. Members of the club have access to exclusive videos, training tips, and publications. In addition, they also get product discounts, free Walkabout Tour tickets, and 50% off clinics.
8. He Owns a Ranch in Arkansas Where He Breeds, Trains, and Competes in Reining and Cow Horses
Clinton Anderson has dedicated a lot of his time to hosting clinics. He is famous for traveling across America to host clinics on his training methods and help owners strengthen their relationships with their horses.
In his Walkabout Tour, he spends two days teaching people the ultimate horsemanship. He uses his horses, along with local problem horses to demonstrate his training methods.
Anderson teaches step-by-step to help riders of both English and Western disciplines to develop respectful and safe horses. Whether for pleasure or show, his techniques help horses and riders of all disciplines.
Anderson is also dedicated to working on breeding, training, and competing horses. His main focuses are reining and cow horses. He competes and wins at the highest level of competition.
In 2020, Anderson relocated his training facility from Stephenville, Texas to Farmington, Arkansas. His impressive 28-stall barn includes a cooled and insulated indoor arena, an obstacle course, and both cutting and square pens. The barn is conveniently located for traveling to horse shows in Fort Worth and Oklahoma City.
Also read: 7 Games of Parelli Natural Horsemanship Training
Is Clinton Anderson Retiring?
In 2018, Clinton made the career change to focus on training and showing horses. Though he still does travel for the Walkabout Tour, his main focus is now at his ranch in Arkansas.
Anderson also offers events at his ranch along with training. Anderson personally selects all his performance horse prospects. Those interested in owning one of his performance horses may apply via a form on his website.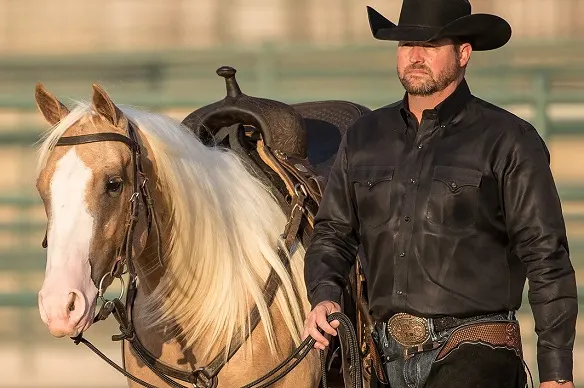 Does Clinton Anderson Have His Own Line of Saddles?
Anderson has his own line of saddles with Martin Saddlery. The saddles are expertly crafted to withstand hard work while keeping both you and your horse comfortable.
His popular Aussie saddle combines features of Aussie stock saddles and American western saddles. In addition to saddles, Anderson also sells girths, saddle pads, bridles, apparel, training equipment, DVDs, books, and much more.
Does Clinton Anderson Sell Horses?
After hearing countless stories of horse-buying gone wrong, Anderson went on to develop Signature Horses, a program where he trains horses with the Downunder Method and then sells them to the public.
The horses are extensively trained with Advanced Level exercises and do regular trail work. Once training is done, Anderson carefully matches the horse to a potential owner based on their personalities.
After matching a horse and person, he offers a 30-day, money-back guarantee on the horse.
"If they get the horse home and are unhappy with him for any reason, I'm happy to take the horse back and refund them their money. This program is all about helping people find the right horse for them," says Anderson.
In addition, his personal guarantee also includes lifetime support from Downunder Horsemanship whenever owners need help or have questions about their horses. Only a limited number of Signature Horses are available every year.
Also read: 30 Best Horsemanship Quotes & Sayings