This post may contain affiliate links. We earn from qualifying purchases. Learn More
Yellowstone follows the Dutton family on their generational cattle ranch in Montana. The ranch is constantly threatened by outside forces eager to get their hands on the valuable land.
Yellowstone has never shied away from complex relationships that often create tensions within the Dutton family. One of those relationships to captivate the viewer audience is that of Jamie Dutton and Christina.
What began as a professional relationship quickly became personal as Jamie and Christina gave in to their mutual attraction for one another.
However, in true Yellowstone fashion, their relationship got messy as personal feelings got tangled up with business matters.
Who is Christina in Yellowstone?
Christina worked as Jamie Dutton's campaign manager when he ran for Montana Attorney General in season 1 of Yellowstone.
Christina got her role working for Jamie as she works for the Attorney General's Office and is also a trusted member of AG Mike Stewart's inner circle, who is particularly fond of Jamie.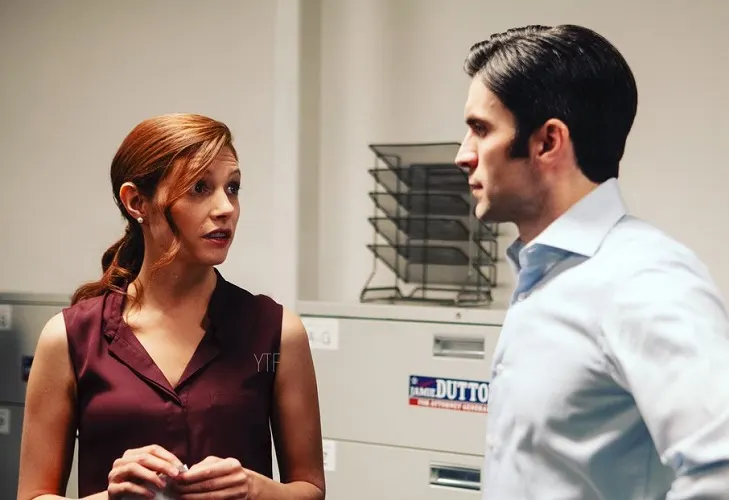 Prior to working for Jamie, Christina interned for Chris Messina, Barack Obama's campaign manager, during his presidential election. In addition, she also worked for the Attorney General's Office with Stewart for three years.
After beginning their professional relationship working together, they begin to become intimate with each other. They decide to become more than coworkers and begin to date.
Christina works alongside Jamie in his campaign until he withdraws from the race due to tension with his father. When their political relationship took a turn for the worse, so did their personal relationship.
After Christina sees the control that Jamie's father has over him she decides to end things between the two of them. She can't accept how much power Jamie's family has over him, dictating his every move.
Does Jamie Have a Child With Christina in Yellowstone?
In season 2 of Yellowstone, Christina reveals that she is pregnant with Jamie's child. She gives Jamie the choice to stay with the Duttons or begin a family of his own with her.
Ultimately Jamie decides to stay with the Duttons, causing Christina to leave. However, when Jamie finds out he is adopted, his dynamic with the Duttons changes.
After learning that Jamie has cut off ties with the Duttons, Christina returns in season 4. She allows Jamie to meet his son for the first time, who she names Jamie.
As Jamie begins to form a relationship with his biological father, Garrett Randall, Christina sticks around. The two begin to parent Jamie Jr. together and even go on to introduce him to Garrett.
However, things begin to spiral out of control in Jamie's life as he learns that Garrett is the one behind the assassination attempts on the Duttons. After Beth gives him an ultimatum, Jamie makes the choice to kill Garrett himself.
Christina and Jamie Jr. have not appeared yet in season 5 of Yellowstone, leaving many fans curious as to where they are. While Beth has threatened to take Jamie Jr. there has been no mention of Christina in the current season.
Jamie has now formed an intimate relationship with corporate shark Sarah Atwood of Market Equities.
Who Plays Christina on Yellowstone?
Katherine Cunningham plays Christina on Yellowstone. Cunningham is an American actress born in 1986 in Elk Grove Village, Illinois.
Growing up, Christina's family was active in theater. She would join her parents and siblings on stage at local theater productions.
After studying acting and biology at Illinois State University, Cunningham decided to begin a career in theater acting. She has starred in various productions, including Picnic (Writers' Theatre), The Taming of the Shrew (Chicago Shakespeare Theatre), and Big Lake Big City (Lookingglass Theatre).
Cunningham began her on-screen acting career in 2010. Since then, she has starred in over 25 roles.
Cunningham took on the role of Christina in Yellowstone in 2018. After not appearing in season 3, Christina returned in season 4 as she introduced Jamie to Jamie Jr., his child.
Jamie Jr. is played by Cunningham's daughter, May.
Notable Katherine Cunningham TV Shows & Movies
The Playboy Club (2011) as Door Bunny Kate
I Made America (2012) as Mindi
Mind Games (2014) as Beth Scott
Condor (2018-2020) as Kathy Hale
Yellowstone (2018-2021) as Christina