Our readers support us. This post may contain affiliate links. We earn from qualifying purchases. Learn More
Looking for cowgirl boots on a budget? Fortunately, there are some great cheap cowgirl boots for women on the market that are both stylish and practical.
Cowgirl boots often cost well over $100. It can sometimes be hard to find a pair to meet your needs, whether they are for riding or fashion, that is within your budget. This can make shopping frustrating, as it can be stressful finding a good pair in your price range.
These affordable cowgirl boots are fun and functional, making them great for a night out or even wearing to the barn. Whether you have a budget under $100 or under $50, we have you covered. They are comfortable and durable, without breaking the bank.
Here are the ten best cheap cowgirl boots for women.
Women's Cowgirl Boots Under $50
1. Charles Albert Modern Western Cowgirl Boot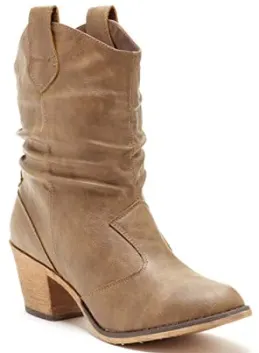 A modern twist on the classic cowgirl boots, these boots are perfect for a night out with friends. Pair them with your favorite sundress or a cute blouse and blue jeans for a chic look.
The ruching on the shaft not only looks cute, but also makes them comfy to wear. With dual tabs, they are easy to pull on and off, which is a great feature to have. Made entirely from synthetic materials, they are vegan-friendly.
These boots come in ten fashion-forward colors, so you can find the right pair for your wardrobe. The rounded toe provides a comfortable fit, while the soft lining provides additional support and cushioning.
2. Soda Women Cowgirl Western Stitched Boots
With a classic western look at an affordable price, these boots are a lovely addition to any wardrobe. Pair them with your favorite jeans or a flowy skirt and they make for an adorable outfit.
The classic stitching gives a charming look, perfect for any occasion. They are great for a night of dancing or wearing to a country concert. The rubber heel provides stability and is built to last.
These boots come in 11 fun and unique colors, including a suede style. The wider shaft gives your calves plenty of room while the pointed toe provides a chic look.
3. Trails Classic Pointed Toe Western Cowgirl Boots
Whether you are going to a rodeo or a party, these fun boots are great for any occasion. No matter if you are wearing shorts, a dress or jeans, these stylish cowgirl boots will bring any outfit together.
The detailed embroidery provides a classy look. Thanks to the flexible outsole, they will keep your feet comfortable all night long on the dance floor. For hassle-free wear, they have convenient tabs for pulling on and off.
The outsole and heel are constructed from rubber, to provide stability as well as durability. They are available in three classic colors that go great with many different outfits.
4. West Blvd – Women's Miami Cowgirl Western Boots
Add some western flair to your wardrobe with these sleek cowgirl boots. No matter if you dress them up or down, they are the perfect addition to your outfit.
The delicate stitching adds a nice touch to the boots, giving them a classic western style. With the advanced comfort technology, you don't have to worry about your feet being sore at the end of the day. They are built to last, so you can rest assured they will hold up for all your dancing.
Made from all synthetic materials, they are vegan-friendly. To best fit your personal style, they are available in nine trendy colors.
5. Odema Women's Velvet Cowgirl Boots
These adorable cowgirl boots are wonderful for any occasion, whether to a wedding or a night out at the bar. Pair them with your favorite blue jeans or your go-to party dress for a fashionable look.
The exquisite stitching, pointed toe, and classic western style make for a fun country look. For a comfortable fit and ease of getting on, they feature a zipper at the ankle on the inside. The wider fit on the calf allows for a comfy fit and allows you to easily pair them with different styles of pants.
These boots are constructed from man-made leather, which is vegan-friendly and has a classic distressed appearance. For additional support, they have a cushioned insole.
Cowgirl Boots Under $100
1. Roper Women's Chunk Rider Western Boot
If you are looking for an affordable and quality pair of cowgirl boots for horseback riding, look no further. Slightly shorter than the standard cowgirl boot, they are practical for wearing to the barn and everyday use.
The soft supportive insole provides your feet with all-day comfort, whether you are in the saddle or mucking stalls. The durable rubber outsole is flexible while also being non-making. They are vegan-friendly, as they are made from all man-made materials.
With a rounded toe, your feet will be comfortable as you work. The pull-on tabs allow for ease of use when putting on and off.
Also Read: 20 Best Gift Ideas for a Cowgirl
2. Coconuts by Matisse Women's Cimmaron Faux Leather Western Boot
Full of detail and style, these classic western boots will bring you lots of compliments. They are wonderful for wearing out to weddings or dancing at the club.
With the appearance of real, distressed leather, these boots are actually made with all vegan materials. They feature beautiful stitching on the shaft and toe, that will dress up any outfit. To keep you comfortable all day long, they have cushioned padded insoles for added support.
The pointed toe brings together the elegant look of these boots. They feature pull-on tabs so you can easily take them on and off.
3. ROPER Women's Riley Western Boot
These cute cowgirl boots are a wonderful addition to any cowgirl's wardrobe. They are perfect for any occasion you are looking to dress up for.
An elaborate embroidery design gives them a classic western style that is country chic. The pointed toe gives them an elegant look, which is great for formal events. The comfortable cushion insole keeps your feet happy all day long.
These boots have the appearance and feel of real leather, but are made with high-quality vegan synthetic leathers. They are available in four classic colors.
4. Coconuts By Matisse Women's Gaucho Boot
Tough yet stylish, these versatile boots are a great choice for any occasion. You will love how practical they are while also being adorable.
The detailed embroidery work gives them a traditional western look. The tabs at the top allow you to conveniently pull them on and off. With a pointed toe, they have a lovely appearance for wearing out for a night of dancing.
These cowgirl boots are vegan-friendly and made entirely of man-made materials. There are seven different colors available so you can choose just the right shade for you.
5. Justin Boots Women's Gypsy Collection 8″ Soft Toe
Durable and cute, these boots are a great choice for wearing to the barn or even every day. They will keep your feet safe and also comfortable as you ride or do barn chores.
Made from leather, they are built to last no matter what you throw at them. The J-Flex comfort system provides the support you need while keeping you comfy. The midsole is made from memory foam and the insole is removable so you can add your own custom one if you like.
With a tough rubber outsole, you will have great traction no matter the weather. The round-toe style is great for keeping your feet happy for hours on end. They come in ten adorable colors to meet your style needs.
FAQs
Do You Wear Socks With Cowboy Boots?
Yes, you should wear socks with cowboy boots. Socks allow for the boots to fit properly to your feet while also providing protection from rubs and blisters.
Crew, knee-high, and ankle socks are generally the best socks to wear with them. For summer, look for breathable, moisture-wicking socks to keep your feet cool. For winter, look for warm, wool socks to keep your feet cozy.
Are Cowboy Boots Good For Walking?
Cowboy boots are typically not the best option for long walks. However, it does vary by brand and style.
Boots specifically made for fashion are not a good choice for hiking. Cowboy boots for horseback riding can be a good choice for walking, depending on your needs.
Also, read our guide to the most comfortable cowboy boots for walking in.
How Do You Break In a New Pair of Cowboy Boots?
First start out by measuring to make sure you buy the right size, as sizing can vary by brand. Next, wear thick socks, as this will help warm up the boots, allowing it to shape your feet.
When first wearing your boots, it is a good idea to wear band-aids on areas you are prone to getting blisters. This will help prevent blisters from forming. In addition, try to walk around in your boots for a while. If they still feel stiff, you may want to invest in a shoe stretcher.