Our readers support us. This post may contain affiliate links. We earn from qualifying purchases. Learn More
Coming from humble beginnings, California Chrome took the racing world by storm. He quickly rose to success, amassing a large fan following that called themselves "Chromies."
California Chrome was born on February 18, 2011, at Harris Farms in California. The stunning chestnut was born with four white socks and a white blaze, which helped inspire his name. He soon proved to be a stellar racehorse as he began his career in his home state.
Common stats about California Chrome:
| | |
| --- | --- |
| Born: | February 18, 2011 |
| Height: | 16 hands (64 inches, 163 cm) |
| Sex: | Stallion |
| Jockey: | Victor Espinoza |
| Trainers: | Art Sherman, Alan Sherman |
| Owner: | California Chrome LLC |
| Race Record: | 27:16–4–1 |
| Color: | Chestnut |
Here are 10 Facts About California Chrome.
1. California Chrome Was the First Foal Bred by His Owners
California Chrome's story starts when first-time breeders Steve Coburn and Perry Martin bought Love the Chase for just $8,000. The mare had run just six times in her career, bringing home only one win.
Martin and Coburn overheard a groom say that the purchase was a "dumb ass" move as he thought their choice of horse was questionable. This inspired the men to name their partnership DAP Racing, standing for "Dumb Ass Partners."
Originally, Martin and Coburn sent Love the Chase to be bred with Redattore. However, the breeding proved to be unsuccessful, so the business partners opted for a stallion by the name of Lucky Pulpit. Lucky Pulpit's stud fee stood at just $2,000, as the stallion struggled with breathing problems and won only three of his 22 starts.
California Chrome's birth was not an easy one. Love the Chase suffered several setbacks during labor and needed extensive medical attention after. This led to the chestnut colt being handled by people more than normal after birth. His trainer, Art Sherman, believes all his handling at such a young age gave him the demeanor of a champion.
2. His Nickname Used to be Junior
After he was born, California Chrome strongly resembled his sire, Lucky Pulpit. This earned him the nickname Junior. The nickname stuck around for a while until he was officially named.
3. His Names Was Chosen by a Waitress
In 2013, Martin and Coburn, along with their wives, chose the chestnut colt's official name. While dining at Brewsters Bar & Grill in Galt, California, the four owners wrote down their name ideas and put them in Coburn's cowboy hat.
Their waitress then drew one of the names out of the hat. The winning name ended up being California Chrome, Coburn's choice. The name was then sent to the Jockey Club, which they accepted.
4. California Chrome Almost Won the Triple Crown
California Chrome's three-year-old season proved to be an impressive one. After a solid start as a two-year-old, his talent really shined through the next year.
As a three-year-old, he won six of his nine starts. He went into the Kentucky Derby with an undefeated record for that season. In his first race outside of California, California Chrome took home the Kentucky Derby win in an exciting fashion.
Just two weeks later, California Chrome pulled through to win the Preakness Stakes. He became the only California-bred Thoroughbred to win both the Kentucky Derby and Preakness Stakes. After his victory, Coburn stated that he had become "America's Horse."
Excitement followed as California Chrome was now a Triple Crown contender. The colt had solid workouts at Belmont Park prior to the Belmont Stakes, giving hope to his owners he may win the final leg of the Triple Crown.
However, his jockey, Victor Espinoza, said that on race day that colt felt a bit off. Despite a valiant effort, California Chrome came in fourth place in the Belmont Stakes.
Prior to the race, video replay showed that the horse next to California Chrome at the starting gate stepped on the chestnut's heel. The injury, which some believe to be a factor in his loss, resulted in a "chunk" of tissue being torn out and a small cut in the tendon. The injury proved to be minor and fully healed within a couple of weeks.
5. At 77, His Trainer Became the Oldest Person to Win the Kentucky Derby
During his career, California Chrome was trained by Art Sherman. After California Chrome's 2014 Kentucky Derby win, Sherman became the oldest trainer to win the race at age 77.
Sherman's career in the horse racing industry began when he was an exercise jockey. In 1957 he received his jockey license and by 1979 he began training horses.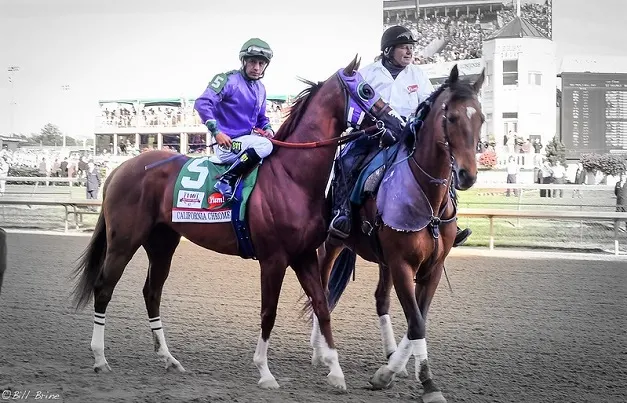 Martin and Coburn chose Sherman to train California Chrome due to his "old school" training methods. Sherman's sons, Alan and Steve both work in the horse training business. Alan worked along with his father when training California Chrome, doing most of the daily care. Throughout his career as a trainer, Sherman has won over 2,200 races.
6. He Has Won Abroad
In addition to having a successful racing career in America, California Chrome also won abroad. In 2015, he set out for the first time internationally to compete.
At the 2015 Dubai World Cup, California Chrome came in second place to Irish-bred Prince Bishop. After Dubai, his owners shipped him to England where he was set to compete at the elite Royal Ascot. However, due to a bruised hoof with draining pus, he had to be scratched from the race. He returned to America where he made a full recovery.
At the end of 2015, California Chrome was set to retire from racing to go stand at stud. However, Coburn sold his interest in California Chrome to Taylor Made Farm, opening up the opportunity for the chestnut to race in 2016.
In 2016, as a five-year-old, California Chrome once again traveled to Dubai to race. This time, he raced in both the Trans Gulf Electromechanical Trophy and Dubai World Cup. The stallion took home first in both races.
7. California Chrome Was the 2014 and 2016 Horse of the Year
With a stellar racing career, California Chrome earned the title American Horse of the Year in both 2014 and 2016. In addition, he also earned the California-bred Horse of the Year both those years as well.
In 2014 and 2016, he also earned the honors of the National Thoroughbred Racing Association (NTRA) Moment of the Year and the Secretariat Vox Populi Award. Along with his many other racing awards, the city of Fresno declared October 11, 2014, "California Chrome Day."
8. California Chrome is the Fourth Highest Earning Racehorse of All-Time
After his 2016 victory at the Dubai World Cup, California Chrome beat the previous record holder, Curlin, to become the highest-earning racehorse in North America.
Throughout his career, he won a total of $14,752,650 in earnings. He now stands in fourth place of the highest-earning racehorses of all time, with Arrogate taking the number one spot with $17,422,600.
9. He Retired in 2017 and Went on to Begin a Breeding Career
California Chrome raced just once in 2017 at the Pegasus World Cup. Uncharastically, he came in 9th place.
After the race, a vet inspection showed that he had fluid on his right knee. Radiographs showed that he had no injury to his bone, but he was mildly lame. The decision was then made to retire him so he could begin a career in breeding.
At first, his stud fee stood at a whopping $40,000 and he resided exclusively at Taylor Made Farm in Kentucky. Shortly after his breeding career began, Taylor Made made a deal with Sullivan Bloodstock where California Chrome would split his time at stud between Kentucky and Chile. He traveled in July to Chile to stand at the Sumaya Stud before returning to America for the breeding season.
10. California Chrome Currently Stands at Stud in Japan
In 2019, the 50-member California Chrome syndicate sold California Chrome to the JS Company of Japan. He now resides in Japan where he continues his breeding career.
The agreement includes that California Chrome Syndicate has the right of refusal if the stallion is ever sold. In addition, once California Chrome retires from breeding, he can return to Taylor Made Farm to live out the rest of his life. Martin continues to remain involved in the stallion's career at stud.
Has California Chrome Sired Any Winners?
California Chrome's first winner is Sunkar Time, who won a race at Krasnodar Racetrack in Russia on July 18, 2020. His first American winner is named Cilla, who won at Delaware Park on August 13, 2020.
In addition, California Chrome is also the sire of Decade. Decade has won the Maiden Special Weight at Churchill Downs on August 9, 2020, and the Allowance Optional Claiming on April 29, 2021, at Oaklawn Park. Since he only began breeding a few years ago, it is likely that California Chrome will be the sire of many more winners.
Is California Chrome Related to Secretariat?
On his sire's side, Secretariat is California Chrome's great-great-great dam grandsire. However, that is not the only Triple Crown winner in his bloodlines. His great-great-grandsire is Seattle Slew.
On his dam's side, California Chrome traces back to the great Northern Dancer. It is clear he inherited his winning pedigree.
How Tall is California Chrome?
California Chrome is 16 hands tall.
Who Was California Chrome's Jockey?
At first, California Chrome was ridden by jockey Alberto Delgado. However, at the end of his two-year-old season, Victor Espinoza became his new jockey.
Espinoza remained his jockey for the rest of his career. Espinoza, who was born in Mexico, went on to win the 2015 Triple Crown with American Pharoah. So far, Espinoza has over 3,200 career wins as a jockey.