Our readers support us. This post may contain affiliate links. We earn from qualifying purchases. Learn More
1923 gives us a look at a new generation of Duttons at a time of immense change in America.
With the Yellowstone Dutton Ranch being the main location in the series, we have also met a new generation of ranch workers. One actor who will be playing a ranch worker Brian Geraghty.
Brian Geraghty will play the role of Zane Davis, a foreman at the historic Yellowstone Dutton Ranch owned by the legendary rancher Jacob Dutton (Harrison Ford) and his loving and strong wife, Cara Dutton (Helen Mirren).
Brian Geraghty is an award-winning American actor born on 13 May 1975 in Toms River, New Jersey.
| | |
| --- | --- |
| Birthday: | 13, May, 1975 |
| Birthplace: | New Jersey, United States |
| Height: | 5′ 10″ (1.78 m) |
| Social media: | Instagram |
Geraghty made his screen debut on NBC's now 22-season Law & Order in 1999. His fame notably soared after his portrayal of Owen Eldridge in the 2008 war thriller, The Hurt Locker.
The former Chicago Med actor played the role so remarkably that he bagged two awards in 2009, including the Gotham Award (Best Ensemble Performance).
Brian Geraghty's Notable Movies and TV Shows
Law & Order (1999) as Phillip Ludwick
Petty Crimes (2002) as Rookie Cop
Cruel World (2005) as Collin
Jarhead (2005) as Private First-Class Fergus O'Donnell
We Are Marshall (2006) as Tom Bogdan
When a Stranger Calls (2006) as Bobby
I Know Who Killed Me (2007) as Jerrod Pointer
Law & Order: Special Victims Unit (2010-2015) as Sean Roman/Peter Butler
Seven Days in Utopia (2011) as Jake
True Blood (2012) as Brian Eller
Boardwalk Empire (2013) as Jim Tolliver/ Warren Knox
Kilimanjaro (2013) as Doug
Chicago Fire (2014-2020) as Sean Roman
The Alienist (2018) as Theodore Roosevelt
Extremely Wicked, Shockingly Evil and Vile (2019) as Dawn Dowd
The Fugitive (2020) as Colin Murphy
Blindfire (2020) as Will Bishop
Big Sky (2020-2022) as Ronald Pergman
1923 (2022) As Zane Davis
4 Facts about Brian Geraghty
He's Well-Educated
Brian Geraghty went to the Toms River High School East near his home. After graduating in 1993, he studied professional acting at the distinguished Neighborhood Playhouse School of Theatre in New York City.
The former Chicago Fire star later relocated to Los Angeles after completing his studies, hoping to land more acting gigs and build his professional career as an actor.
With his education and acting talent, Geraghty has become one of the big shots in the film industry. He's appeared in many movies and TV shows and starred in others, such as The Alienist and The Fugitive.
He Won Dick Wolf's Admiration
In 1999, Brian Geraghty played the role of Phillip Ludwick in Dick Wolf's legal drama TV show, Law & Order, marking the start of a long working relationship with the distinguished television producer.
Later, Wolf hand-picked Geraghty to play the role of Sean Roman in his massively successful Chicago franchise, as per an article published by Yahoo! Finance.
In 2016, Chicago P.D. executive producer Matt Olmstead told TVLine that everyone on the team was dying to bring him on board because of his incredible work ethic.
"He is the most level-headed, decent human being you're going to encounter, and he's upfront. He was like, 'I don't know if I can commit to a seven-year contract. This sounds great, but I've got to take it year by year,' which Dick doesn't do very often. But the deal was made." Olmstead said.
Also read: Where Is 1923 Filmed? All Known Filming Locations
He Once Dated a Co-Star
Brian Geraghty was in a relationship with American actress and model Krysten Ritter in 2012. The former lovebirds had just co-starred in the 2011 romantic comedy Audrey Hepburn's Neck. And theirs seemed like the perfect love story–they owned a dog and lived only a few minutes from each other.
Speaking to People.com a decade ago, Ritter described her relationship with Geraghty as "heaven".
"I'm in a serious relationship. We have a dog together. We live five minutes from each other. It's heaven. I think that might be the key: separate houses, separate bank accounts. Why mess with that?" The Jessica Jones actress said.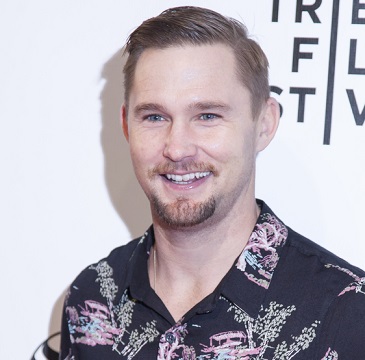 But despite their happy moments, the couple went their separate ways in 2013 due to conflicting views on marriage; Ritter didn't think she was the marrying type.
Also read: Who Plays Spencer Dutton in 1923? Meet Brandon Sklenar
He Loves Surfing
Brian Geraghty is an avid surfer who enjoys the watersport whenever he has some free time on his hands and is near a safe water body.
Factually, the actor even worked as a surf instructor before he started acting full-time. Unfortunately, he doesn't help others master the art of surfing anymore due to his busy schedule.
Frequently Asked Questions about Brian Geraghty
Is Brian Geraghty married?
Brian Geraghty is not married yet, but he's in a relationship with The Umbrella Academy actress Genesis Rodriguez. The pair attended the 1923 premiere in Los Angeles on 2 December 2022.
Also read: Who the 1923 Cast are Dating in Real-Life
Why did Brian Geraghty leave the Big Sky family?
Brian Geraghty didn't explain why he left his role as Ronald Pergman on ABC's Big Sky. But his character was killed, and fans speculated he needed to focus on other projects, such as Gaslit and 1923.