This post may contain affiliate links. We earn from qualifying purchases. Learn More
Before you hop in the saddle, you will want to have a good pair of riding pants. For English riders, understanding the differences between breeches and jodhpurs can make it easier to decide which is the best pair for you.
Breeches are shorter than jodhpurs and above the ankle, and have a close-fitting design featuring a Velcro fastening or an elasticated fabric at the bottom. Jodhpurs are full-length pants that often have an elastic strap that goes under boots to prevent them from riding up. Breeches are typically worn with tall boots, and jodhpurs are worn with paddock boots.
Both breeches and jodhpurs feature knee patches to provide adequate grip while riding. Breeches can also come in other reinforced options like full-seat, which offers more grip in the saddle, which is great for showjumping and cross country.
What are Jodhpurs?
Jodhpurs are a classic style of English riding pants that have a close fit throughout, all the way from waist to ankle. They are designed to be worn with paddock boots, as they typically end in with a snug cuff that is generally rolled up.
Jodhpurs were first developed in India for polo players and eventually became popular all across the world. Originally they flared out at the hips to allow ease while sitting in the saddle and were fitted from the knee to ankle.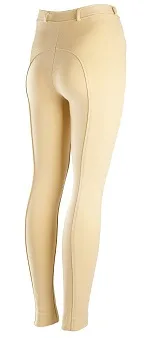 Also known as 'jods', many consider them to be an old-style option and now they are more common among children under the age of 12. Due to the fact that jodhpurs have a bulky fit at the bottom, most equestrians don't wear tall boots with them as they would not fit comfortably. Riders typically wear them with underpasses, also known as keepers, that go underneath paddock boots to keep the jods in place.
Classically jodhpurs are tan or white in color, though some schooling jodhpurs may be other colors as well. They are commonly made from cotton or a cotton blend.
What are Kentucky Jodhpurs?
Kentucky jodhpurs have a close fit from waist to ankle, with a wider cut at the bottom that flares out. They are worn by saddle seat riders and are paired with paddock or jodhpur boots.
Kentucky jodhpurs feature knee pads, with some styles being full-seat. They are longer in length, as they go past the heel when the rider is in the saddle. This style emphasizes the appearance of the rider's heel being down and gives the impression of a long leg.
They are typically made from cotton, a cotton blend or polyester. Though they are often more conservative in color when showing, like black, brown or navy, they come in many different colors and patterns for schooling. Like classic jodhpurs, they have keepers that go under the boots to prevent them from riding up.
Should I Wear Jodhpurs or Breeches?
When it comes to wearing jodhpurs or breeches for schooling, it is often up to personal preference. However, breeches are more popular for showing than jodhpurs.
Children learning to ride often wear jodhpurs. They help kids get a better feeling for using their legs. When paired with paddock boots, they are a suitable option for children competing in short stirrup classes with gaiter straps. However, some adult riders do prefer to wear them when riding.
Breeches are versatile and are the go-to riding pants for many English disciplines like hunter/jumpers, dressage and eventing. Hunter/jumper and equitation riders generally wear knee patch breeches. Full seat breeches are commonly worn by dressage riders, as the extra grip is ideal for full contact. Though breeches are often the top choice for showing, jodhpurs can be great for beginners or lower level.
Can I Ride a Horse in Tights?
Yes, you can ride a horse in tights. Riding tights are another type of riding pants English riders wear that are essentially a cross between breeches and athletic tights.
Riding tights have grown in popularity in recent years as they are very comfortable to wear. They are typically lighter than both breeches and jodhpurs. They are made with stretchy, breathable materials such as 4-way stretch fabrics. This makes them great to wear for schooling and trail riding.
Riding tights are easy to slip on, as they don't have zippers or buttons. There are many different styles of riding tights, including knee patches and full seat. Since they have a thin build, they are great for summer, though you can get fleece-lined options for winter. They come in many fun colors and patterns, which is great for schooling.