Our readers support us. This post may contain affiliate links. We earn from qualifying purchases. Learn More
Black Beauty has long since stolen the hearts of horse lovers everywhere. It has made children fall in love with horses, imagining themselves galloping over the fields, and given adults a dose of nostalgia.
Now, It has become one of the most distinguished films among horse communities, on par with other greats such as The Black Stallion and Spirit: Stallion of the Cimarron.
It explores timeless themes such as love and loss, fear and courage, neglect and triumph.
Here are 12 Black Beauty movie facts:
The Black Stallion Film Is Based On A Novel
The full name of the book is actually 'Black Beauty: His Grooms and Companions, The Autobiography of a Horse'. No wonder everyone shortens it to Black Beauty! It was written by Anna Sewell and it was her only book.
Upon breaking both her ankles in her childhood, Sewell grew a close affinity with horses, appreciating their aid in transportation. She later wrote the book to help shine a light on the Victorian mistreatment of horses.
Black Beauty was Directed By Caroline Thompson
Caroline Thompson is a renowned writer and producer, who went into directing later on in her career. In fact, Black Beauty was her directorial debut movie! She also wrote the screenplay for it.
Thompson has worked on other successful movies such as Edward Scissorhands, The Addams Family, and Corpse Bride.
She was the guiding hand behind Black Beauty's success, connecting deeply with themes of injustice, neglect, and animal welfare throughout the movie.
Black Beauty Is Portrayed by Five Horses in the Film
During filming, Black Beauty was actually acted by five different horses. Depending on the scene and the action, a different horse would be called upon to play the part of the main character.
This was especially true of scenes involving a harness, where the acting horse needed to be harness broken. The horse used in most scenes was called Docs Keeping Time.
Docs Keeping Time Had An Intriguing Pedigree
The horse Black Beauty was based, Docs Keeping Time, was an American Quarter Horse. He was a fifth-generation offspring of the incredible horse War Admiral. War Admiral is remembered as the principal rival of Seabiscuit.
The races between the two grew so intense that eventually, they faced each other one-to-one, in what is known as 'The Race of the Century' in 1938.
Docs Keeping Time continued the line by fathering a colt that acted in the Appaloosa film in 2008. Docs Keeping Time passed away in 2013.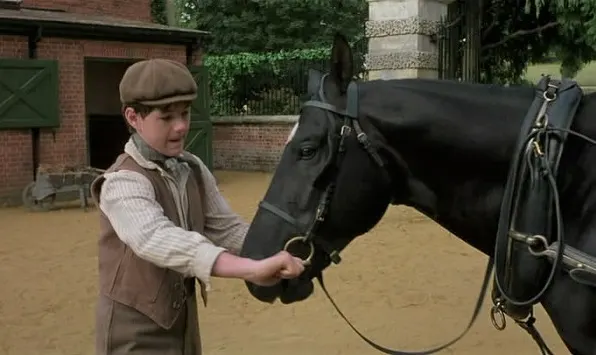 The Horse That Starred As Love-Interest 'Ginger' Was Male
The horse that starred as the mare, Ginger, in the movie was actually a male called Hightower. His birth was originally considered a mistake, as his thoroughbred sire impregnated his quarter-horse dam on the sly.
During a bull-roping session on his home ranch though, his owner, Rex, realized how fearless he was and started training him for movies.
Hightower won the hearts of Hollywood executives, and he was put in many big movies. This included The Horse Whisperer and Runaway Bride.
In fact, while filming Runaway Bride, his human co-star, Julia Roberts, was so amazed by him that she tried to buy him. It was a no deal!
The Black Beauty Birth Scene Was A Real Horse Giving Birth
The director, Thompson, insisted that the opening birth scene was to be a real-life birth. Therefore, she brought in four pregnant mares and decided to wait to try and catch a birth.
Thompson ordered a camera crew, stable hands, and actors to be stationed at the stables around the clock. She got what she wanted, a real-life horse birthing scene!
The Black Beauty Cast Includes Many Famous Actors
You may recognize many faces in the Black Beauty movie. Film and television giants such as Sean Bean, Jim Carter, David Thewlis, Peter Cook, and Alun Armstrong starred in it, making quite a stellar cast list.
The narration of Black Beauty is done by Alan Cumming. The young squire, Joe Green, is played by the child actor, Andrew Knott. For those children of the 90s, you may also recognize him as Dickon from The Secret Garden.
Most Stunning Filming Locations Were Used
Being set in Victorian England means that the cast and crew got to shoot in some beautiful locations! One of the most striking settings was Lady Wexmire's House, which in real life is known as Ditchley in Oxfordshire.
The scenes during the early part of the movie, where Black Beauty meets the kindly young squire, were shot at Hall Barn. Enthusiasts can visit it in Beaconsfield, UK.
The Black Beauty Movie Was Originally Considered A Failure
Upon its box office release, Black Beauty made only $4,630,377 domestically. These numbers at the time signaled a commercial failure for movie executives.
However, it gained momentum with its target audience and positive critic reviews. Featured in our list of the best horse films, Black Beauty is rated as 80% on Rotten Tomatoes, and it is now considered to be one of the best horse films of all time!
There Are Some Funny Equestrian Continuity Errors!
Those who know their horses may have seen some curious continuity errors regarding equipment and tack. Moviemakers try their best, but sometimes it takes an expert eye to ensure perfect horse arrangements!
Here are some examples:
When Ginger goes crazy on the bearing rein, Black Beauty canters back to his stall with his own bearing rein undone and loose. Reuben then comes in and undoes the bearing rein.
When Joe rides Black Beauty for the first time, he does so bareback with just a headcollar. When he later dismounts, Black Beauty has a bridle and saddle on.
Ginger's blaze mark changes a lot throughout the movie. It switches sides, shape, and placement.
There Are Over 10 Movie And TV Adaptations of Black Beauty
Some people may think of the 1994 version as the definitive Black Beauty film. However, there are many more!
The novel was released in 1877, and it captured the creative imagination ever since. It influenced other books such as Beautiful Joe (1893) and Son of Black Beauty (1950).
Since 1917 there have been multiple movies and TV adaptations. The most recent adaptation is Black Beauty 2020, recently released on Disney + and starring Kate Winslet.
Black Beauty Was Based on a Real Horse
Author of the books Anne Sewell had a horse called Bess when she was growing up and people believe Bess is the inspiration for the horse Black Beauty.
Are you a fan of Black Beauty? Will you be watching the newest movie version? Let us know what you think in the comments below!
You can buy a copy of the Black Beauty film here on Amazon.
Relive the movie below by re-watching the trailer:
See our other horse TV and Movie articles here.