Our readers support us. This post may contain affiliate links. We earn from qualifying purchases. Learn More
The biggest ranches in the world are truly sites to behold. From America to Australia, ranches are an important part of the agricultural world.
Though most ranches consist of cattle, sheep, goats, and bison, others have exotic animals including elk, bison, ostriches, emus, and alpacas.
It is common for a ranch to consist of hundreds to thousands of acres of mostly undeveloped land. Oftentimes, ranchers will raise grazing animals on their lands. They will typically also have horses to herd their livestock as well.
Ranches can be found all across the world in different climates. Though there are family ranches, many ranches today are owned by corporations and billionaires. It is also not uncommon for ranches to least grazing land from the government as well.
Five biggest ranches in the USA are:
King Ranch (825,000 acres)
Vermejo, A Ted Turner Reserve (590,823 acres)
Waggoner Ranch (520,527 acres)
Corn Ranch (165,000)
Ladder Ranch (156,439 acres)
Here are the largest ranches in the world.
1. King Ranch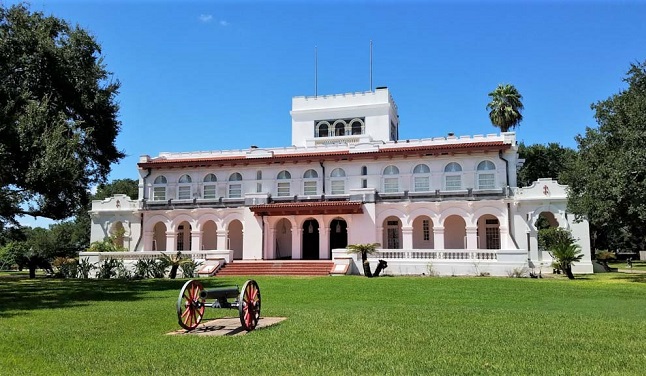 King Ranch is the largest ranch in America spanning approximately 825,000 acres of land. Located in southeastern Texas, this famous ranch was one of the first ranches to be added to the National Register of Historic Places.
Instead of one single contiguous plot of land, King Ranch consists of four large sections called divisions. These divisions are Santa Gertrudis, the Laureles, the Encino, and the Norias. The ranch was founded in 1853 by Captain Richard King and Gideon K. Lewis.
The ranch is home to many different business operations including cattle, Quarter horses, Thoroughbreds, and more. King Ranch even produced the 1964 Triple Crown Champion winner Assualt. The sprawling ranch even offers tours across its stunning operation.
Visit the King Ranch website.
2. Vermejo, A Ted Turner Reserve
With over 550,000 acres of picturesque land, Vermejo is located in scenic northern New Mexico. The ranch is home to a diverse landscape, gorgeous mansions, fascinating wildlife, and over 1,400 bison.
Vermejo is primarily used for recreational and conservation activities as they offer 19 fishable lakes, spa services, horseback riding, and hunting. While visiting the ranch, guests have the opportunity to see some of the many wildlife that calls the property home. Such animals include bears, elk, bison, and mountain lions.
The ranch offers exceptional accommodations including cottages and lodges. Vermejo is open to the public and offers workshops, tours, and seasonal festivals.
See more details about Vermejo here.
3. Waggoner Ranch
With nearly 535,000 acres of land, Waggoner Ranch is located in northern Texas. They are the largest ranch in Texas under one fence.
Waggoner Ranch got its start in 1852 by the Waggoner family. In 2016, Los Angeles Rams owner and billionaire Stan Kronke bought Waggoner Ranch for $725m. The stunning estate stretches across six counties in Texas, with headquarters in Vernon, Texas.
Waggoner Ranch focuses mainly on oil, cattle, and horses. They breed and sell quality Quarter horses, many of which carry the bloodline of Poco Bueno. In addition, Waggoner also has a recreational area with hunting and fishing.
Visit the Waggoner Ranch website.
4. Tswalu Kalahari
Located on 200,000 acres in South Africa, Tswalu Kalahari is one of the biggest and most beautiful ranches in the world. It is the largest private game reserve located in South Africa.
English entrepreneur Stephen Boler founded Tswalu Kalahari as a way to introduce wildlife back into their natural habitat. After Boler's untimely death in 1998, businessmen billionaire Nicky Oppenheimer took over ownership of the wildlife reserve. Since its inception, the ranch has become a world-class conservation operation.
Tswalu Kalahari offers in-depth camps where visitors can experience the beauty of the reserve and the animals that call it home. Such animals on the ranch include rhinos, African Painted Dogs, lions, oryx, aardvarks, and meerkats. The breathtaking luxury private lodge on the reserve is a member of the National Geographic Unique Lodges of the World.
Visit the Tswalu Kalahari website.
5. Mudanjiang City Dairy Farm
Though not a traditional ranch, Mudanjiang City Dairy Farm spans a vast 22,500,000 acres, making it very worthy of recognition. The farm was only recently established in 2015 in Heilongjiang, China.
Created as a response to the Russian ban on dairy products in the EU, the farm specializes in dairy production. They house an astounding 100,000 cattle at their operation.
In just one year alone, the farm is capable of producing 800,000,000 liters of milk. They are officially the biggest dairy operation in the world.
6. Alexandria Station
For over 140 years, North Australian Pastoral Company (NAPCo) has been producing some of the finest beef in the world at Alexandria Station. The incredible station spans nearly four million acres of the vast Australian countryside.
Alexandria Station is the biggest cattle station in northern Australia and one of the biggest cattle stations in all of Australia. They are home to a whopping 55,000 cattle.
In 2009, NAPCo entered into a formal partnership with Bush Heritage Australia. The partnership was created to support conservation initiatives throughout 14 North Australian and Queensland properties.
7. Anna Creek Station
Located in southern Australia, Anna Creek Station is currently the largest working cattle ranch in the world. The cattle station is situated in southern Australia and consists of nearly six million acres.
At first, Anna Creek Station began as a sheep ranch in the mid-1800s. However, due to the sheep being under constant attack from dingos, the ranchers switched to cattle. Currently, they have around 10,000 cattle at their vast operation.
Anna Creek Station is more than seven times larger than America's largest ranch, King Ranch. As of 2016, the ranch is owned by Williams Cattle Company.
8. Ladder Ranch
Located in southern New Mexico, Ladder Ranch consists of 156,439 acres. The ranch consists of a vast array of remarkable ecosystems including desert grasslands and pine forests.
Media proprietor Ted Turner owns 18 ranches across America and Argentina, with Ladder Ranch being his largest. With rich biodiversity, the ranch is a natural oasis. The property is home to a large herd of bison that Turner raises.
The ranch offers many experiences for guests to get up close and personal with nature. Some of the luxurious experiences the ranch offers include private tour guides, holistic spa services, and a Hermosa ghost town.
Visit the Ladder Ranch website.