Our readers support us. This post may contain affiliate links. We earn from qualifying purchases. Learn More
Ranching has long been an important part of life in America. America is home to some of the biggest and most scenic ranches in the world.
The majority of the largest ranches in the US are located in Texas.
While some ranches are still family-owned, others are owned by billionaire businessmen. These ranches still hold on to the traditional cowboy culture that once dominated the Old West.
Spanning hundreds of thousands of acres, these iconic ranches are booming empires.
While most of them on raising and selling cattle and horses, some have other animals including sheep, goats, and bison.
Here are the largest ranches in the US.
8. O'Connor Family Ranches
The O'Connor Family Ranches consists of 500,000 acres located in southern Texas. The ranch was founded by Tom O'Connor, an Irish immigrant, in 1834.
The O'Connor Family Ranches are best known for oil fields raising cattle. They played an important role in the development of the Santa Gertrudis cattle breed.
Today, about a dozen members of the O'Connor family own the ranch. The family has long been involved civically in Texas, with one heir serving as the sheriff in Victoria County, Texas.
7. Waggoner Ranch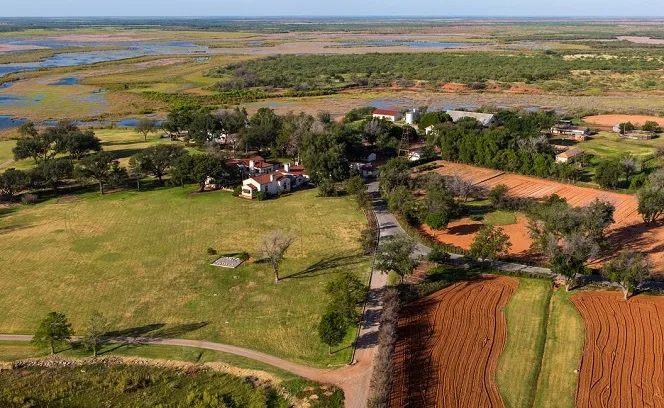 Waggoner Ranch is the largest ranch in Texas under one fence. With nearly 535,000 acres of land, Waggoner Ranch is located in northern Texas.
In 1852, Dan Waggoner founded Waggoner Ranch before passing it on to his son W. T. Waggoner in 1903.
In 2016, Los Angeles Rams owner and billionaire Stan Kroenke bought the family ranch from descendants of the Waggoners. The picturesque estate stretches across six counties in Texas, with headquarters in Vernon, Texas.
Waggoner Ranch focuses mainly on oil, cattle, horses, and crops. The ranch breeds and sells some of the finest Quarter horses, many of which carry the bloodline of Poco Bueno. In addition, Waggoner also has a recreational area with hunting and fishing.
6. Vermejo, a Ted Turner Reserve
Rolling across over 550,000 acres of scenic land, Vermejo is located in picturesque northern New Mexico. The property is home to a diverse landscape, luxurious mansions, beautiful wildlife, and over 1,400 bison.
Vermejo Reserves main focus is nature-based recreational and conservation activities as they offer tours, hiking, E-biking, Via Ferrata rock climbing, 19 fishable lakes, spa services, horseback riding, and culinary adventures.
While visiting the property, guests have the chance to see some of the incredible wildlife that calls the reserve home. This includes bears, elk, bison, and mountain lions.
The property offers state-of-the-art accommodations that include cottages and lodges. Vermejo is open to the public and offers workshops, tours, and seasonal festivals.
Vermejo is one of many properties owned by the media mogul Ted Turner.
5. Briscoe Ranches
As one of the largest ranching dynasties in America, Briscoe Ranches was founded in 1939 by Dolph Briscoe Sr. The might ranch spans over 660,000 acres of land in Texas.
The ranch consists of many different uses including cattle, farming, Angora goats, oil, and gas. Former Texas Governor Dolph Briscoe Jr. took over his father's ranch after he passed away in 1954.
After Dolph Briscoe Jr.'s death in 2010, his children inherited Briscoe Ranches.
4. Babbitt Ranches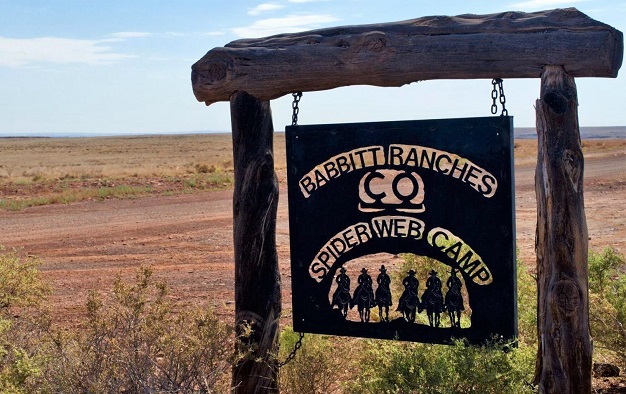 Babbitt Ranches is a family business that raises livestock and manages natural resources. Founded in 1886, the ranch covers a whopping 700,000 acres in Arizona.
Babbitt Ranches raises cattle and horses on private, state, and federal land. They are dedicated to maintaining the authentic cowboy lifestyle which they call Cowboy Essence. Every year they have a colt sale where they auction off some of their finest young horses.
Babbitt Ranches is also dedicated to helping preserve and protect local wildlife. The ranch has even partnered with Arizona Game and Fish Department and the Arizona State Land to protect Golden Eagles.
3. Diamond A Ranch
Consisting of 725,000 acres, Diamond A Ranch is the largest working cattle ranch in Arizona. In addition to raising cattle, the ranch also raises and sells horses.
Diamond A Ranch was once part of VVV Ranch. In 1987, the ranch was purchased by the Navajo Nation, which they still own today. Since 1982, Cholla Livestock LLC has operated Diamond A Ranch.
Diamond A Ranch still runs a "spring/fall works" wagon. The wagon consists of teepees, bedrolls, tents, and a modern-day chuck wagon.
2. Singleton Ranches
Consisting of an incredible 1,000,000 acres of land, Singleton Ranches owns property in California and New Mexico. It got its start in 1986 when Dr. Henry Singleton bought the historic San Cristobal Ranch.
Singleton Ranches raises and sells both cattle and Quarter horses. Through the Singleton Ranch Foundation, the ranch supports local youth through organizations including FFA and 4-H.
The New Mexico portion of Singleton Ranches includes San Cristobal, Pecos, Conchas, Lobo, Bojax, Moon, Lazy 3 Bar, Trigg, Agua Verde, Perez, and Bar Y Ranch. The California division includes the historic Peachtree and Topo ranches, as well as River Island Ranch.
Singleton Ranches embraces the traditional cowboy lifestyle and is a family-run operation. They involve every member of their family and even get their neighbors involved as well.
1. King Ranch
Located in southeastern Texas, King Ranch is over 825,000 acres in size, making it the largest single ranch in America. This historic ranch is a part of the National Register of Historic Places, becoming one of the first ranches to do so.
In 1853, Captain Richard King and Gideon K. Lewis founded King Ranch. King Ranch is not one single contiguous plot of land, but instead, it consists of four large sections called divisions. These divisions are Santa Gertrudis, the Laureles, the Encino, and the Norias.
The ranch consists of several different business operations including cattle, Quarter horses, Thoroughbreds, and more. King Ranch even produced the 1964 Triple Crown Champion winner Assualt. The famous ranch even offers tours to the public across its stunning operation.
Also read: