Our readers support us. This post may contain affiliate links. We earn from qualifying purchases. Learn More
Beezie Madden is one of the most accomplished show jumpers in history. Horses have been a lifelong passion of hers, which has resulted in her incredibly successful career.
Born November 20, 1963, Elizabeth Patton aka Beezie Madden, grew up in Milwaukee, Wisconsin. Her parents owned a horse farm and she began riding at the age of three. She spent most of her junior career riding hunters and equitation before pursuing a lifelong career in show jumping.
Madden went on to attend Southern Seminary Junior College where she was a part of the school's riding team. She even won the 1984 Cacchione Cup at the Intercollegiate Horse Show Association's national competition. Upon graduation, she went to work for show jumper Katie Monahan.
Madden began riding Grand Prix at the age of 22 and just two years later in 1985, she made her international debut at the World Cup in Paris.
While working with Monahan, she met John Madden and they later began dating. In 1988, John and Beezie bought a horse farm together in Cazenovia, New York, and in 1998 they got married.
Madden soon became an international jumping sensation. She won gold in Team Jumping at the 2004 and 2008 Olympic Games. She also won bronze at the 2008 Olympics in Individual Jumping and silver at the 2016 Olympics in Team Jumping.
Madden also took home individual and team silver in 2006 and individual and team bronze in 2014 at the FEI World Equestrian Games. In addition, she won gold in Team Jumping in 2003 and 2011, silver in Individual Jumping in 2011, and bronze in Individual and Team Jumping in 2019 at the Pan American Games. She was even the 2013 FEI World Cup Finals Champion.
Stats About Bezzie Madden:
| | |
| --- | --- |
| Height: | 1.68 m |
| Nationality: | American |
| Born: | November 20, 1963 |
| Birthplace: | Milwaukee, Wisconsin, U.S. |
| Husband: | John Madden |
Here are six facts and FAQs about Bezzie Madden.
1. She Got Her First Pony for Christmas
Bezzie Madden got her very first pony for Christmas when she was just five years old. She and her brother Stewart both got Shetland ponies, Flicka, and her dam, Fudge.
They got the ponies with bridles, but no saddles. Madden would ride Flicka bareback for hours on end, doing everything including jumping. In fact, her parents would have to tell her when Flicka had had enough because otherwise, she would ride her all day long.
Also Read: 10 Facts You Didn't Know About Shetland Ponies
2. She is the First Woman in Show Jumping to Surpass $1 Million in Earnings
After numerous major wins under her belt, Madden became the first woman to make over $1 million in earnings from show jumping.
In 2004, which is the year she won her first Olympic gold medal, she surpassed the million-dollar mark. In many ways, she has set the standard for modern showjumpers.
3. She is the First American to Make the International Top Three Show Jumping Ranking
Show jumping is a sport that has long been dominated by Europeans. Madden made history by becoming not only the first American but also the first female to make the International Top Three Show Jumping Ranking. Madden made the top three ranking in 2004 at the age of 41.
4. She Has Won the USEF Equestrian of the Year a Record Five Times
Winning the United States Equestrian Federation Equestrian of the Year is one of the highest honors any rider can achieve. Madden has won the honor a record five times.
She became the first rider to win the honor back to back in 2006 and 2007. Madden then won the honor back to back again in 2013 and 2014. Then in 2019, Madden took home the honor once again.
Madden's horses have also received international honors as well. Her mount Simon, who is owned by Abigail Wexner, won the 2013 USEF International Horse of the Year. The Dutch Warmblood was also introduced into the Equus Foundation Hall of Fame.
One of her other mounts also owned by Wexner, Cortes C, won the 2014 USEF International Horse of the Year. Cortes C, a Belgian Warmblood, is also a member of the Equus Foundation Hall of Fame.
Authentic, who Madden won two Olympic gold medals with, is also a member of the Equus Foundation Hall of Fame. Authentic is a Dutch Warmblood also owned by Wexner.
5. She is the First Woman to Win the Prestigious King George Gold Cup at Hickstead
While aboard Cortes C, Beezie Madden won the coveted King George Gold Cup at Hickstead in 2014, becoming the first woman to do so.
She came back in 2015 to win the title once again with Cortes C. Madden is the first woman to win the title back to back and is one of only a few riders to achieve this honor.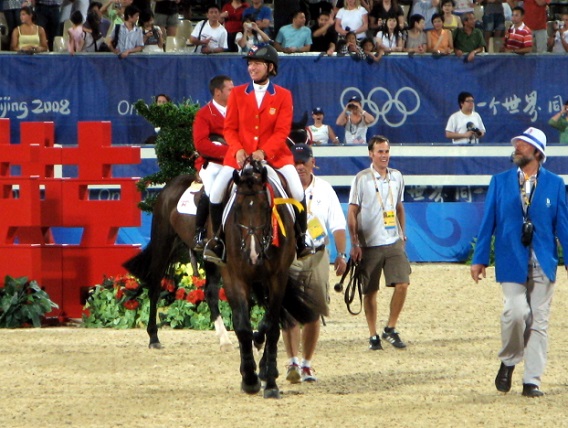 Also Read: 10 Most Famous Horse Riders of Today
6. She Runs a Successful Training and Sales Business With Her Husband
Beezie Madden and her husband run a training and sales business called John Madden Sales Inc or JMS. Their stables are based out of Cazenovia, New York, with another location in Wellington, Florida as well.
Their stable focuses on the training and sales of horses. In addition to young horses and competition horses, they also have retired horses at their barn. John serves as Beezie's trainer.
Is Beezie Madden Retired?
In 2020, Beezie Madden announced that she would be semi-retiring from competition. The next chapter of her career will focus on developing riders and horses to the championship level.
Though she still plans to compete with the horses she has, she will focus on developing horses ages 5-8 years old. She will also focus on furthering the development of her riders, which include Katherine Strauss, Madison Goetzmann, and Alex Matz.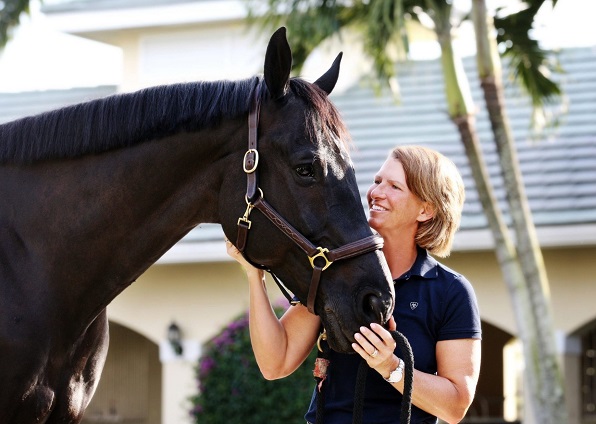 Who are Beezie Madden's Best Known Horses?
Though Beezie Madden has ridden many great horses throughout her career, her most notable mounts include Judgement, Authentic, Simon, and Cortes C.
Judgment, who was born in 1991, was a Dutch Warmblood who won almost $1.5 million in his career. Some of his most notable wins include the 2003 Cosequin US Open Jumper Championship, 2005 CN International, and 2001, 2006, 2007, 2008 National Champion Title, Spruce Meadows, among many other wins.
Authentic, who was born in 1995, is a Dutch Warmblood. He won gold at the 2004 Olympics, two silver medals at the WEG at Aachen, and gold and bronze at the 2008 Olympics.
Simon, who was born in 1999, is a Dutch Warmblood. He won gold at the 2013 World Cup Final and won the 2013 Rolex World Cup Finals, among many other accomplishments.
Cortes C, who was born in 2002, is a Belgian Warmblood. Some of his most notable achievements include winning the 2014 and 2015 King George Gold Cup at Hickstead.
How Many Horses Does Beezie Madden Have?
According to the website of JMS, Beezie Madden has four competition horses, Breitling LS, Hummer Z, Garant, and Kickstart II. She also has young horses which include Cyber Flower, Truly Special, and Cherry Cola.
The Madden's also have several retired horses at their stables. They include Authentic, Cortes C, Simon, Victoria, Capri, Special Edwina, and Quister.
Did Beezie Madden Compete at the 2020 Olympics?
Though Beezie Madden had hoped to compete with Garant at the 2020 Olympic Games, she withdrew from consideration. Though at the time he was healthy and sound, she did not feel he was ready for the demands that the Olympics would ask of him.
"I love Garant and wouldn't trade him for any other horse in the world. He is healthy and sound, but just is not quite ready for what the Olympics would ask of him. We have to put his best interests first," said Madden.