This post may contain affiliate links. We earn from qualifying purchases. Learn More
Foul-mouthed, competitive, fierce, sassy, and abrasive are just a few words that describe Beth Dutton.
With her quick comebacks and bold personality, she has become a fan-favorite on Yellowstone.
So just who is Beth Dutton?
Beth Dutton is a banker and cut-throat businesswoman in Yellowstone. She is the daughter of cattle rancher John Dutton and sister to Kayce, Jamie, and the late Lee. Beth is married to Rip Wheeler.
| | |
| --- | --- |
| Full name: | Bethany Dutton |
| Played by: | Kelly Reilly |
| Age: | July 18, 1984 |
| Height: | 5ft 6in (1.68m) |
| Zodiac sign: | Cancer |
Beth Dutton Family & History
Beth Dutton was born on July 18, 1984, to parents John and Evelyn Dutton. She is the third youngest of the Dutton siblings, with Kayce being the youngest.
As a kid, Beth had a relatively normal upbringing though her mom was often hard on her. However, her life forever changed on March 30, 1997.
While out riding with her mom and Kayce, Beth was struggling with her horse which led to her mom's horse getting spooked. Her mom fell off her horse and then her horse fell on her, causing serious injuries to her.
Evelyn told a shaken Beth to get her father while Kayce stayed with her. By the time Beth returned with her father, Evelyn breathed her last breath.
While the death of Evelyn was brutal on the family, it was particularly hard on Beth. The last thing Evelyn said to Beth was "She did this. Let her undo it."
Ever since the death of her mother, Beth has struggled emotionally. She often felt guilt for her mother's death, especially with her harsh dying words to Beth. The trauma from her mother's untimely death has taken a toll on Beth even through her adult life.
Not long after her mother's death, Beth met Rip Wheeler after her father found him hiding out in a barn. Rip had been on the run after murdering his abusive stepfather who killed his mom and brother.
Shortly after he began working on the ranch as a teenager, Rip and Beth shared a mutual attraction for one another.
When Beth was just 15 years old she found out she was pregnant with Rip's child. Too scared to tell Rip or her father, she reached out to Jamie who took her to a clinic for an abortion.
Beth's trauma growing up has led to her becoming emotionally unstable. Due to this, she often drinks excessively and struggles with her past.
Beth Dutton's Love Life
Beth and Rip have been attracted to one another since they were teenagers. While they have had their ups and downs, they have always been drawn back to each other.
Beth and Rip are able to relate to each other through their tragic pasts of losing loved ones. They both deal with inner demons which cause them many hardships as adults.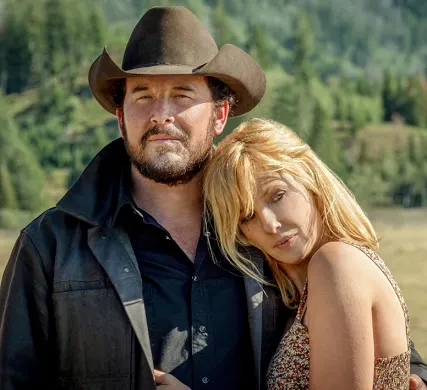 While they were romantically involved as teenagers, Beth and Rip have their so-called first date in season one episode one "Kill the Messenger." In true Beth fashion, the date is anything but conventional. After turning down Rip's offer to go to a music festival, they drink in a car while watching wolves eat an elk.
After a conversation about cheating death, Beth then decides to spontaneously run after the wolves.
This peculiar date sparked a whole new chapter in Beth and Rip's relationship. Their love began to grow deeper and they became more passionate for one another.
After being together for some time, Beth took matters into her own hands and proposes to Rip in the season three finale. In the romantic moment, she gave Rip a ring, simply asking him "The only thing I ask is you outlive me, so I never have to live another day without you."
Rip responded to the proposal by saying "I can try and do that."
In the season four finale, Beth and Rip tied the knot in a simple but romantic ceremony at the ranch. The wedding was meaningful and to the point, though Beth did kidnap the priest to perform the wedding.
Instead of a traditional wedding gown, Beth wore a gold dress, tall boots, and a fur coat. The happy couple said their vows in front of John, Lloyd, and Carter.
Also read: 10 Best Beth and Rip Moments on Yellowstone
She is Loyal to Her Family
Beth is very loyal to her father and the family ranch. Many believe her fierce loyalty to her father is due to the guilt she feels from her mother dying. Not only does she feel she took away his wife, but also his happiness.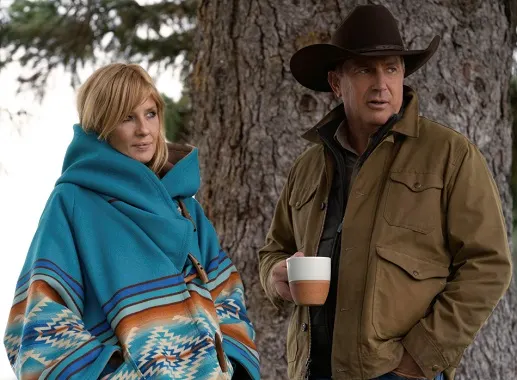 She is willing to do whatever it takes to protect her family. Beth is not afraid to make enemies along the way and she certainly isn't afraid to stand up to those enemies. She is never afraid to speak her mind and let her opinion be known.
Beth Dutton is Played by Kelly Reilly
Beth Dutton is played by the lovely Kelly Reilly. Reilly is an English actress born on July 18, 1977, in Chessington, England.
Aside from Yellowstone, her most popular roles include Pride & Prejudice (2005), Mrs Henderson Presents (2005), Sherlock Holmes (2009), Sherlock Holmes: A Game of Shadows (2011), and Flight (2012).
Also, read our full guide on Kelly Reilly.
You Won't Often See Beth on a Horse
While you often see the other Duttons in the saddle, you rarely see Beth on a horse. Her dislike for horses stems from the horrific horseback riding accident that resulted in her mother's death.
However, Beth does decide to relearn how to ride with the help of Walker. It is one of the few times fans will see Beth in a vulnerable position. He shows her what it feels like for a horse when being ridden by a human by squeezing her torso.
After the demonstration, Beth puts her fears behind her and gets back in the saddle.
She Has a Great Sense of Fashion
Out of all the characters in Yellowstone, Beth arguably has the best sense of fashion. Her style is a combination of western chic and glamorous trendy. Beth's style includes lavish coats, bold boots, floral dresses, and sleek business wear.
Also, read our guide on where to buy Beth Dutton's Yellowstone outfits.
5 Beth Dutton's Best Moments
Beth Saves Monica
When Monica finds herself at the hands of a racist store owner, Beth comes to her aid. The store owner got two cops involved after falsely accusing Monica of stealing jewelry and treating her like trash.
The cops do a strip search on Monica and humiliate her for no reason. Fortunately, Beth shows up to put an end to the mistreatment of her sister-in-law.
Beth dismisses the cops after informing them Monica is a Dutton. She then puts the shop owner in her place and shows her not to mess with the Dutton family.
Beth Proposes to Rip
After realizing Rip will never propose on his own, Beth decides to step. After Rip has a hard day at work, Beth asks him to marry her on the steps of their home.
Beth proposes to Rip with a ring she has. The moment is romantic and meaningful as you see the love the two have for each other.
Beth Fights Her Attackers
After receiving a horrible beating from masked men sent by the Beck brothers, Beth is able to fight off her attackers with the help of Rip. The two manage to kill the attackers and Beth is able to make it out alive.
Throughout the horrific ordeal, Beth refused to let the attackers think she was scared. She even taunts them saying "You want me to cry, huh? Cry and scream and try to get away?"
Beth Steps Up for Carter
After visiting her father in the hospital after he was shot, Beth meets a young orphan named Carter. The two are able to bond over similar circumstances and Beth offers him a helping hand.
While Beth makes it clear she is not his mother, Carter finds a new home working at the ranch. He quickly becomes an important part of Beth and Rip's lives.
Beth and Rip Get Married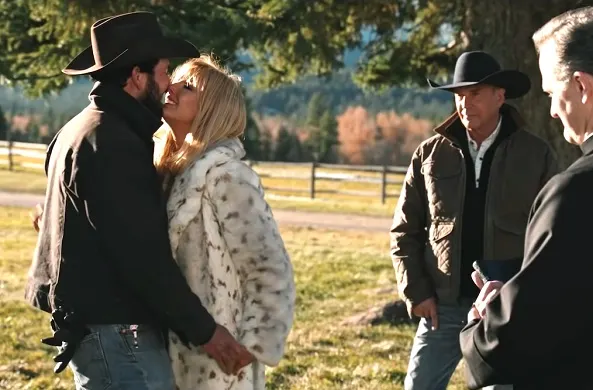 Fans of Yellowstone have grown to adore Beth and Rip as a couple. In the season four finale "Grass On The Streets and Weeds on the Rooftops," Beth and Rip finally say I do.
The picturesque ceremony is intimate and meaningful, making it all the more romantic. While it may not have been a traditional wedding, it is perfect for Rip and Beth. It is emotional for both Beth and Rip as they appear truly happy.
Also, take our fun Yellowstone fans quiz!
Best Beth Dutton's Quotes on Yellowstone
"I believe in lovin' with your whole soul and destroying anything that wants to kill what you love. That's it. That's all there is."
"I made two bad decisions in my life based on fear, and they cost me everything."
"Where's the fun in wrecking a single man? When I break you, I want to know I'm breaking generations."
"The only thing I ask is you outlive me, so I never have to live another day without you."
"The sting never fades with me. It is a painful lesson and one you're about to learn."
"Every so often, you say something that makes me think you're smart. And then I look at you, and that thought fades."
"You are the trailer park; I am the tornado."
"Just tell me who to fight."
"I see things in people, and I feel like if I can touch it, even if the rest of the person is rotten, I can take that good thing and I can make it part of me."
"I have been down this road many, many times before, buddy. And no one who tried it is alive to tell you how poorly that worked out for them."
Why Can't Beth Have Children?
In the episode "Cowboys and Dreamers," Beth seeks help from Jamie when she discovers she is pregnant. Jamie decides to help her out and take her to an abortion clinic.
What Beth didn't know was that the abortion clinic is they only perform abortions through sterilization.
Upon finding out she was pregnant, Beth had two options: go to Planned Parenthood or the free clinic at the Indian reservation. She chooses the Indian reservation clinic out of fear word might get out if she went to Planned Parenthood and risk her family's name.
Upon getting to the clinic, the staff tells Jamie that the only way to perform an abortion at the location is through sterilization. Jamie agrees to this without Beth knowing this information.
Her hatred towards Jamie deepens when she learns the truth about why she can't have children. Beth becomes heartbroken that she will never be able to have any biological kids of her own.
What Happened to Beth's Face on Yellowstone?
Beth Dutton got her cut and bruised face in Season 2 after she and Jason were attacked by two masked men that were hired by the Beck Brothers. Beth is able to send a text to Rip before being brutally attacked. The attackers tie her up to a chair and viciously beat her up.
Unfortunately, Jason is killed in the attack. Rip, however, makes it in time to save Beth. Together, they are able to kill the attackers and Beth survives the ordeal.
Beth has another scary near-death experience again in season three. An unknown package arrives at her office and though Beth tries to stop her assistant from opening it, she is not quick enough.
The package turns out to be a bomb which immediately goes off when the package is opened, destroying the office. While Beth is able to walk out of the incident, she is severely burned and scarred.
Where Does Beth Work?
At the beginning of Yellowstone, Beth is working at Schwartz & Meyer. She ran the Mergers and Acquisitions for the company. She had a good relationship with her assistant Jason and one of the name partners of the firm, Bob Schwartz though she ended up on bad terms with him.
Beth Dutton later began working for Market Equities, an enemy of her father after she is offered a position by the company CEO Caroline Warner.
Seeking revenge on Bob Schwartz, she accepts the position as president of the company's Montana Divison.
After the death of her brother Lee, Beth begins working for Yellowstone Dutton Ranch helping with business activities.
In the Yellowstone season five trailer, it is revealed that she will be John's chief of staff during his time as governor.
Visit shopthescenes.com to purchase some of the official clothing and accessories worn by Beth Dutton in the Yellowstone TV series