This post may contain affiliate links. We earn from qualifying purchases. Learn More
From her fierce personality and sharp one-liners, Beth Dutton is an icon. Not only do we love her for her sassy attitude but also her chic sense of style.
Fortunately, if you are a fan of Beth's look, you've come to the right place. This Beth Dutton outfit guide will share some of her most iconic looks and where to buy them.
These stunning pieces will elevate your fashion game and give you a whole new appreciation for Beth.
From her elegant fur coats to her stylish dresses and trendy boots, Beth's wardrobe is fashion-forward.
She is not afraid to add a little pattern to her look and knows how to have fun while still looking sleek.
Beth Dutton's Gold Dress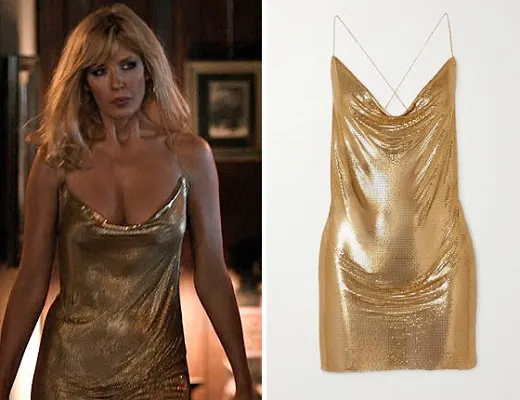 The gold dress Beth Dutton wore on her wedding day is the Zuri Dress by Fannie Schiavoni. It was far from typical, but it certainly was stunning on her. It was flirty, fun, and dazzling, making for an outfit that is sure not to be forgotten.
This gorgeous gold-colored dress is a showstopper and would make a trendy outfit for a night at the bar or a party.
Editorialist.com is one of the few places we could find with it in stock, but we're there are other smaller online stores that will too.
Beth Dutton's Snow Leopard Wedding Coat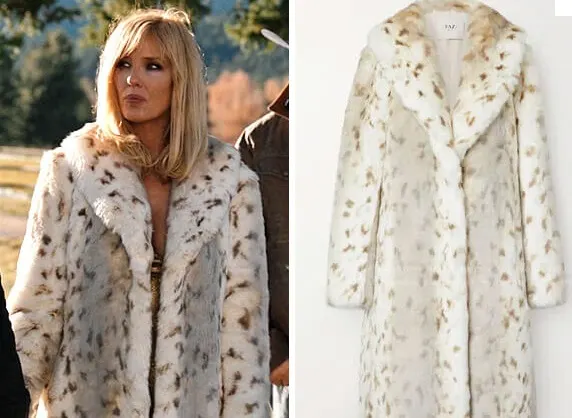 A coat is not typically a part of a bride's wedding look, but Beth certainly rocked it. This fabulous Snow Lynx Animal-Print Faux Fur Coat by Faz Not Fur is one of the most unique and stunning pieces she owns.
This coat is bound to make a statement piece to your wardrobe. You will stun in this extravagant coat no matter the special occasion. Wear it with a blouse and pencil skirt or be bold like Beth and pair it with a party dress.
Beth Dutton Leopard Print Coat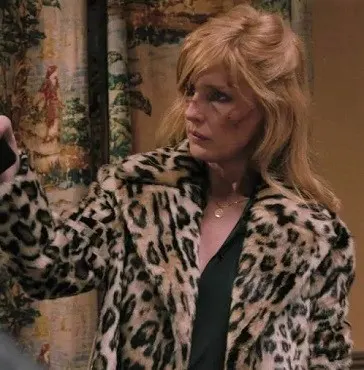 The exact leopard coat worn by Beth Dutton above is the Notched Collar Fur Coat by Frame.
Although we couldn't find anywhere which had this fur coat in stock, we did similar fur coats here on Amazon and Etsy.
Beth Dutton's Orange-Red Sherpa Coat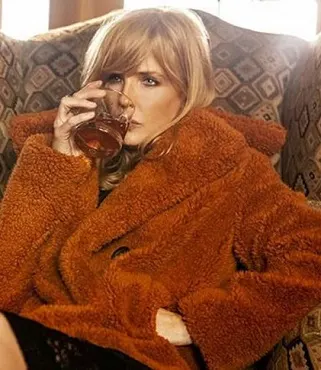 Coats are a staple in Beth's wardrobe, and she has plenty of standout pieces. This orange-red sherpa coat is not only stylish but comfortable as well.
This coat is versatile, as you can pair it with jeans, boots, and a blouse or a floral maxi dress. It will be the perfect piece for your fall or winter ensemble.
Beth Dutton's Cowboy Hats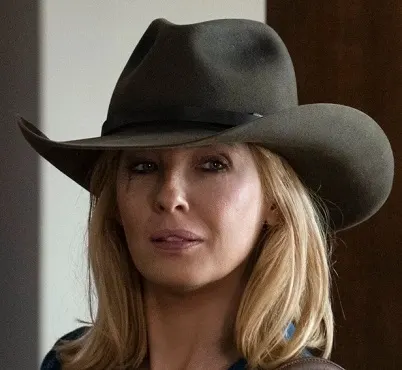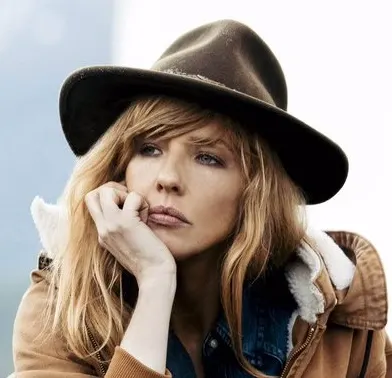 While Beth doesn't embrace the cowboy lifestyle the way the rest of her family does, she still dons a cowboy hat from time to time. This simple wool hat looks great on Beth.
This functional hat looks great with cowboy boots, a work jacket, jeans, or a cute sundress. It is a versatile accessory you won't regret adding to your wardrobe.
Beth Dutton's Bomber Jacket
This Beth Dutton jacket gives off Yellowstone vibes and is a piece you will benefit from adding to your wardrobe. It is an excellent choice for winter, as it will keep you warm whether you are out riding or cleaning stalls.
For a practical and comfortable look, pair this coat with jeans, a flannel shirt, cowboy boots, and a cowboy hat. Even if you don't have horses, this coat will come in handy when temperatures get frigid.
Beth Dutton's Blue Aztec Poncho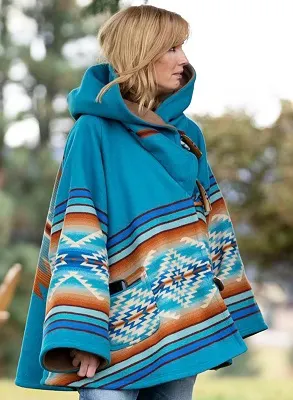 If you are looking to add something different to your wardrobe, then this Pagosa Springs Classic Cloak by Lindsey Thornburg is what you need.
Beth looked super cozy in this cloak paired with a pair of blue jeans. It is a great casual option that is perfect for when the weather is chilly.
If you're looking for a very similar but affordable option, we found an almost identical clock here on Amazon and Etsy.
Beth Dutton's Green Floral Midi Dress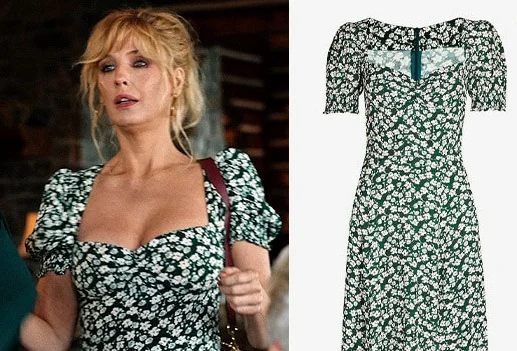 Midi dresses are a summer staple as they are cute and comfortable. Beth stuns in this Eden Dress by ba&sh that will brighten up your wardrobe.
This flattering dress is great for special events or even a night out on town. You can pair it with cowboy boots or sandals for a chic look.
Beth Dutton's Leopard Print Button-Up Dress & Bag
Beth certainly has a thing for animal print. The dress Beth is wearing is the Leopard Shirt Dress by Wilfred at Aritzia.
Beth's she's wearing with the leopard print dress above is a ba&sh TEDDY shoulder bag.
Beth Dutton's BA&SH Matcha Floral-Print Mini Dress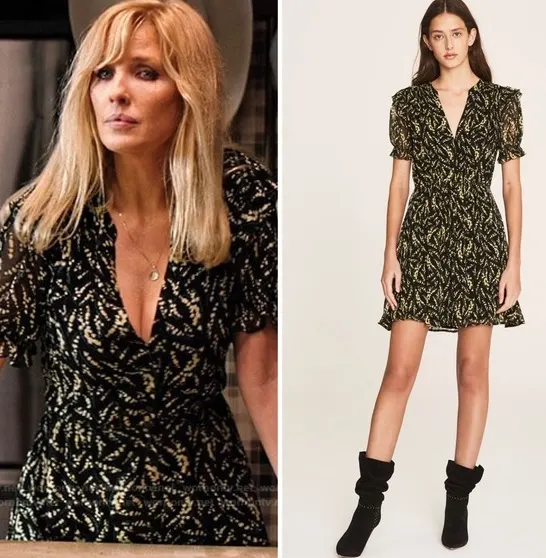 Beth Dutton wore this beautiful BA&SH Matcha Floral-Print Mini Dress in Yellowstone Season 4, Episode 6.
Though it can be rented or purchased second hand on renttherunway.com, we could find it in stock anywhere, even the official BA&Sh website. We recommend also searching eBay.
Beth's Black and Red Polka Dot Dress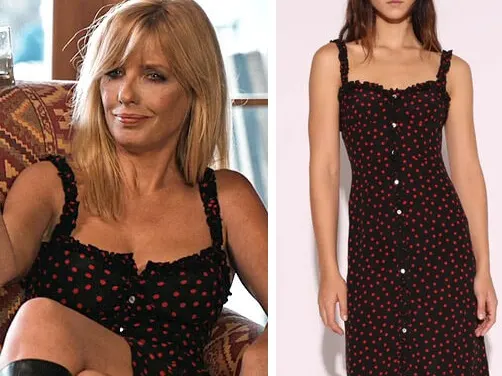 Beth Dutton's black and red polka dot dress on Yellowstone is a Juliet Dress in Italia Spot by Realisation Par. Perhaps on of Beth's most stunning tops really shows off her feminine charm.
Visit shopthescenes.com, where many of Beth Dutton's and other Yellowstone characters' clothing and accessories seen in the show can be purchased.