This post may contain affiliate links. We earn from qualifying purchases. Learn More
One of the best ways to unwind after a long day is with a book in your hand. If you are a fan of everything cowboy, then you will enjoy these western novels.
The best western books will keep you invested until the very last page. They do a wonderful job portraying what life was like for cowboys in the Wild West.
From gunfights to cattle drives to romance, these books and novels will take you back in time to when cowboys roamed the plains.
Here are 10 books every western lover should read.
1. All the Pretty Horses
All the Pretty Horses was released in 1993 and written by Cormac McCarthy. This riveting novel is a National Book Award Winner and a National Bestseller.
All the Pretty Horses tells the tale of John Grady Cole, a young boy who is faced with a hard challenge. At just sixteen, he finds himself setting out for a new life as his grandfather's ranch is pending sale.
With two companions, he heads to Mexico to start a new chapter working at a cattle ranch. This coming-of-age tale expertly portrays life in the West while dabbling in humor and the harsh realities of ranch life.
This best–selling western novel is the first book in The Border Trilogy. All the Pretty Horses got its own motion picture film in 2000.
2. Smoky the Cowhorse
A childhood classic, Smoky the Cowhorse is a book people of all ages can enjoy. Originally published in 1927, this award-winning book by Will James is authentic and heartwarming.
Smoky the horse was born on the open range and a life of freedom is all he has ever known. He knows how to survive any enemy he comes across, from rattlesnakes to wolves. However, one day he meets a cowboy named Clint who changes his life.
Named "One of the finest horse stories ever told" by the Herald-Tribune, Smoky the Cowhorse is a beautiful story from a horse's perspective. It is a must-read western book for horse lovers and those who admire the Wild West.
3. Lonesome Dove
Hands down one of the most iconic western sagas, Lonesome Dove is a story of love, adventures, and the epic of the frontier. This Pulitzer Prize-winning classic was written by Larry McMurtry in 1985.
Lonesome Dove follows the journey of two former Texas Rangers, Gus, and Call, as they go on one last cattle drive. Throughout their epic adventure, they meet unforgettable people from all walks of life, some good and some bad.
More than just a cattle drive, this book beautifully portrays the enduring cowboy spirit and the bond of friendship.
Rich and authentic, Lonesome Dove will make you laugh and cry, while also inspiring you. In 1989, the novel was turned into a beloved TV mini-series.
Also read: 15 Best Lonesome Dove Quotes
4. To a Far Western Land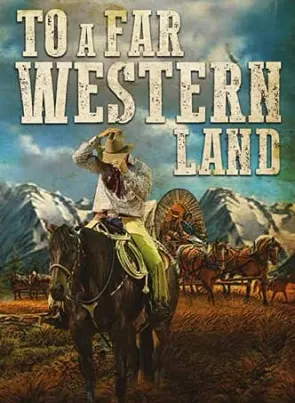 Though To a Far Western Land only came out in 2021, it has quickly become a fan favorite. Written by Carson McCloud, this novel has tragedy, love, action, and betrayal.
The war took everything from Jim Heston, his mother, father, and brother. After failing to make a living at his family's farm, he packs up his bags to start fresh in California. The journey out West is full of dangers and hardships that test Heston. However, the real threats don't come from outside enemies, but from those within the wagon train.
With action, suspense and mystery, you will become invested in this western book in no time. It is a wonderful read for those who love the history of wagon trains.
5. True Grit
A true American classic, True Grit is a must-read for western lovers. This #1 New York Times bestseller was written by Charles Portis in 1968 and became an instant hit.
Mattie Ross is just 14 years old when Tom Chaney shoots her father, robbing him of his life, horse, and money. Full of spite and rage, Mattie sets out to avenge her father's death. She enlists the help of Rooster Cogburn, a bad-tempered U.S. Marshal. The unlikely duo set out to find her father's killer in the unforgiving land of the Wild West.
With a gripping storyline and fascinating characters, this book is emotional, moving, and inspiring. This tantalizing western novel has had two popular film adaptations, the first coming out in 1969 and the second in 2010.
6. Tucker
Written by the celebrated western author Louis L'Amour, Tucker first hit bookshelves in 1984. This action-packed novel is a real page-turner that will have you itching for more.
Facing the struggle of his dying father, young Shell Tucker sets out after three men who robbed his father of $20,000. However, to make matters complicated, two of the men, Doc Sites, and Kid Reese, were his friends.
Though Shell had wanted to join their gang, he desperately needs the money from the cattle drive. To uphold his father's reputation he sets out on a nearly impossible mission from Colorado to Los Angeles.
Thrilling and suspenseful, this book wonderfully showcases the lawless land of the Wild West. An endearing story, this western novel deals with the importance of family and relationships.
7. Shane
A true western classic, Shane was written by Jack Schaefer in 1949. With compelling themes and riveting characters, you won't be able to get enough of this novel.
The Starrett family's life forever changes when a stranger by the name of Shane shows up at their farm one day in 1889. Intrigued by this curious stranger, young Bob Starrett lets Shane stay on as a farmhand. However, his past remains a mystery, and many townsfolk in their small Wyoming valley become suspicious of Shane.
Shane becomes entangled in a violent feud when a powerful rancher tries to push the family out of their homestead.
This profoundly moving western book will keep you on the edge of your seat as you read. Shane hit the big screen in 1953 and even brought home an Academy Award.
8. Where the Lost Wander
For those who enjoy romance and the Old West, Where the Lost Wander is the book for you. Written by the Wall Street Journal, USA Today, and New York Times bestselling author Amy Harmon, this 2020 novel was a Goodreads Choice Awards Semifinalist.
Becoming a widow at just 20 years old, Naomi May heads out West to begin a new life with her family. On the wagon trail, she meets John Lowry, a half-Pawnee man and the two quickly form a bond. Facing hardship, fear, and sacrifices, John and Naomi deal with many struggles while trying to hold onto their relationship.
This enduring tale of love, friendship, and hope in the Wild West will fill you with emotion and inspiration. You won't be able to put down this captivating western book.
9. Hondo
Another classic by beloved author Louis L'Amour, Hondo came out in 1953. This well-written novel is full of love, drama, and action, sure to keep any reader on their toes.
Big, broad-shouldered with excellent survival skills, Hondo Lane was a tried and true cowboy. Hondo happens to come across Angie Lowe and her son, who were living in hostile territory. As he vows to become their protector, he is caught in a battle of drama, love, war, and honor.
This riveting western book is full of fierce battles and blooming romance. Hondo also became a hit motion picture shortly after the book was published.
10. Old Dogs (Lucky Five)
From bestselling author Ron Schwab, Old Dogs is part of the beloved Lucky Five saga. This 2021 western novel will have you laughing and crying throughout the entire story.
Jack Wills and his longtime friend, Rudolph Kilgore, have seen their fair share of action throughout the years. However, they now live a more peaceful life tending to Lucky Five Ranch with Thor, Jack's 12-year-old dog.
When a mysterious rider appears at their ranch, they take one last epic adventure to rescue a herd of horses from some bandits.
With friendship, action, kindness, and loyalty, you won't be able to put this captivating novel down. The intriguing plot and fascinating characters bring this book together.