Our readers support us. This post may contain affiliate links. We earn from qualifying purchases. Learn More
What little kid doesn't dream about owning their very own unicorn? Fortunately, there are some fantastic unicorn toys on the market that your child will absolutely adore.
The best walking unicorn toys will provide your kid with hours of hands-on entertainment. Children can take their unicorns on walks, brush them and let their imagination run wild during playtime. They make wonderful interactive toys for any energetic and imaginative child.
Here are the best walking unicorn toys.
1. Electric Unicorn Stuffed Animal Toy
This adorable pink unicorn features a rainbow mane and tail, pink wings, sparkly hooves, and a sparkly horn. It has soft, plush hair that makes it huggable and perfect for cuddling.
The unicorn has a plush leash with a remote control at the end. Kids can use the remote control leash to walk with their unicorn as well as have it sing and dance. They will have a blast playing with their unicorn all throughout the house.
The unicorn also comes with a comb for brushing its mane and tail. In addition, there is also a packet of adorable unicorn stickers.
Why We Recommend This Product:
Has a soft, plush coat, pink wings, rainbow mane and tail, and sparkly hooves and horn.
Comes with a remote control leash that allows it to walk, sing and dance.
Includes a comb and stickers.
2. FurReal Walkalots Big Wags Unicorn
With adorable big eyes, a sparkly white coat, a pink horn, mane, and tail, kids will fall in love with this cute unicorn. She makes a lovable, fun toy for your children to play with.
This unicorn features a retractable so children can walk it with them wherever they go. It can make magical noises while having a bouncy walk and a springy tail. Kids will love to cuddle her soft plush coat when not walking her.
Why We Recommend This Product:
Has an adorable, plush appearance.
Comes with a retractable leash.
Makes magical noises, has a bouncy walk and a springy tail.
Also read: 7 Best Remote Control Unicorn Toys for Kids
3. Meva Kids Walking Unicorn Toy Pet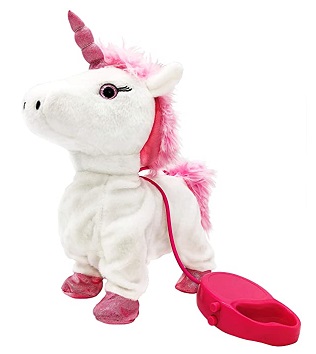 With soft white fur, a pink mane and tail, and a pink and a pink horn, this precious unicorn makes a wonderful friend for your kiddo. Meva the unicorn is great for taking on walks and cuddling as well.
Meva comes with a leash that includes a handle with a remote control. In addition to walking, she also sings and wags her tail. When not walking her, kids can hug her and brush her beautiful mane and tail.
Why We Recommend This Product:
Has a leash with a remote control handle.
Walks, sings, and wags her tail.
Has a plush body and a soft mane and tail.
Also read: 6 Best Electric Ride On Unicorn Toys
4. Mighty Mojo Peppy Pet Pink Unicorn Toy
Mighty Mojo unicorn is cute, cuddly, and the perfect little friend. With big, beautiful purple eyes and a velvety pink coat, this lovable unicorn will run along with your kids.
Mojo's springy legs allow her to walk and run alongside your child. Her head will also bounce along with as she gallops about.
Mojo has a handy pink leash so kids can take her along on all of their adventures. She even has a little bell that jingles as she plays.
Why We Recommend This Product:
Her springy legs allow her to walk, gallop, jump and bounce.
Has a pink leash and collar with a bell.
Soft, huggable, and great for taking on adventures.
5. CEER'S Mia The Magical Unicorn Toy
Sweet Mia the unicorn makes a wonderful toy for your child. She has a white coat, pink hooves, pink horn, wings, and stars on her body.
Not only does Mia walk about, but she also dances when you give her a pat on her back. She also has an original song she sings that kids adore.
As she plays, the stars on Mia the unicorn will light up, creating a beautiful light display. When not walking around with Mia, kids can hold and cuddle her.
Why We Recommend This Product:
Has stars that light up.
Walks, sings, and dances.
Has a soft, cuddly coat.
Also read: 15 Best Unicorn Gifts for Kids