Our readers support us. This post may contain affiliate links. We earn from qualifying purchases. Learn More
Unicorns are magical creatures that easily capture children's imagination. Is your boy or girl obsessed with unicorns or get excited every time they see one? Then a unicorn-themed toy will be the perfect surprise for the next big occasion!
We have researched and put together a list of the best unicorn toys on the market. Either of these gifts will delight unicorn-crazy children and are guaranteed to be the highlight of their week (or month)!
Here are the fifteen best unicorn toys for kids.
1. Monopoly Junior: Unicorn Edition
Does your child like to spend hours playing board games over and over? Then why not surprise them with a kid's Monopoly in Unicorn Edition!
Monopoly Junior games are great for introducing young minds to the world of Monopoly. The shorter gameplays are designed to keep children aged 5 and over engaged throughout the game. The winner, as usual, is the player with the most cash in the end.
The Unicorn Edition puts a magical spin onto the classic Monopoly Junior game. For properties, you have rainbows, cupcakes, and party hats, and you can choose one of four unicorn tokens to play with.
This board game will provide endless fun to your unicorn-loving child and their friends. Perfect for a rainy day when they have to find something to do indoors.
Also Read: 7 Best Unicorn Board Games for Kids.
2. Unicorn Mini Piñata Party
This handmade Unicorn Mini Piñata Party makes for a fun surprise for an older child (4+ years). The box includes everything you need for the party to begin!
The unicorn mini piñata is made with care and stuffed with six different kinds of candy. You can even request your child's favorite candy in the piñata! Just write a short message to the seller and they will do their best to accommodate your request.
The box also contains the following party essentials: party blower, confetti balloon, a small bag of confetti, swirly candy stick, and a customized card with your personal message.
3. Unicorn Painting Kit
What better gift to encourage a little girl's creative thinking than this Unicorn Painting Kit? Not only can your child create their own unicorns, but can also redo them at any time thanks to the washable acrylic paint!
BATURU's Unicorn Painting Kit is ideal for children aged 4 to 12. The set includes two big and four small unicorns, acrylic and glitter paint, ten gemstones, four paintbrushes, a map, and even a unicorn headband!
The unicorns are made of soft ABS plastic that is non-toxic and won't break if dropped. This painting kit is not only fun, but also helps children develop hand-eye coordination, innovative thinking, and concentration skills. What's more, kids will likely treasure their unicorn masterpieces for years to come!
4. DIY Unicorn Headband Kit
Another great creative unicorn toy for kids is this magical Unicorn Headband Kit. With this DIY kit, children at least 4 years old can create beautiful headbands without needing any messy glue.
The ROCA Toys Unicorn Headband Kit is the perfect Christmas stocking stuffer for young girls. The kit contains 70 high-quality handmade pieces, including roses, stars, unicorn horns, and ears of various colors.
5. Unicorn Kids Camera
Surprise your child this Christmas with their very own Unicorn Camera! Ideal for kids interested in becoming a photographer or just to stop them from borrowing your phone all the time.
The anti-fall unicorn case and lanyard make this camera safe in the hands of 3 to 8-year-olds. The case is made of high-quality silicone that is lightweight, durable, non-toxic, and comfortable for kids to hold.
Aimego's Unicorn Kids Camera features 20MP dual cameras, 8X Digital Zoom, 1080p video recording, and a 2-inch screen that doesn't harm kids' eyes. The camera has various special effects and filters, plays music, and three classic games: Tetris, Snake, and Sokoban.
It comes with a 32GB SD card and a 30-day replacement promise for maximum satisfaction. The camera can take up to 4500 photos during its lifetime.
6. Unicorn Plush With Purse
Your child will love this cute flying unicorn plush that comes in a sparkling carrier bag. The bag features reversible sequins that change color from pink to silver and a unicorn charm for luck.
Suitable for ages 4-14, this unicorn toy belongs under the Christmas tree. The plush is made of soft polyester and easily removes via a single strap.
There are several color combinations to choose from at the Little Jupiter online shop. All plushies are tested by US verified third-party laboratories before they are released onto the market.
7. Unicorn Terrarium Kit
Unicorn-loving kids will enjoy creating their own unicorn garden with this fun terrarium kit! Suitable for children aged 3 and over, this kit is guaranteed to keep kids occupied for long hours at a time.
Bryte's Unicorn Terrarium Kit includes a 9 x 6 inch terrarium dome, two paintable unicorn figures, a castle, a rainbow, acrylic paint, and many other things unicorns and children love. Although the unicorns are sadly not alive, the terrarium is not completely lifeless. Kids can grow wheatgrass inside the dome using the seeds and soil provided!
Learning to cultivate their own garden is a great science lesson for young kids. The seeds will sprout as soon as 2-3 days after being planted, provided that they get regular care and love.
Your child will love watching their own unicorn habitat unfold! Constructing and nurturing this mini-ecosystem requires creative and imaginative thinking that are essential skills in today's world. All materials in the set are non-toxic and safe for children to play with.
8. Dancing Interactive Unicorn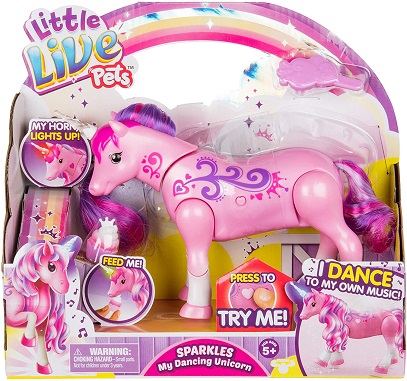 You'll be surprised that this Interactive Unicorn acts just like a real pet! Sparkles loves eating cupcakes, responds to touch, and even dances to her own music!
This unicorn toy is recommended for kids at least 5 years old. Sparkles is a great companion for young kids and has many exciting features. If you press the heart button on her side, she will show you her dance moves, and her horn will shine in multiple colors!
Sparkle returns your affection like no other pet unicorn on the market. Stroke her neck, and she will nuzzle you while her horn lights up red. Pat her back, and she will trot off with a glowing red horn. If you pat her again, she will start to canter and finish off with a joyous dance.
You can also feed Sparkles cupcakes, and she will make eating sounds while her horn lights up green. This Interactive Unicorn toy comes with an accessory brush and batteries.
9. Giant Unicorn Plush
Make your little girl's dream come true with this Giant Unicorn Plush! Ideal for ages 3 and over, this unicorn toy is extra soft and stands nearly three feet tall.
Research has shown that the best kids' toys encourage interaction and imaginative play. These activities develop social and cognitive skills, self-confidence, and resilience in young children. It's important, therefore, that children have access to toys that promote hands-on, screen-free play like this Giant Unicorn Plush.
This unicorn toy is not only soft and cuddly, but also stands up straight thanks to its sturdy wire frame. It's really as close as it gets to owning a real-life unicorn!
The products of Melissa & Doug have earned public recognition for their high quality and beautiful designs. NBC News once remarked these toys are "the gold standard in early childhood play."
10. Remote Control Unicorn Robot
This high-tech Remote Control Unicorn Robot might just become your child's new best friend! This interactive unicorn toy behaves much like a real-life pet. It knows how to sit, dance, neigh, perform tricks and even navigate the room on its own!
Power Your Fun's Unicorn Robot is suitable for children over the age of 3. To switch the unicorn on, simply press and hold its cute little horn. Kids can play with the toy in three different modes: Remote/Gesture Mode, Adventure Mode, and Treat Mode.
In Remote Mode, the unicorn's eyes will light up blue and it will follow remote control commands. But that's not all, this smart pet unicorn can also respond to simple hand gestures just like a real pet!
In Adventure Mode, the Unicorn Robot's eyes will shine red and it will move around the room, avoid obstacles, and tackle mazes. Finally, Treat Mode allows children to create a unique sequence of moves by feeding the unicorn various program treats. In this mode, the unicorn's eyes will light up purple.
This smart and innovative unicorn toy can play non-stop for 40 minutes after being on charge for 1.5 hours.
11. Ride On Unicorn Cycle
This Ride On Unicorn Plush is not only a fun kid's toy, but also a good form of exercise. With this magical unicorn, kids can experience what it's like to ride a real pony!
Children can ride this unicorn at different speeds and also steer it left and right. This toy is equipped with various features to keep your child safe, including a non-slip pedal, memory foam seat, and one-way wheels that are quiet and don't scratch the floor.
PonyCycle's Ride On Unicorn Plush is great for both indoor and outdoor use. It's recommended for children between 4 and 9 years old, although younger kids might find it harder to ride at first.
The high-quality, soft fabric also makes this unicorn a wonderful cuddly toy. You can choose from two different sizes, and no batteries are necessary for the fun to begin.
Also Read: 10 Best Ride-On Unicorn Toys
12. Unicorn Stress Relief Balls
These adorable squishy unicorns are great for stress relief, reducing tension and anxiety, or simply as a fun toy! Kids will love stretching and smashing these colorful stress balls in school, at home, or on a trip.
The plump little unicorns are filled with tiny gel balls and come with golden horns and hooves. They are a great toy for fidgety children over the age of 3 and are made of non-toxic and durable materials. Kids who have autism or ADHD will find this unicorn toy especially useful for staying calm and focused.
The stress balls come in a 3-pack that includes a blue, pink, and multicolored unicorn.
13. Polly Pocket Unicorn Party Playset
There's a whole enchanted world hiding inside this portable Unicorn Party Playset. The fun begins by pulling the golden tab that releases confetti and over 25 dazzling surprises!
The Polly Pocket Unicorn Party Playset is the perfect Christmas or birthday unicorn toy for girls or boys over the age of 4. Inside the playset, kids will discover a beautiful castle with a throne and bedroom, a bouncy house, a rainbow see-saw and cloud, and a unicorn floatie atop a river.
Many of the surprises are designed to plug into parts of the playset for more interactive fun. Kids can attach the miniature dolls and animals to the bouncy house, see-saw, or the floatie and let their imagination run wild.
The playset itself can be hung for display using the removable golden hook. It also features brightly-colored wings that extend and make the unicorn even more magical.
14. Twinkle The Magical Unicorn
Twinkle is a smart unicorn toy designed to entertain children 18 months to 5 years old. She has many features that encourage imaginative play and provide endless fun for young kids who love unicorns.
Press her heart button and Twinkle's horn will light up as she comes to life. Twinkle can perform various actions, such as moving her head, walking forwards, flapping her wings, and eating the carrot accessory.
This interactive unicorn toy comes with a fairy figure that attaches to the unicorn's back. This will make Twinkle say fun phrases and change the color of her magical horn. Other Go! Go! Smart Friends characters sold separately can also ride Twinkle.
Although the toy does come with batteries, these are for demo purposes and will need replacing shortly. Twinkle The Magical Unicorn requires two AAA and four AA batteries to run.
15. Unicorn Stress Popper
This cute stress popper is ideal for kids or adults to alleviate stress by pushing in the buttons that have a popping sound and feel, just like popping bubble wrap.
In addition, the poppers each have a letter of the alphabet on them that act as a fun way for parents to teach their young children the alphabet.
Also Read: 15 Best Unicorn Gifts for Kids