Our readers support us. This post may contain affiliate links. We earn from qualifying purchases. Learn More
Is your child currently going through a unicorn phase? Are their favorite books and series all about unicorns? If your answer is yes, then you're in luck because buying presents just got a whole lot easier!
Not sure where to start? Our list below features high-quality unicorn gifts for kids of all ages. All gifts have been top-rated by satisfied customers whose children were over the moon receiving their present.
Here are the 15 best unicorn gifts for kids.
1. Glow in the Dark Unicorn Blanket
This beautiful Unicorn Blanket will be sure to send even the most anxious child to sleep! Once exposed to the light for 15 minutes, the magical unicorn will light up and scare away any monsters looming nearby.
The product is made of soft microfiber polyester and is suitable for all ages. The material is long-lasting, breathable, shrink resistant, and non-shedding, ensuring maximum comfort.
The Glowing Snuggles Unicorn Blanket is not only ideal for bedtime, but also sleepovers, car rides, camping, or watching TV on the sofa. Its main purpose is to make children feel safe wherever they sleep. The blanket comes with a 30-day money-back guarantee to ensure maximum customer satisfaction.
2. Unicorn Wonderland Play Mat & Toy Set
With this imaginative unicorn playset, you can occupy multiple kids at once! Perfect for birthday parties and sleepovers, this gift is recommended for kids that are at least 3 years old.
The Unicorn Wonderland Play Mat and Toy Set comes neatly packaged in a storage container. This will make sure no mess is left behind when the game has finished. The set includes a highly detailed playmat, six unicorn figures, and two rainbow figures.
Children will quickly get lost in the world of unicorns and rainbows with this colorful playset. It's a great unicorn birthday gift choice if you've been trying to get your child off the screen as well!
Also Read: 7 Best Unicorn Board Games for Kids.
3. Unicorn Necklace
This beautiful handmade Unicorn Necklace will delight young girls with a passion for magical creatures.
The necklace is not recommended for kids under the age of 3 yearsold. There are three colors to choose from and it comes with an adjustable chain.
4. Unicorn Hooded Scarf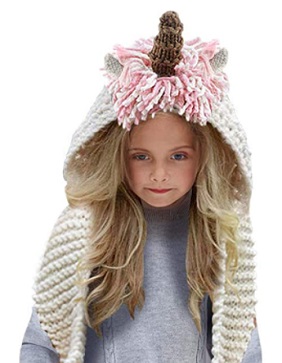 This absolutely adorable Unicorn Hooded Scarf just speaks for itself! Fully hand-crocheted by Framesta, this unique hooded scarf will make your child stand out wherever they go.
You can choose from pink and green secondary colors and two styles: one for 2 to 6-year-olds and one for 6 to 12-year-olds. The scarves are made of cotton and polyester and normally take 3-4 weeks to deliver.
5. Unicorn Bath Bomb
Does your child get excited at the prospect of bubble baths? Then why not surprise them with these adorable Unicorn Bath Bombs and sneak magic into their bathtub!
Handmade by Espe Beauty, these bath bombs will delight any unicorn-loving kids aged 3 years or older. They contain ingredients kind to the skin such as Cocoa Butter, Epsom Salt, and Kaolin Clay. All ingredients are natural and sustainably sourced, so there is minimal cost to the environment.
What's more, the mane of the unicorns is actually a bubble bar that breaks up to create a bubbly foam. Your child can enjoy the scent of peach, tangerine, cotton candy, lemon drop, and Green Apple once the bath bomb dissolves.
6. Unicorns Stickers Activity Book
This Unicorn Stickers Book by Christy Shaffer will be sure to put a smile across your child's face. Designed for kids aged 3 to 8 years old, the book contains 16 colorful stickers of unicorns in various poses and outfits. Some of them are rearing, others galloping or flying with a rider on their back.
The book also features special unicorns with mermaid tails or butterfly wings. The stickers will surely be a prized possession of any young collector and look great on lunch boxes, school lockers, or notebooks.
There's no need for a special occasion to surprise your child with these magical unicorn stickers. Perfect to keep them happy and busy on Christmas day.
7. Unicorn Musical Jewelry Box
This Unicorn Musical Jewelry Box is an enchanting gift for kids aged 8 to 12 years old. Upon opening the box, a magical unicorn begins dancing to the "Somewhere Over The Rainbow" song. What's more, your child can also enjoy the high-quality unicorn necklace and bracelet included in the box.
This fabulous 2 in 1 gift combines the concept of a musical and a jewelry box. Other than playing music, the box can also store children's most treasured trinkets in three felt compartments! The top section features a big storage unit alongside a ring compartment, while the bottom drawer is perfect for smaller items like bracelets and earrings.
The box itself is made of pine fiberboard, giving it a sturdy feel. What's more, beautiful watercolor art decorates the box on all sides, which makes it stand out in any room.
One particular feature sets this musical jewelry box apart from all others. Using their phone or tablet, kids can bring the box to life and watch a charming unicorn appear on the top! All they need to do is point the camera at the lid and witness the magic happen.
8. Unicorn Gift Set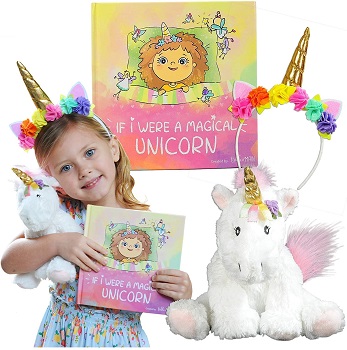 Want to see your little girl grin from ear to ear this Christmas? Then why not give her three presents at once with this adorable Unicorn Gift Set!
The set includes an "If I Were A Magical Unicorn" storybook with 24 beautiful watercolor illustrations. The tale is about a little girl's adventures after she transforms into a magical unicorn. It makes for a great bedtime story or even a teaching aid for kids learning to read.
You will also receive a soft unicorn plush and a cute unicorn headband with a matching horn and flowers. The headband can be adjusted to fit children of all ages and even adults!
This Unicorn Gift Set will be sure to satisfy children's need for unicorn toys for a while. It's a great Christmas or birthday gift for girls or boys 2 – 7 years old.
9. All-In-One Unicorn Painting Kit
This Unicorn Painting Kit has everything you need for endless unicorn fun! Suitable for children over the age of 4, it not only provides hours of entertainment, but also enhances imagination, concentration, and creativity.
In the kit, you'll find two small and one big unicorn figures, a paintable backpack, a DIY headband, stickers, brushes, paint, and palettes. The backpack will stay durable after painting and is ideal for displaying a unicorn masterpiece. Kids can show off their artwork at school and attract compliments wherever they go.
Painting with this set can also be a fun activity for the whole family. Kids and parents can bond over making the unicorns look eye-catching and beautiful. Rest assured that your child will be safe playing with this kit as all its materials are non-toxic.
10. Unicorn Backpack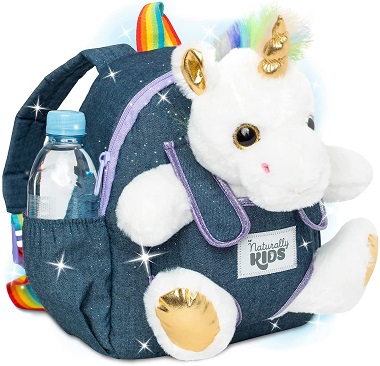 This sparkling denim backpack comes with a detachable unicorn plushy to accompany your child to kindergarten. Ideal for kids between 2 to 5 years old, the backpack features a main compartment with two small pockets, adjustable shoulder straps, and side pockets for bottles.
With this cute backpack from Naturally KIDS, your little one can take their new best friend everywhere. There are also black unicorn and dinosaur versions available.
The product meets all US Child Safety Standards and even has a reflective logo patch on the back for extra safety. If you're unsatisfied with your purchase, you have the option of returning or exchanging the item for free.
11. Breyer Horse Unicorn Styling Head
Does your child have a talent for making hair look beautiful? Then surprise them with this Unicorn Styling Head so they can get real good at their craft!
Stardust the Breyer Horse has an especially long and silky mane that's perfect for endless braiding. Your purchase also includes an exclusive styling booklet with lots of ideas and inspiration for young stylists. You'll find useful step-by-step guides detailing how to do specific braids like a button braid, diamond braid, or dutch french braid.
This Breyer Horses Mane Beauty Unicorn Styling Head comes with all the accessories essential for hairstyling. These include a mane comb, reusable fashion jewels, hair extension, clips, coils, and 50 elastic rings. The unicorn head is mounted on a square base with non-skip pads to keep it from moving during the play.
This unicorn gift is perfect for children with an artistic flair over the age of 5. Why not organize a competition between friends and see who's braids get the most points? The possibilities are endless!
12. Make Your Own Unicorn Night Light
YOFUN's DIY Unicorn Night Light is a great creative unicorn gift idea for kids between 4 and 9 years old. It's also an opportunity for a family get-together to create the most magical night light!
The craft set includes three unicorn figures, fairy lights with a replaceable battery, a jar with a wooden base, and little accessories to go in it. You'll find detailed instructions in the box that guide you through each step, so creating remains simple and fun for all.
The materials of the set are BPA-free and non-toxic, making it a safe for children to play with. Buyers can try the product for 30 days with an option to send it back if they are unsatisfied. Place the Unicorn Night Light on your child's bedside table to send them to enchanted dreamland every night.
13. Purse Pets Interactive Unicorn Purse
More and more toys remind us of the amazing technology that is available to society today. This unicorn purse isn't just a pretty carrier bag; it can also respond to your touch with 25 different sounds and reactions!
The Purse Pets Interactive Unicorn Purse bats its eyelashes and interacts with you while on the go. Pet her forehead to make her blink, blow a kiss, play music, or make you feel like you're on a fashion show. Your child will never feel alone again with this adorable and talkative companion.
Kids can even ask the purse questions, and she will respond with a "yes" or a "no"! All you need is three AAA batteries to make the unicorn purse come alive. There's also an instruction sheet detailing the different functions of this unique bag.
14. How to Catch a Unicorn Book
How does one go about catching a unicorn? Written by Adam Wallace and illustrated by Andy Elkerton, this picture book for kids tells the story of a group of friends who try to capture a flying unicorn.
"How to Catch a Unicorn" has been named #1 New York Times bestseller and is best enjoyed by 3 to 6-year-olds. The colorful illustrations of the book are designed to capture the imagination of young minds. Don't be surprised if they ask you to read the story again and again!
This book is part of the "How to Catch" series featuring several other magical creatures. It's a lovely gift for any occasion, no matter how big or small.
15. Unicorn Fancy Dress
Last on our list is this pretty Unicorn Dress for young girls 1 to 10 years old. The colorful skirt, sequin top, and unicorn features are guaranteed to make the wearer stand out in any crowd. Add in the unicorn headband with the golden horn and you've got a Halloween outfit ready!
The top is made of stretchy material and is lined with silk-like fabric for maximum comfort. If your child loves unicorns and enjoys dressing up, this is the gift you've been looking for.
Also Read: 10 Best Ride-On Unicorn Toys For Kids.